CLICK TO SUPPORT OUR SPONSORS

---

---
Tuesday, November 13, 2001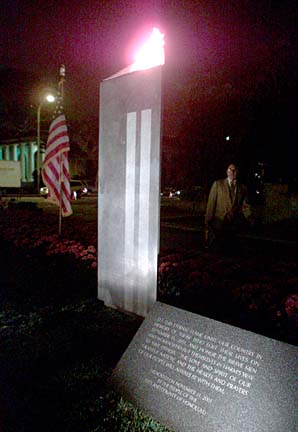 GEORGE F. LEE / GLEE@STARBULLETIN.COM
City Managing Director Ben Lee, an architect, designed
the black triangular obelisk, which represents a folded flag.
---
Eternal flame at
City Hall honors
terrorism victims


The new memorial is a tribute
to thousands who perished
in the attacks on Sept. 11

---

By Gordon Y.K. Pang
gpang@starbulletin.com

Laura Brough said she cried after she lit a new eternal flame in front of Honolulu Hale dedicated to the memory of her mother, Georgine McCorrigan, and the more than 4,000 others who died in the terrorist attacks of Sept. 11.

"I think I'm going to be coming here every day. It's beautiful, it's touching," she told reporters after last night's ceremony. "I wish all the other families that were affected by this could be with us here tonight."

Anger and tears still consume her, Brough said, and it is hard not to think of the memories of her days with McCorrigan, who died aboard United Airlines Flight 93 that crashed in Pennsylvania after it was overtaken by terrorists.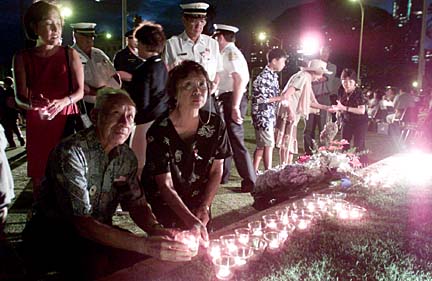 GEORGE F. LEE / GLEE@STARBULLETIN.COM
Honolulu police, firefighters, emergency medical technicians
and members of the public were invited last night to place
candles at the base of the eternal flame during dedication
services at Honolulu Hale.
---
"There's anger, so today was a very nice change," Brough said.

The memorial consists of a three-sided obelisk -- 6 feet tall and 30 inches wide, made of Corian, a black, granitelike synthetic material. It was designed by city Managing Director Ben Lee, a certified architect.

Lee said the monument is triangular to represent a folded flag -- traditionally given to families after burial of American servicemen.

Two 3-inch-wide vertical gray stripes set into the facade represent the New York World Trade Center towers that were destroyed, he said.

The flame is gas-powered and is designed to automatically reignite when extinguished.

The eternal flame atop the obelisk "is not one to forge weapons, but to sustain memories," said Air Force Lt. Gen. Thomas R. Case, deputy commander in chief of the U.S. Pacific Command.

Henry and Rose Lee, whose son-in-law Michael Collins died in the World Trade Center, took a turn lighting the torch last night.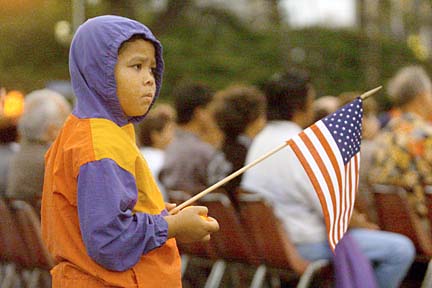 GEORGE F. LEE / GLEE@STARBULLETIN.COM
Naki Sabas, 5, held the American flag prior to
the dedication.
---
World War II veteran Bill Paty said about those who perished on Sept. 11, "They died because of how they lived: as free men and women."

Mayor Jeremy Harris played a relatively low-key role throughout the event, not speaking and getting on stage only to join public safety officials to lay a wreath.

Still the monument raised questions about motive from Republican Party Executive Director Micah Kane.

"It was a gracious gesture, but I think it's time our credit-card candidate starts looking at our city's debt and how we're going to handle that rather than what's happening outside the borders of our state."

Lee said the monument cost about $6,000. It was installed yesterday by city workers.
E-mail to City Desk
---
---
© 2001 Honolulu Star-Bulletin
http://archives.starbulletin.com