CLICK TO SUPPORT OUR SPONSORS

---

---
Island Images



Saturday, November 10, 2001
---
LOVELY HULA HANDS IN CHINA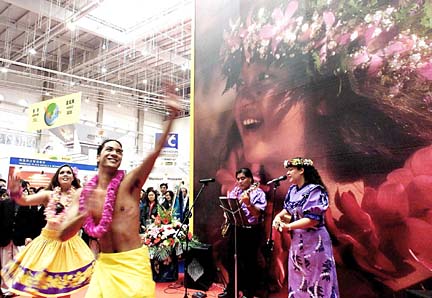 ASSOCIATED PRESS
Artists from Hawaii presented traditional dances at the 2001
China International Tourism Fair, held Thursday at the
Kunming International Trade Center in Kunming, China.
---
A GARDEN BLOOMS AT MOMILANI ELEMENTARY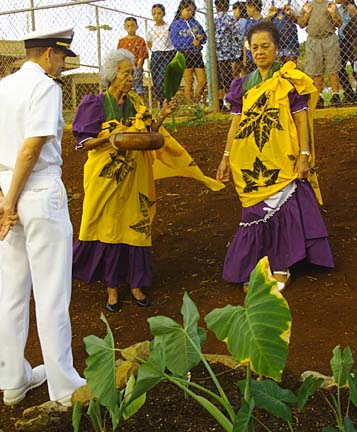 KEN SAKAMOTO / KSAKAMOTO@STARBULLETIN.COM
Fourth-graders studying Hawaiiana at Momilani Elementary
School looked on yesterday as Kupuna Kauahipaula, center,
and Kupuna Pang blessed the school's garden as part of an
Arbor Day assembly. Also there were U.S. Navy Fleet
Industrial Supply Center members and their commanding
officer, Chris Knaggs, left, who were recognized for
their contributions.
---
BRIDGING AN ARTISTIC GAP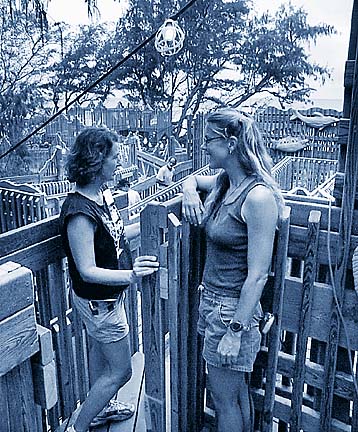 ANTHONY SOMMER / TSOMMER@STARBULLETIN.COM
Cheryl Nickel, left, and Kathy Cowan, co-chairwomen of
an artists committee, watched yesterday as concrete panels
containing hundreds of ceramic animals and fishes were
attached to a 150-foot wooden bridge built entirely by
volunteers last week at Kauai's Lydgate County Park.
Nickel, an Ithaca, N.Y., artist, is married to architect Robert
Leathers, who designed the project. Cowan is one of
Kauai's leading advocates of public art. Her sculpture
"The Wave" was placed last year at Hanalei School.
Workers plan to finish work on the bridge today.
---
E-mail to City Desk
---
---
© 2001 Honolulu Star-Bulletin
http://archives.starbulletin.com