CLICK TO SUPPORT OUR SPONSORS

---

---
Saturday, November 10, 2001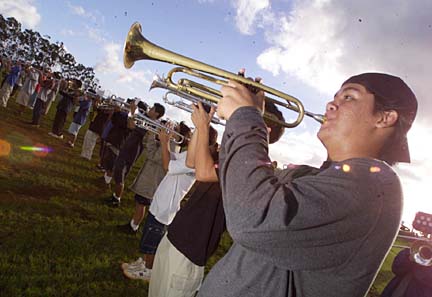 KEN IGE / KIGE@STARBULLETIN.COM
Pearl City High's Mike Brown blew his trumpet during
practice for the band's upcoming trip to New York.
---
The band plays on


Despite all that's happened in
New York, the Pearl City High
School band will march in the
Macy's Thanksgiving Day Parade

---

By Lisa Asato
lasato@starbulletin.com

Ten weeks after terrorists struck New York, the Pearl City High School marching band will play in the Macy's Thanksgiving Day Parade with a new sense of purpose.

"I've always been excited to go," said Jenna Kanaya, a 17-year-old flute player. "It's important to go especially in light of everything that's happening -- to go support and show our patriotism."

While in New York, she said, several students plan to present a donation collected schoolwide to the American Red Cross.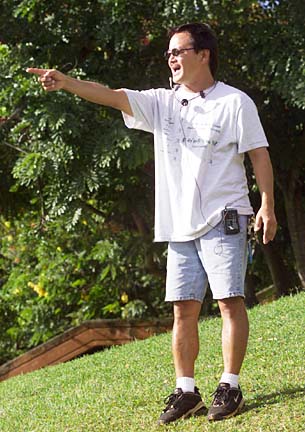 KEN IGE / KIGE@STARBULLETIN.COM
Band director Thomas Kamisato barked orders.
---
Kanaya is one of 266 students who will make the weeklong trip to New York City, Philadelphia and Washington, D.C. Parents, brothers, sisters and supporters round out the group to about 400.

Despite the Sept. 11 attacks, all of those the Star-Bulletin talked to said they feel assured of their safety.

"I don't think there should be fear, because it's the safest place to be right now. ... There's security and everything," said rifleman Philamer Calses. "Parents shouldn't be concerned about their children, because the band wouldn't be letting them go if it wasn't safe."

Some parents, however, pulled their children out because of safety concerns. Thirty students dropped out for various reasons, including post-Sept. 11 concerns or because their parents lost jobs, said Principal Gerald Suyama.

Suyama, who will be going on the trip, said his concerns were allayed last month when he met with parade coordinators in New York. "I'm fully confident that they're taking care of our safety," he said.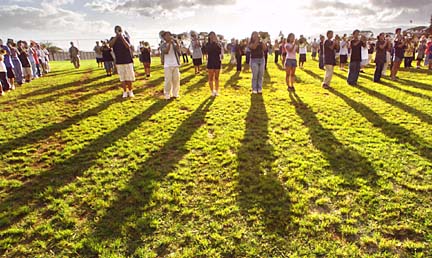 KEN IGE / KIGE@STARBULLETIN.COM
The Pearl City High marching band recently practiced
till the shadows grew long.
---
"This is the 75th year of the this parade. They are well organized and they're taking extra precautions, too."

He said there will be 3,000 police officers along the route, up from the usual 2,000.

The band also is making special arrangements for the trip.

For example, all 24 chaperones will have cellular phones. Parents also will be given the cellular numbers of the principal and tour coordinator, and there will be a contact in Hawaii that parents at home can call for information.

"For the parents here who are concerned, it would be extra security at least they wouldn't have to worry what's going on with us," said Annette Honda, who is going on the trip with her daughter Nicole, a drum major.

State Rep. Nestor Garcia said school and band leaders at a final payment meeting in October were bracing for a flood of security questions from a standing-room-only crowd of parents and students. "Interestingly enough, most of the questions were how to deal with the cold weather," he said.

Garcia's family is going on the trip along with daughter Lyndsey, a field commander.

"Pearl City High School band is steeped in tradition," he said. "They're just going to continue with that tradition even under this condition."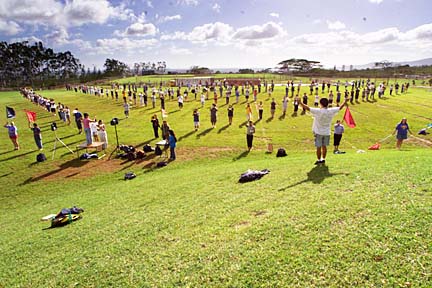 KEN IGE / KIGE@STARBULLETIN.COM
Pearl City High band director Thomas Kamisato
worked out recently with the band.
---
This will be the band's third Macy's appearance. But in light of Sept. 11, tradition is no longer the only motivation.

"A great part of the reason to continue on this trek is to honor those who died there and pay homage to the people who are heroes," Suyama said.

Students will lay wreaths at the Pentagon in Washington, D.C., and at the World Trade Center in New York City.

"Life has to go on," he said. "So much as we have some apprehensions, we have to go on with our lives. It's the right thing for us to do."

Raina Tamakawa, a senior performing as one of 20 hula dancers, agreed, saying the parade is a way for the young students to show support.

"We're 18 -- we can't give blood, a lot of us don't have jobs, so we can't give money even if we wanted to," she said. "It gives us a chance to show that we care. We're so far away, it's even harder.

"I know things can't go back to normal, but they're still doing the parade, so we still want to go."
E-mail to City Desk
---
---
© 2001 Honolulu Star-Bulletin
http://archives.starbulletin.com