CLICK TO SUPPORT OUR SPONSORS

---

---
Sunday, November 4, 2001
[ SUNDAY TRAVEL ]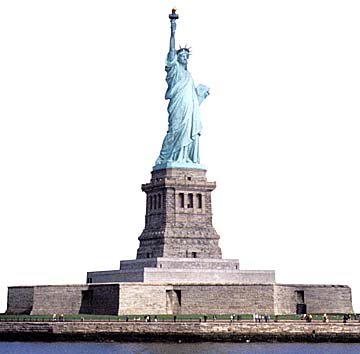 DENNIS CALLAN / SPECIAL TO THE STAR-BULLETIN
The Statue of Liberty.
---



Start spreading the news --
the greatest and most famous
sites remain in New York City

Guide to food, shelter & fun

---

By Dennis Callan
Special to the Star-Bulletin

As the most important city in the world, New York has a tremendous collection of amazing buildings, people, attractions and landmarks that await your discovery. I say this not just because it was my hometown, but because it is true. There has never been a better time to go, for several reasons:

>> New York needs our help.
>> There are bargains galore.
>> Acceptable weather, in the 40s and 50s.
>> The best Christmas shopping and displays.
>> It's still the world's greatest city.

Stay at a Midtown hotel to maximize your ability to get around. Normally hotel rates are sky-high, but due to the Sept. 11 terrorist attacks and continuing anthrax scares that are keeping other travelers at home, there are several good rooms in excellent locations, going for $150 a night, when they might normally go for $250.

Of course, when we say New York we focus exclusively on Manhattan. The ideal time to go for the best deal on airlines and hotels is the week before Christmas, which is also best for the holiday spirit. Airfare from Hawaii will be about $650.

Squeezing New York into 72 hours is a little bit like stuffing an elephant into a shoebox. You could very easily spend a week here, or a lifetime, and never run out of things to do, but based on years of living there and leading walking tours, here are my suggestions:

Day 1: Walk through Midtown; visit the Museum of Modern Art.
Day 2: Walk through Lower Manhattan; then take a bus tour.
Day 3: See Madison Avenue, the Metropolitan Museum of Art, Central Park and the American Museum of Natural History.

To fully appreciate the visit you should get in shape so you can do all the walking we are suggesting here: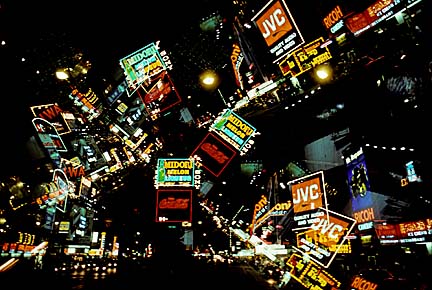 DENNIS CALLAN / SPECIAL TO THE STAR-BULLETIN
Times Square captures the heart of New York.
---
Day 1

Start with an eight-hour walk through Midtown, passing famous sights within the world's most interesting square mile. New York is an ideal walking town, so wear comfortable shoes, but sit down to rest for 10 minutes every hour. There are many different neighborhoods packed with things to see, but the most exciting zone is from 40th Street up to Central Park South, between Lexington and Broadway, eight blocks wide by 20 blocks long.

>> Times Square

Let's begin at the epicenter where Broadway, 42nd Street and 7th Avenue come together. Memories of sleazy ghosts from the past have been purged by sanitation and security with the Disney stamp of family approval. No longer home to the Times, and not even a square, things are not what you might expect at this magical intersection. Back in the 1970s it became run-down, nearly abandoned to the druggies, bums, gangsters and hookers, to the point where urban planners gave up on saving it and cooked up a nightmare plan to replace it completely with gigantic sterile office towers. Fortunately, those plans fell through.

Merchants formed an association that transformed this area into one of the major commercial and entertainment districts of the world. One of the prime events in this rebirth was the construction of the Marriott Marquis Hotel in 1985, a 50-story tower with 1,900 rooms. Have a look inside to gasp at the world's largest hotel atrium, one of New York's great interior spaces. Ride a glass elevator to the top and check out the view from the city's only revolving restaurant, which has a bargain $14 dinner buffet from 4:30 p.m. Of course, an advantage of being inside any nice hotel lobby is the opportunity to use the restroom facilities, which are not always easy to find. An espresso at the lobby bar is an energizing gesture that will keep you going, for we are just getting started. You also want to come back here at night to appreciate the blazing lights, which are especially wonderful just after a rain when everything is reflected in the streets.

Stroll through the neon gulch at night to feel the electric pulse of the square. This is the heart of the Theater District, and you should take in a play or two while here. You can pick up tickets at half-price for the day of performance at the TKTS booth at 48th Street. There is normally a long line of bargain-hunters, but you may not see them at this slack time.

>> Rockefeller Center

Walk along 48th Street heading east to Rockefeller Center, an amazing urban development that is the world's largest private commercial complex, with 250,000 people passing through its 19 buildings daily. Constructed mostly during the 1930s in the Art Deco style, and then expanded during the 1960s, the buildings are where giants Time-Warner, Celanese, Exxon and McGraw Hill stand shoulder to shoulder in an expression of corporate power.

Across 6th Avenue at 51st Street is Radio City Music Hall, famous for its Christmas Spectacular, running Nov. 1 to Dec. 31 ($34). The world's largest movie theater, it holds 6,000 people with a stage as wide as the city block. Last year, 1.2 million people saw the spectacular, which features the famous Rockettes in "The Parade of the Wooden Soldiers" and "The Living Nativity," along with a new 3-D movie in which Santa and his reindeer take you on a magical sleigh ride through New York City. The audience, all sporting 3-D glasses, tours Manhattan from the sky: pass the Empire State Building, go through Central Park, dash by the holiday-clad windows of 5th Avenue, and finally land at Radio City Music Hall.

Next door is the G.E. Building (formerly the R.C.A. Building). Its 70-story main tower soars 850 feet high in Art Deco style. At the top is the Rainbow Room, where you could return later for a drink or dinner while enjoying one of the most spectacular views in town. In the main lobby you can join the NBC tour, an hourlong studio tour that gives you a close look at some of the stages and sets used in their TV shows. A new tour departs every 15 minutes from the NBC Experience store.

The interior of this landmark structure is also pure Art Deco, from its black marble floors to streamlined stairwell banisters throughout two miles of public corridors. The two-level concourse is lined with shops and food courts. Look for the wall and ceiling murals in the main lobby as you exit the east end to emerge into another of New York's greatest spaces, the Lower Plaza, with its ice-skating rink and great bronze statue of Prometheus. If you are here after Nov. 28, you will also get to see the center's Christmas tree. It's always a thrill to watch the skaters glide along in this most romantic setting.

>> 5th Avenue

Continue your walk out the 5th Avenue side of the plaza through the Channel Gardens, so-called because it separates the British and French buildings. Notice the graceful white angels with their Christmas ornamentation and the pretty garden display. At the street end you are now facing the main headquarters of Saks 5th Avenue, with more wonderful holiday decorations. In business since 1924, this high-fashion department store is known for excellent service; maybe they can help you find something special.

A block north you will find St. Patrick's Cathedral, a grand neo-gothic structure that looks as if it is 800 years old, with stone buttresses, pointed arches, soaring spires, stained glass and medieval interior. Built 150 years ago, it is America's largest Catholic cathedral, 350 feet high, 300 feet long, with a seating capacity of 2,500.

Walking north along 5th Avenue past the Olympic Tower and Cartier, you are experiencing America's most glamorous shopping strip. In 5th Avenue's commercial heartland, you will pass Guy Laroche, Fortunoff, Gucci, Stuben, Armani, Bulgari, Tiffany and many other classy establishments.

>> Museum of Modern Art

Midway through shopper's heaven you will be tempted to visit this outstanding museum of 20th century art. The bad news is that gallery space has been significantly reduced during major reconstruction, but fortunately the museum has put together an exhibit of its very best artworks, featuring paintings by Claude Monet, Henri Matisse, Piet Mondrian, Pablo Picasso, Henri Rousseau and Vincent van Gogh, along with works by contemporary artists such as Andy Warhol, Jackson Pollock and Robert Rauschenberg. This might be time for lunch, and their café is an excellent destination.

Or walk a block east on 53rd Street to one of the most pleasant vest-pocket urban spaces, Paley Park, complete with waterfall, ivy-covered walls and a coffee bar. You could grab a sandwich at a deli and bring it into this little park, like I used to do when I was a sales clerk at the nearby Doubleday bookstore. It is a divine retreat.

Continue north a few blocks on 5th to Trump Tower, covered with glittering bronze mirror windows that make it look like a jewel in the sky, though it is characterized in the Cadogan guidebook as "the most catastrophically ugly building in the world."

The visual pyrotechnics continue inside The Donald's five-story atrium mall, which I like but some find excessive with its pink marble walls, waterfalls and overpriced shops. You probably won't buy anything, but it is worth a 10-minute ride up and down the golden escalators so you can judge the decor. Next door is Tiffany's, and Rizzoli's Bookstore is nearby at 29 West 57th St. Bergdorf Goodman is another of the elegant department stores to visit on 5th Avenue between 57th and 58th streets.

Now you must visit the famous Plaza Hotel, one of the top accommodations in town, at Grand Army Plaza. The Palm Court café is splendid to look at, and if you need a restroom there are elegant facilities down the hall to the left.

Cross the street and enter Central Park at the corner and take a little walk to The Pond, a calm oasis surrounded by pleasant walkways and benches. The forest looks natural but, like the rest of the park, was created by Fredrick Law Olmstead, the genius of American landscape architecture. Sit and pause, take a deep breath, admire the graceful stone bridge arching over the pond, and walk out the same way you came in at Grand Army Plaza.

If you must have toys, drop in to F.A.O. Schwarz's flagship store across from the Plaza, but beware the long lines to get in at this holiday time of year. There are more interesting shops to see further east, depending on your interests.

>> Madison Avenue

Walk one block over to Madison Avenue where you will find housewares at Crate & Barrel, one of the few chains that have not yet made it to Honolulu. One section of Madison leads north from here and goes for 15 charming blocks, but save that for Day Three. Instead, we are walking south on Madison to visit the Sony Building and have some fun in their free Technology Lab, which lets you play the mad scientist. Go in only if there is no line. Mostly for kids, it provides a mild amusement and does have an exciting small theater with dazzling high-definition videos. All the latest Sony gadgets are on view and for sale in the lobby shop. Be sure to look up to the roofline to find the Chippendale top designed by Phillip Johnson who built this in 1984 as the AT&T Building, the city's first postmodern structure.

Across the street, enter the IBM atrium indoor garden to see a bamboo forest. These giant buildings got density bonuses and many tax breaks by providing public spaces like this atrium, which is far more useful than the dreadful open plazas encouraged by now-discredited 1960s zoning laws. You must be getting tired by now, so it is very helpful to sit in the garden and recharge, but not for too long. There is too much ground to cover.

Down Madison, take a left at 54th over to Park Avenue, where you will be rewarded with another of those iconic views, looking south to the towering Met Life Building. Park Avenue is famous as the home of millionaires, although you'll need a lot more than a million to survive here. On the corner you will see two of the first glass box skyscrapers ever constructed, Lever House, built by Skidmore, Owings and Merrill in 1952, and the Seagram Tower, designed by Miese van der Rowe and Phillip Johnson in 1958. Along with the United Nations Headquarters on the East River, these created the modern style of architecture that has been copied in thousands of buildings all over the world. The Secretariat Building at the United Nations was the most revolutionary structure, the first glass box, built way back in 1950 with a design inspired by Le Corbusier and Oscar Niemeyer that still seems ultra-modern today.

>> Lexington Avenue

Walk for a few blocks along Lexington Avenue, which is less glamorous but in some ways a more authentic New York experience with shops that will not ask you to take out a second mortgage. We are here to see the slant-topped Citicorp Building, a miracle of architecture that stands on just four pillars and a central column, which make it look like this white aluminum tower is floating in mid-air, suspended above yet another atrium and food court.

Four blocks south you will come upon one of the city's most elegant and expensive hotels, the famous Waldorf-Astoria. It has a plush lobby with elaborate floral displays, crystal chandeliers and comfortable sofas, so you may want to rest another 10 minutes.

There is nothing remarkably interesting to see for the next few blocks, so walk quickly south on Lexington for six blocks past the usual lineup of shops, hotels, doormen and miscellaneous sights until you arrive at another gem, the Chrysler Building, in its day the world's tallest at 1,048 feet.

>> Chrysler Building

Its construction is an exciting tale of competition and dramatic surprise, because another building going up simultaneously in lower Manhattan at 40 Wall St. was planned to be slightly higher, but the Chrysler architects had a trick up their sleeve. They secretly assembled the stainless-steel spire but kept it hidden inside the top of the building; then, at the last minute, they lifted it into place and won the race, only to be eclipsed one year later by the Empire State Building at 1,250 feet. Chrysler's Art Deco spire is a spectacular monument symbolizing the power of the automobile age, the flash of the jazz age, and the special beauty of New York construction, topping what is still one of the world's great buildings. There is no public observation tower, but step into the public lobby to admire the Art Deco styling, right down to the elevator doors and air vents.

>> Grand Central Terminal

Across the street you are in for a major treat. New York's grandest interior space is without a doubt Grand Central Terminal. Nearly destroyed by the wrecker's ball in the 1960s, it has recently been restored to its original grandeur. This glorious Beaux Arts masterpiece opened in 1913 and has been the transportation hub of mid-town ever since, with commuter and subway trains carrying a half million people every day. You'll recall the phrase "busy as Grand Central" when you walk through here, hopefully not at rush hour. There are some fine restaurants, including the Oyster Bar, that have made this a destination in itself. Next door is the Grand Hyatt if you would like to see another of the glitzy hotel lobbies or need to freshen up.

>> New York Public Library

We have reached a great intellectual landmark, the largest public library in the country with some 9 million books. It is a grand temple to knowledge, built of marble in 1911 with lavish attention to detail.

The vaulted lobby is a breathtaking place you should just stop and admire for a moment before proceeding. The main attraction is the Main Reading Room, a remarkable space that runs the full block-wide length of the building, always busy with scholars and students utilizing this quiet dignified atmosphere. The hallways, stairs, side rooms and rotundas of this structure are well worth exploring, with many elaborate ceiling murals to appreciate.

Down below are the closed stacks with 88 miles of shelves, some of them extending under adjacent Bryant Park. This charming park is another urban renewal success story, transformed from a druggie hangout to one of Midtown's most peaceful spots.

You must be wearing down after covering about four miles, but don't quit yet because just two blocks down 5th you will find the second-best Christmas windows in town, at Lord & Taylor. This classy department store goes all out to entertain the sidewalk crowd, and its interior decorations are also worth a glance. We will get to the most spectacular shop windows at Macy's tomorrow. Now it is time to relax, have dinner and hopefully take in a Broadway show.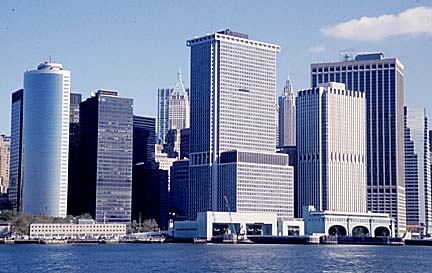 DENNIS CALLAN / SPECIAL TO THE STAR-BULLETIN
Lower Manhattan's skyline is packed with skyscrapers, albeit two fewer than before Sept. 11
---
Day 2

Lower Manhattan, SoHo, Greenwich Village and lower Midtown.

This is another big day, encompassing five fascinating miles. Take a cab down to the south tip of the island to Battery Park. If you would like a free boat ride from there, get on the Staten Island Ferry for the one-hour round trip through New York Harbor, which gives a view of the Statue of Liberty, the greatest monument to freedom ever created.

It was a gift in the late 1860s from the government of France to America, designed by Frederic Bartholdi, with the internal support framework built by Gustave Eiffel. At this time it is closed to the public for security reasons, but even if it were open, it takes too long to go inside to see it; you are better off enjoying it from the ferry. For some, viewing the statue from the shore near Castle Clinton will be sufficient.

Cross the busy street into lower Manhattan. An excellent free attraction here is the Smithsonian Museum of the American Indian, in the former Custom House, a Beaux Arts masterpiece first opened in 1907, on the site of New York's first European settlement, an appropriate location for Native American artifacts to be displayed.

Across the way is Bowling Green, New York's first public park, opened in 1733. As you walk along Beaver Street towards Broad Street, look to your left down New Street for a glimpse of the narrowest of urban canyons.

As you walk along Broadway you will reach Ground Zero of the World Trade Center, where a crowd lines up daily at the police barriers to leave messages of condolence and pay respect to those killed on Sept. 11. Avoid lingering and getting in the way of work crews by heading east toward Chinatown. You'll pass the giant Municipal Building, with neoclassical arches, alleys and tunnels at street level, topped with a fanciful wedding-cake spire. The facade is a huge triumphal arch, which you can usually walk through to the Police Plaza and a continuation of Park Row, which then leads you left to an ugly intersection where 10 streets come together at Chatham Square, the gateway to Chinatown. If that archway is blocked, walk around the Municipal Building to your left and continue through Foley Square. Consult your map (you should always carry a good map) and find Mott Street, the heart of Chinatown.

>> Chinatown

This area has grown into the largest Chinatown in North America, with a constantly expanding population, now estimated at 300,000. About 400 restaurants, countless Asian antique shops, and souvenir stores are sprawled over an area that stretches to the East River. Stick to Mott Street, which offers the most colorful ambience. There are many places to sit down for lunch, but for a reliable standard try Canton two blocks east at 45 Division St. If you can wait, there are many good restaurants ahead. Turn left on Canal Street and take a look down this huge busy truck-filled artery, lined with hundreds of Chinese signs and a thousand pedestrians. Walk one block and with a right onto Mulberry Street you'll be in Little Italy.

>> Little Italy

At the end of the 19th century, there were nearly 200,000 Italians living in Lower Manhattan, but now all that is left to reflect their presence is one street that goes for two little blocks, with a few scattered bakeries and cheese shops. Mulberry Street between Canal and Grand still has many wonderful Italian restaurants lined up side by side, so this would be another fine place to enjoy an inexpensive lunch. This colorful stretch makes the most convenient connection for us as we continue uptown. Walk left along Grand Street to Broadway, where you will enter SoHo, the city's fine arts center.

>> SoHo

SoHo (South of Houston Street) had been a run-down industrial neighborhood with factories, warehouses and truck-loading ramps, but in the last 20 years become known as New York's supreme art neighborhood. SoHo became more popular as artists moved in, attracted by cheap rents in illegal lofts. It was not zoned for residential use, but they put in their own improvements, creating apartment lofts which eventually were made legal. These old cast-iron buildings made great places to live, with high ceilings, big windows, solid walls and quiet streets.

SoHo has the largest collection of cast-iron buildings in America, constructed mostly in the last half of the 19th century. The facades look like neo-classical buildings made of fancy marble columns and walls, but it is just an illusion in cast iron, which had many advantages in those days: It was cheaply pre-fabricated, trucked in and quickly installed, creating a strong fireproof building with a classy look that showed the nation's growing industrial power. The largest collection of these facades is along Greene Street. Tribeca also has many similar old structures, adorned with funky metal fire escapes, but that is six blocks away, below Canal and Hudson streets, beyond the scope of our walk.

Prices in SoHo today have skyrocketed to a point where only the wealthy can live here. It has become "Silicon Alley" filled with multimedia artists, programmers and entrepreneurs. The artists have been squeezed out and are leading a similar sequences of gentrification in the areas they are settling in Brooklyn, Jersey, the East Village and Lower East Side.

Walk a couple of blocks along Greene Street to find a concentration of galleries, cafes and hip shops, then meander along Spring, Prince, Broome, West Broadway and Mercer. Here and there the streets are still paved in the original Belgian cobblestones, imparting a strong European feeling to the neighborhood. There is a branch of the Guggenheim Museum at 575 Broadway, at Prince. Many small clever shops here appeal to a hip clientele. For bargains, sidewalk stands and parking lot flea markets sell all kinds of useful junk.

The most famous SoHo food shop is Dean and Deluca, on Broadway at Prince Street. This gourmet heaven started out as a small sandwich bar and grew into the city's trendiest food market where you can still get sandwiches, coffee and snacks to nibble on.

An excellent Asian noodle eatery in the heart of SoHo is Kelley and Ping, at 127 Greene St. 212-228-1212. On the menu are lightly sautéed fresh vegetables in a noodle broth with fish or meats at reasonable prices.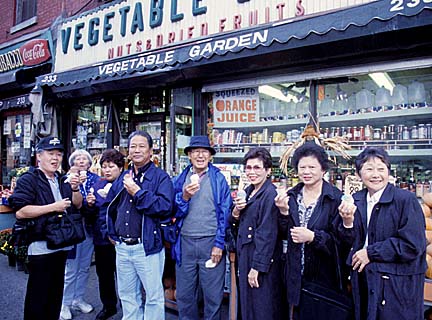 DENNIS CALLAN / SPECIAL TO THE STAR-BULLETIN
A Hawaii tour group stops for a treat of ice cream in Greenwich Village.
---
>> Greenwich Village

To get to the Village from SoHo, walk up Broadway across Houston, past Tower Records, and take a left on 4th Street to Washington Square Park. The Village is not as interesting as it once was but is still worth a walk-through. Birthplace of the Beat movement, and before that a literary haven in the 1920s, there is a rich tradition of non-conformity and creativity here. The best route will take you through Washington Square Park and out the southwest corner to Macdougal Street, then down two blocks to Bleeker Street. This intersection is one of the great crossroads of the Village, with the landmark Figaro Cafe on the corner.

Follow Bleeker past 7th Avenue, and then turn right on Christopher Street to Waverly Place; then walk along the north edge of the park past a row of glorious Greek-revival townhouses. Are you following? It does get pretty twisted here, so you may want to improvise, just as in the spirit of the many jazz clubs that still survive here. Walk along West 10th Street, a lively commercial strip near the edge of the Village, and then leave.

Our next major goal is 34th Street, which is pretty far north, so save some time and take a taxi rather than walk 24 blocks, or catch the subway from 6th Avenue and 14th Street. You will be skipping the Flatiron District, Gramercy Park and Chelsea, which are quite interesting, with many more shops and art galleries, but not crucial to a three-day experience. Save them for another trip.

>> Macy's

Located at 34th Street and Broadway in the area known as Herald Square, the world's largest store occupies a city block and offers eight floors of shopping. You must visit this great department store as a preview to what they will be offering here in Honolulu. Macy's has the best holiday display in New York, with windows dressed in amazing moving displays. It is such a theatrical event you might find a crowd on the sidewalk, herded along within roped walkways that lead past the windows. Traditionally, the unveiling of the windows happens at Thanksgiving and they are on display until just past New Year's Day. Inside the store, Macy's Santaland is a free 6,000 square-foot fantasy for kids, open Nov. 23 to Dec. 24.

>> Empire State Building

Just one block away along busy 34th Street, the Empire State Building is the ideal paradigm of a skyscraper with its spire rising 1,250 feet, or 1,454 feet to the top of the TV tower. There are two taller structures in the world (Sears and Petronas) but this is a classic and it has the best observation deck of any because it puts you in the middle of the densest concentrations of skyscrapers in the world.

The Empire State Observatory is such a popular attraction you might have to wait in line to get up, but here is a tip: Buy your $9 ticket ahead of time from tour vendors on the sidewalk outside the building, or as part of a bus tour. Having a ticket will get you past the first line. There will be another one for the elevators, but it should not be long early in the morning. With some luck you can be up and down in an hour.

The observatory is on the 86th floor of this 102-story building. This structure was raised in a year and a month, between 1929-1931, using 60,000 tons of steel beams and 300,000 tons of cement, limestone and granite. Built at a top speed of one floor a day, they say the steel beams were still hot from being just forged in Pennsylvania. When completed it was dubbed the "Empty State Building" because the Great Depression had begun and few tenants moved in. Revenue from the observation deck kept developers afloat until the economy bounced back after World War II.

If you are interested in clothes, head to 38th and Broadway, the heart of the garment district, where racks of clothes are pushed along the sidewalks. You may find some clothing bargains by walking up Broadway or Seventh Avenue and looking for people handing out fliers for showroom or sample sales. There are also permanent discount shops, like SSS Sample Sale at 261 W. 36th St., second floor, open from 10 a.m. to 6 p.m. weekdays. Web sites listing the latest sale locations include www.lazarshopping.com and www.clothingline.com. A half-price shop for men is Prato at 28 West 34th St.

>> Bus and boat tours

It would be a shame to visit New York and only take a bus tour, thinking you have seen the city. However, once you have completed our first two days of walking, some time can be spared for a bus tour. Do it on a weekend if possible when there is less congestion. Or take the Circle Line boat tour around Manhattan. It is relaxing to drift, and tour guides are usually good at offering odd historical stories.

If you are not going to a play tonight, you should consider a musical event. Carnegie Hall is one of the most famous concert halls in the world; Lincoln Center for the Performing Arts is the home of the Metropolitan Opera, the New York City Opera, the New York Philharmonic, and the New York City Ballet, or check the cabaret listings in New York Magazine to see who is performing in the hundreds of Manhattan nightclubs.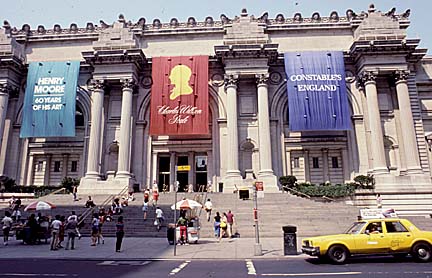 DENNIS CALLAN / SPECIAL TO THE STAR-BULLETIN
The Metropolitan Museum of Art is arguably the world's finest art showcase.
---
Day 3

Madison Avenue north, Metropolitan Museum of Art and the American Museum of Natural History.

Today we are walking fewer miles on the city streets but there will still be just as much ground to cover inside a couple of huge museums, so start the day with a big breakfast.

>> Upper Madison Avenue

Spend the morning walking along upper Madison Avenue, where we left off the first day at 59th Street, all the way up to the Metropolitan Museum on 81st Street at 5th Avenue. This part of Madison has a European feeling to it, with many small boutiques, art galleries, unique shops, cafes, and expensive apartments. A two-block detour to Bloomingdale's, on 59th at Lexington, would be fun for the serious shopper, although it is not the fashion center it once was. The Upper East Side is where the very rich live and play, amidst the classiest of surroundings. As you walk along Madison, look down the side streets at their mansions and deluxe apartments. Of course you don't see much from the street, but you can imagine the interiors.

If you would rather spend more time in nature, skip the Madison walk and head north to the Met through the nicest part of Central Park, including the zoo, the model sailboat pond, Alice in Wonderland, and graceful wooded pathways. Later today you can walk across another section of the park.

En route to the Met, art lovers may drop into the Frick Collection at 5th and 70th for a quick look at New York's finest small art museum. This breathtaking collection of masterpieces is exhibited in one of the few surviving robber-baron mansions on 5th Avenue, the home of Henry Clay Frick, a Coke (the soft drink kind) billionaire.

>> Metropolitan Museum

This is the world's finest art museum! Ouch, I can hear some objections, like what about the Louvre or the Hermitage, but no, I can assure you the Met is No. 1, by far. New York's most popular attraction draws 5 million visitors each year. I cannot pretend to offer a complete guide. The Met simply has the best of everything, representing the span of the world's art history: Impressionism; Ancient Egypt, Greece and Rome; Byzantine; Armor; Americana; Old Masters; Pacific Islander; Islamic; Asian; Gothic; Decorative; costumes; music; Renaissance; modern art; sculpture; architecture; photography. You cannot see it all at once, so you must establish priorities.

Some tips: Go to the gift shop, browse through the museum catalogue and postcards to get an idea of what awaits, and pick up a free map from the information desk. The museum's former director Thomas Hoving suggests you purchase postcards of the pieces you most want to see, then show them to guards as you walk along, asking for directions. I like to start with my favorites, the enormous Impressionist collection including the Vermeers, the Van Eycks and the Italian Renaissance masters. Take a breather on the rooftop sculpture garden with a fabulous view of Central Park, planning your route to our next attraction.

>> American Museum of Natural History

Bugs, meteorites, jewels, culture history, archaeology, taxidermy and dinosaurs, form this collection. Housed here are 36 million objects that cover 500 million years of evolution, but again, you cannot see everything, so get the floor plan and choose. My favorite displays are the realistic dioramas that reveal significant eras as related in the evolution of animals that inhabited the planet. Also, be sure to catch the exhibits of Native American art and culture. And don't miss the 96-foot long whale hanging from the ceiling. Finish your visit at the new Rose Planetarium, a sphere enclosed in a giant glass cube that will take you to the edge of infinity.

So New York has it all: fine dining, great shopping, top entertainment, historic landmarks and fascinating architecture, but the most exciting thing to do is just walk with your eyes wide open, stand on the street corner, look around you and look up. It's a city taking care of the world's business with one arm while reaching up to heaven with the other.

---

Dennis Callan is the president of the Hawaii Geographic Society and produces the "World Traveler" television series, shown at 7 p.m. Tuesdays, repeating 9 a.m. Wednesdays on 'Olelo, channel 52. View the companion episode to this article this week. "Three Days in ..." appears the first Sunday of the month.




Midtown hotels

Best rates are between Dec. 16 and 26. These prices give you an approximate idea of what to hope for, but they are not always available. You often get the lowest rate by booking through hotel Internet sites.

>> Quality Hotel Suites: 59 W. 46th & 5th Ave. Call (212) 719-2300 $89

>> Comfort Inn Midtown: 46th & 8th aves. Call (212) 221-2600 $89

>> Best Western Woodward: 210 W. 55th St. Call 1 (800) 528-1234 $95

>> Best Western Ambassador: 8th Ave. & 45th St. Call 1 (800) 528-1234 $99

>> Best Western President: Broadway and 47th St. Call 1 (800) 826-4667 $104

>> Radisson Lexington Hotel: 511 Lexington Ave. & 47th St. Call (212) 755-4400 $119

>> Wellington: 871 7th Ave. at 55th St. Call (212) 247-3900 $135

>> Edison Hotel: 228 W. 47th St. Call 1 (800) 637-7070 $145

>> Novotel New York: Broadway & 51st. Call (212) 315-0100; 1 (800) 221-4542 $169

>> W New York -- The Tuscanny: 38th and Park. Call (212) 686-1600 $179

>> Marriott Marquis: 1535 Broadway W. 45th St. Call 1 (800) 228-9290 $208

>> Sheraton New York Hotel and Towers: 7th & 53rd. Call (212) 581-1000 $249

Museums

>> Museum of Modern Art, 11 West 53rd St. Admission is $12/ Seniors $8.50. Hours: 10:30 to 5:45 Thursdays to Tuesdays, except Friday when it closes at 8:15 p.m. (free admission from 4:30 to 8:15 p.m.). Special exhibit: Sculpture of Giacometti, through Jan. 8.

>> The Frick Collection, 1 East 70th St. Admission $10 (students and senior citizens $5). Hours: 10 a.m. to 6 p.m. Tuesdays through Saturdays, and 1 to 6 p.m. Sundays. Call (212) 288-0700.

>> Metropolitan Museum of Art, 1000 5th Ave. at 82nd St.

Hours: 9:30 a.m. to 5:15 p.m. Sundays and Tuesdays to Thursdays; to 8:45 p.m. Fridays and Saturdays. Admission $10 general; $5 for seniors. Call (212) 535-7710.

>> American Museum of Natural History, at Central Park West, between W. 77th St. and 81st St. Hours 10 a.m. to 5:45 p.m. Sundays to Thursday; and 10 a.m. to 8:45 p.m. Fridays and Saturdays. Suggested admission $10 with Planetarium Show, $19; seniors $7/$14.

>> Guggenheim Museum SoHo, at 575 Broadway. Admission: $5 general, $3 for seniors. Open 11 a.m. to 6 p.m. Thursdays to Mondays. Call (212) 423-3500.

>> Guggenheim Museum, 1071 5th Ave. (at 89th Street). Hours 9 a.m. to 6 p.m. Sunday to Wednesday, to 8 p.m. Fridays and Saturdays. Admission $12 general and $8 for seniors. Call (212) 360-3500.

Restaurants

You'll also be amazed at the kinds of foods available in New York's 18,000 restaurants, delis and food stands. If you hunt you'll find the foods from each of the 185 nations represented at the United Nations.

This is a listing of the very best that New York has to offer, so keep in mind these top places will cost you about $40 to 80 per person for dinner, including one drink and tip. Reservations are essential, perhaps days ahead, and jacket and tie is sometimes required.

According to Gourmet magazine, the top 10 are:

>> Jean-Georges: 1 Central Park West, (212) 299-3900

>> Lespinasse: 2 East 55th St., (212) 339-6719

>> Daniel: 60 East 65th St., (212) 288-0033

>> Le Bernardin: 155 West 51st St., (212) 489-1515

>> Babbo: 110 Waverly Pl., (212) 777-0303

>> Nobu: 105 Hudson St., (212) 219-0500

>> Grammercy Tavern: 42 East 20th St., (212) 477-0777

>> Bouley Bakery: 120 West Broadway, (212) 964-2525

>> Union Pacific: 111 East 22nd St., (212) 995-8500

>> Honmura An: 170 Mercer St., (212) 334-5253

Ten more top restaurants, from Zagat:

>> Chanterelle: 2 Harrison St., (212) 966-6960

>> Sugiyama: 251 W. 55th St., (212) 956-0670

>> Aureole: 34 E. 61st St., (212) 3191660

>> La Grenouille: 3 East 52nd St., (212) 752-1495

>> Union Square Café: 21 East 16th St., (212) 243-4020

>> Il Mulino: 86 West 3rd St., (212) 673-3783

>> Gotham Bar and Grill: 12 East 12th St., (212) 620-4020

>> Café Boulud: 20 East 76th St., (212) 772-2600

>> La Caravelle: 33 West 55th St., (212) 586-4252

>>La Cote Basque: 60 West 55th St., (212) 688-6525

For more see www.zagat.com

On Broadway

>> "Beauty and the Beast," (212) 307-4100

>> "Kiss Me Kate," (212) 239-6200

>> "Mamma Mia," (212) 239-6200

>> "Rent," (212) 307-4100

>> "The Lion King," (212) 307-4100

>> "The Phantom of the Opera," (212) 239-6200

>> "The Producers," (212) 239-6200

Useful Web sites

www.essentialbigapple.com

www.cityhotelguide.net/newyork/



E-mail to City Desk
---
---
© 2001 Honolulu Star-Bulletin
http://archives.starbulletin.com