CLICK TO SUPPORT OUR SPONSORS

---

---
Island Images



Sunday, November 4, 2001
---
ROLL, ROLL, ROLL YOUR CANOE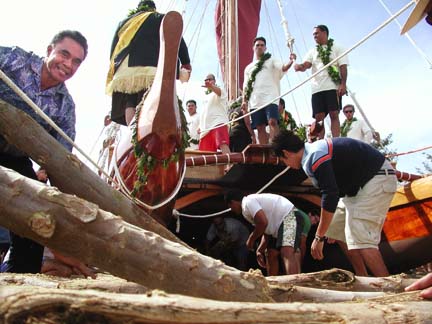 BARRY MARKOWITZ, SPECIAL TO THE STAR-BULLETIN
Folks rotated logs from the back of the voyaging canoe, Iosepa,
to its front yesterday to help launch the vessel at Hukilau Beach,
Laie. The canoe will be a floating classroom for Brigham Young
University-Hawaii's Hawaiian Studies program.
---
RAIN, RAIN, GO AWAY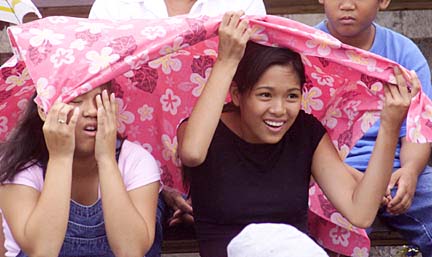 FL MORRIS / FMORRIS@STARBULLETIN.COM
Waipahu High School fans Michele Dias, left, and Megan
Dias tried to cover themselves from a brief shower that began
while they were watching yesterday's football game between
Waipahu and Castle High School at the Mililani High
School stadium.
---
THE BUS' NEW DIGS IN PEARL CITY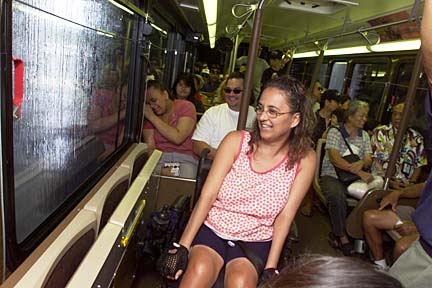 FL MORRIS / FMORRIS@STARBULLETIN.COM
Terri Stender and others enjoyed a bus ride and tour
through the new The Bus facility at the old Manana warehouse
site in Pearl City yesterday. They were riding through the
bus washing machine.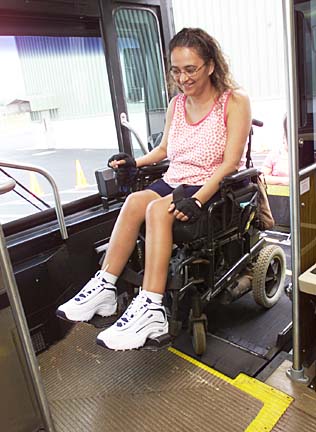 FL MORRIS / FMORRIS@STARBULLETIN.COM
Terri Stender boarded The Bus using the wheelchair lift.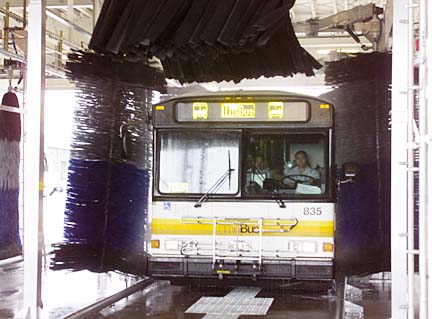 FL MORRIS / FMORRIS@STARBULLETIN.COM
The Bus washer was at work at the new facility.
---




LET FREEDOM REIGN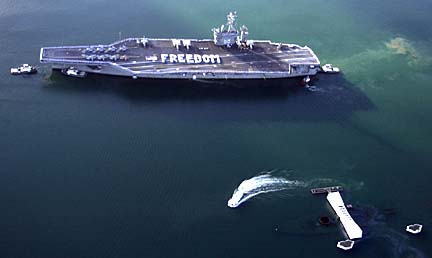 COURTESY OF U.S. NAVY
USS Nimitz (CVN-68) entered Pearl Harbor yesterday, passing
the USS Arizona Memorial as its Sailors spelled "FREEDOM"
on the ship's 4.5-acre flight deck. USS Nimitz departed Norfolk,
Va., on September 21, en route to its new homeport in San Diego.
---
OVERFLOWING WITH ALOHA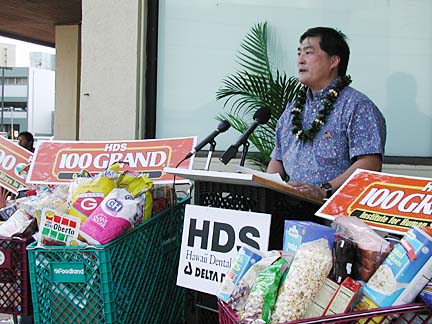 PRESS RELEASE PHOTO
Dr. Jay Kanegawa, Hawaii Dental Service chairman of the
board, is surrounded by shopping carts filled with food HDS
donated to Hawaii Foodbank. HDS announced yesterday it is
giving $100,000 each to the Hawaii Foodbank, the Institute for
Human Services, the Queen's Dental Clinic, Catholic Social
Ministries and United Ways in Hawaii.
---
E-mail to City Desk
---
---
© 2001 Honolulu Star-Bulletin
http://archives.starbulletin.com