CLICK TO SUPPORT OUR SPONSORS

---

---
Sunday, November 4, 2001


[ STUFFS ]
---
FINGER PUPS FOR PLAY AND LEARNING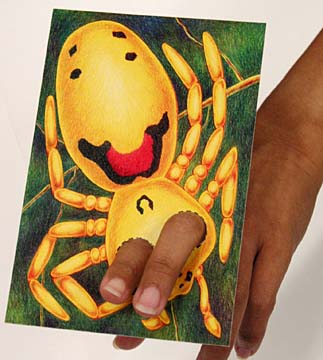 STAR-BULLETIN
The happy face spider is one of four Keiki Finger
Pups available on a postcard.
---
Children can have fun with finger puppets and learn about Hawaii's endangered wildlife in the process.

"Keiki Finger Pups" are reproduced on 4-by-6-inch postcards from delicate pencil drawings by Cheryl Murakami.

Cards available feature the green sea turtle, monk seal, nene goose and happy face spider.

Parents help to cut the holes so children can turn their fingers into flippers, fins or legs that wiggle and move. Parents can also use the cards to illustrate stories, or help stimulate children's imaginations by having them make up their own stories. Finger play also helps pre-school age children develop their coordination.

The cards are available in packs of four, selling for about $4.95, or individually at about $1.25 per card.

Look for them at Vue Hawaii at Kahala Mall, Pat's Island Delights in Pearl City, The Outrigger Trading Co. in Haleiwa, Naturally Hawaiian in Waimanalo, The Mission House Museum, Native Books, Island Treasures in Kailua and other gift shops throughout the islands.

---




ISLE PAGES

New releases from Hawaii authors,

---


By Burl Burlingame
bburlingame@starbulletin.com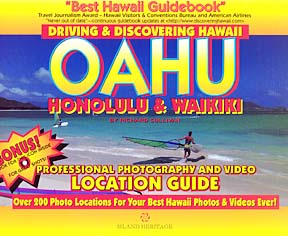 Driving and Discovering Hawaii, Oahu, Honolulu & Waikiki by Richard Sullivan

(Island Heritage, $15.99)

Working phogrtapher Sullivan has updated his 1997 guide to the many lovely angles of Oahu, complete with useful maps, weather patterns, surf reports, architectural details, vegetation, history and clear directions. The book is filled with photographs that aren't so spectacular that the average serious hobbyist couldn't take himself. Film and commercial location managers will find this volume invaluable, as will any weekend photographer wondering what to expect around the next corner.

---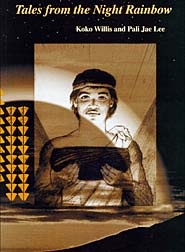 Tales From the Night Rainbow by Koko Willis and Pali Jae Lee

(Night Rainbow Publishing, $15)

It's difficult to get a handle on this good-looking albeit slim volume, as it's filled with neat pieces of artwork and short essays and oral histories, most of which seem to have something to do with Molokai kupuna and their accumulated knowled.ge and traditions. There are undeniable riches here, but they needed a stronger editor and a clearer vision to sort out for the rest of us.

---




[Chew On This]

New York chefs head
isle benefit dinner

New York chefs Tom Colichio of Grammercy Tavern and Jimmy Bradley of Red Cat will be the headliners at a benefit Saturday for victims of the Sept. 11 attacks.

The dinner at the Mauna Kea Resort takes the place of the three-day Winter Wine Escape, the food and wine festival originally planned for that weekend.

Prince Resorts chefs will join Colichio and Bradley in preparing an extensive menu for the night. Cost is $80, to support the Windows of Hope Family Relief Fund and the American Red Cross Disaster Relief Fund.

Steve Olsen, the wine connoisseur who traditionally hosts the Winter Wine event, will emcee.

Those who had tickets to the Winter Wine Escape may receive refunds or exchange their tickets for next year's event, which has been scheduled for November 2002. Call 808-880-3023.

Special events

Winez & Grinz: Chef Steven Ariel presents a five-course meal with wine pairings, 5 to 8:30 p.m. Friday, at the Pineapple Room. The menu includes Smoked Salmon and Avocado Salad, Curried Pumpkin Soup, Blackened Shutome with Shiitake Mushroom Salsa, Grilled Beed Tenderloin and Crab-Stuffed Portobello. Cost is $49; $64 with wines. Call 945-6573. Also at the Pineapple Room, contemporary Hawaiian entertainment is being offered Thursdays, 6:30 to 8:30 p.m., beginning with John Feary Thursday, followed by Jake Shimabukuro Nov. 15 and 29.

Martini & Mushrooms: Martinis will be served with mushroom appetizers by chef Elmer Guzman, 5 to 7 p.m. Friday, at Sam Choy's Diamond Head. Dishes include Tempura Button Mushrooms, Shiitake Wellington, Grilled Portobello with Boursin Glaze, Porcini Mushroom Risotto and Chanterelle Mushroom Stew. Cost is $20. Call 732-8645.

Da Grind Buzz: Kona Brewing Co. celebrates the Kona Coffee Cultural Festival with a new brew that blends dark stout with 100 percent Kona coffee. Coarse-ground dark roast beans were added to the brew in mesh bags during the aging process. Da Grind Buzz Kona Coffee Kona Coffee Imperial Stout will be served at the brewpub while supplies last. Call (808) 334-BREW.

New Cookie Shop: The Honolulu Cookie Company, which claims to have the finest shortbread cookies around, opens its doors tomorrow in Kalihi, at 1717 Homerule St.

All week, they'll be passing out free cookie samples, drawing door prizes and offering specials. The shop will also be holding a delicious cookie contest, where visitors sample various shortbread recipes and cast a vote.

Hours are 9 a.m. to 5 p.m. Monday to Friday; 10 a.m. to 3 p.m. Saturday; and 10 a.m. to 2 p.m. Sunday. Call 845-1517.






Click for online
calendars and events.





---





Send WatDat? questions, stories
or any other story ideas or comments to:
Features, Honolulu Star-Bulletin, P.O. Box 3080,
Honolulu, HI 96802 or send a fax to 523-8509
or E-mail to features@starbulletin.com.
Please include your phone number.
E-mail to Features Editor
---
---
© 2001 Honolulu Star-Bulletin
http://archives.starbulletin.com