CLICK TO SUPPORT OUR SPONSORS

---

---
Sunday, November 4, 2001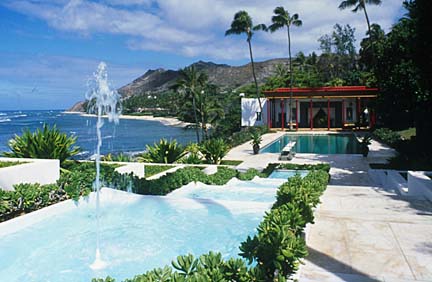 COURTESY PHOTO
The Playhouse is framed by terraced water features and
views of Diamond Head.
---
Experience Shangri La,
local-style

---

By Tim Ryan
tryan@starbulletin.com

As much a Honolulu landmark as a curiosity, Doris Duke's $100 million Islamic-style residence at Diamond Head will be opened to the public late next year, eight years after the tobacco heiress' death and some seven decades after its construction.

Under a partnership agreement between the Doris Duke Foundation for Islamic Art and the Honolulu Academy of Arts, the academy will serve as a "staging center" to coordinate small group visits up to 96 a day four days a week for educational programs and field studies beginning October 2002.

The bright white 14,000-square-foot home, dubbed Shangri La, on the western side of Black Point contains architectural features from throughout the Islamic world and an extensive collection of Islamic art including tile work, painted ceilings, carved doors and marble screens, textiles, ceramics and paintings.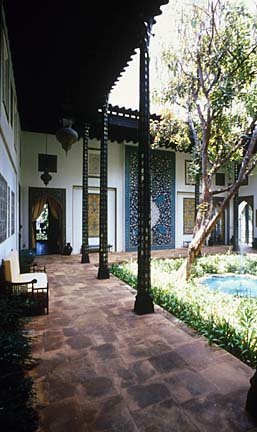 COURTESY PHOTO
Shangri La's central patio with Persian tile and
Moroccan-styled mirrored columns.
---
"Recent events have generated a strong desire in our community to learn more about Islamic culture and art," said George Ellis, executive director of the academy. "We are fortunate to have access to one of the most extensive collections of Islamic art in the United States."

The academy also will receive from the foundation a $3 million grant to support art programs and educational activities at the academy that focus on Islamic and Hawaiian art and culture. A portion of the grant will be used to create a new "Gallery of Islamic Art" as the staging center for Shangri La visitors.

The academy is expected to receive the grant by December.

The academy will also create multi-disciplinary programs related to Shangri La; renovate the existing 300-seat theater, to be re-named in honor of Duke; and establish an endowment to support Islamic and Hawaiian programs that complement activities at "Shangri La." The name of the theater has not been decided but a name like Duke Theater will not be used to avoid confusion with Duke Kahanamoku.

Doris Duke, a part-time Oahu resident, died in 1993 at age 80 at her Beverly Hills estate, Falcon's Lair.

"Shangri La is a unique historical and cultural resource," said Deborah Pope, executive director of Shangri La. "The house, the Islamic art and architecture, the water features, gardens and spectacular views of the ocean and Diamond Head all evoke a powerful sense of place."

Partnering with the academy, a plan explicitly written in Duke's will, the foundation can reach a larger audience with educational programs and exhibitions at the Academy while preserving Shangri La's "special qualities," Pope said. Visitors to the estate must depart from the academy in vans to gain entrance.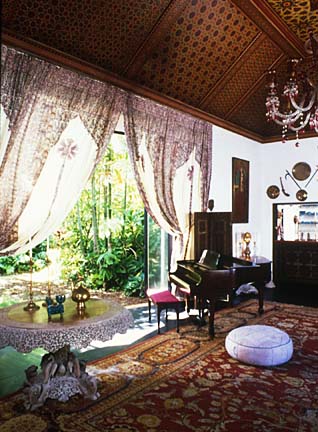 COURTESY PHOTO
Doris Duke often played the piano in the central room of
the Playhouse, which served as a guest house and features
an Islamic-style painted ceiling, Indian draperies
and Persian paintings.
---
About $2 million worth of repairs, maintenance and upgraded security will be done in the next year, involving taking a very private residence and giving it public access while conserving the artworks and installing security systems, Pope said. No new construction will be done.

The entrance fee will be nominal in accordance with Duke's will, Pope said. If admission fees are inadequate to staff and maintain the land, grounds, buildings, furniture, furnishings and art, supplemental funds will be provided by the Doris Duke Charitable Foundation.

Duke inherited a mega-fortune from her father, James Buchanan Duke, an industrialist who founded the American Tobacco Company, and was the benefactor of Duke University.





Click for online
calendars and events.
E-mail to Features Editor
---
---
© 2001 Honolulu Star-Bulletin
http://archives.starbulletin.com