CLICK TO SUPPORT OUR SPONSORS

---

---
Sunday, November 4, 2001
[ MAUKA-MAKAI ]

---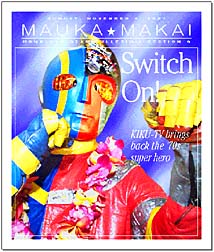 ---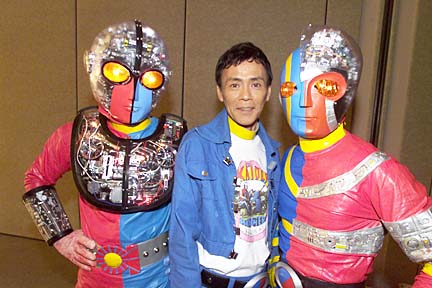 DENNIS ODA / DODA@STARBULLETIN.COM
Shades of the '70s, from left: Kikaida-01, Jiro (Daisuke Ban)
and his alter ego, Kikaida. The old show's 43 episodes will
reprise beginning tonight on KIKU-TV.
---
Ol' Blue 'n' Red is back

---


By burl burlingame
bburlingame@starbulletin.com

To those of a certain generation in Hawaii, the return of "Kikaida" is like those old "Star Trek" episodes coming out of the closet after three decades of dust-gathering. Finally, we're getting those flashbacks we were promised.

Beginning at 7 tonight on KIKU-TV, the classic "Kikaider" TV series is reprised, and the 43 episodes will run two at a time until they're exhausted -- and then the 46 episodes of sequel "Kikaider-01" will begin.

KEN IGE / KIGE@STARBULLETIN.COM
Personal appearances by "Kikaida" stars in the '70s
regularly drew more than 10,000 fans .
---
Only in Hawaii was "Kikaida" way, way huge. Everywhere else -- and by that we mean pretty much Japan only -- the hero's name was "Kikaider." The show's title was "Jinzo ningen kikaidaa," or "The Mechanical Man." Although it aired in prime time in the home islands, it was a for-kids Japanese television show of the early '70s. It combined the heroic storytelling-with-a-moral of Western culture, the color and martial arts of Eastern ways, and the noise and flash of consumer-savvy marketeering.

The hero was a half-machine, half-man creation that spent most of its time as Jiro, a wandering teenage dude with a red guitar. One strum, and actor Daisuke Ban would grunt "Change. Switch ON! One, two, three ... Jiro, change-ee, to Ki-kaiii-idaaa!" and he'd morph into a red-and-blue half-machine and start kicking monster butt.

The story arc -- which was sped up after the all-action "Kamen Rider" was introduced -- was pretty much the same show to show. Brainiac robotics scientist Dr. Komyoji (Hajime Izu) was kidnapped from his family and put to work creating mutant bad guys for snarly, flute-playing Professor Gill (Mitsuo Ando), boss of the Dark Demolitions Corps, bent on world domination.

Dr. Komyoji built mechanical man Kikaider to fight DDC's mutants. When not fighting, Kikaider became Jiro, the spitting image of Komyoji's deceased son, Taro.

Like every superhero ever created, Kikaider had one weakness, in this case an "incomplete Conscience Circuit."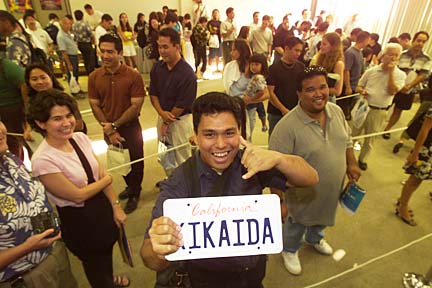 DENNIS ODA / DODA@STARBULLETIN.COM
Jason Tayros stands among throngs of Kikaida
fans to show his actual license plate from California
that he hopes to get autographed. He flew in just to
see the Kikaida show in July.
---
Komyoji's teenage daughter Mitsuko (Jen Mizunoe) and Jiro were separated from the doctor during a lab explosion, and Komyoji never completed the circuit that would make Jiro immune to Gill's evil flute, but then there wouldn't be enough plot for 43 episodes. Gill exploits this weakness whenever he can, doing the Jethro Tull thing and causing Jiro great pain and preventing him from changing into Kikaider, who is unaffected by the flute.

Got that? That's all you need to know to understand every episode.

A typical show begins with the now amnesiac doctor wandering into a new community, while Mitsuko and son Masaru (Masahiro Kamiya) search nearby for Jiro with the aid of hapless detective and comic sidekick Hanpei Hattori (Shun Ueda).

Inevitably, Gill figures out where they are and sends a monster mutant (the show used a lot of foam rubber) and a squad of Androidmen after them. But just as the monsters close in, what's that they hear? The sound of Jiro's red guitar. Jiro jumps up into the air and lands as Kikaider, and there's a brief acrobatic routine that's supposed to be a fight which leads to the monsters running away so they can show up in the third act when Kikaider whips out his famous "Double Chop" karate attack, shrieking "Denji End" ("Electro End") as he delivers a finishing blow. The doctor's kids race to tag Kikaida, but he flips back into Jiro, slings his red guitar over his back and speeds off into the sunset on his motorcycle while the theme music swells sadly.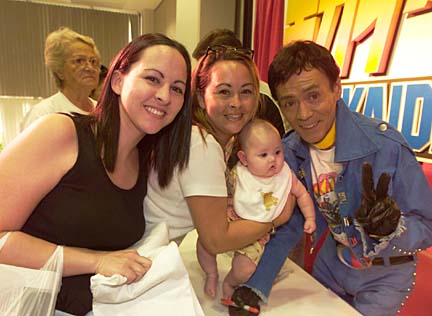 DENNIS ODA / DODA@STARBULLETIN.COM
Dana Shimoda-Fraiola, left, and Kara Yamanaka
introduce little Haley to Jiro (Daisuke Ban).
---
This stuff struck a major twanging chord in the hearts of Hawaii kids in the '70s. Personal appearances by the show's stars regularly drew more than 10,000 fans.

It continues today, thanks to the redemptive power of videotape. According to Duane Chang, co-proprietor of Collector Maniacs in Kaimuki -- "Kikaida Central!" -- the age range of Kikaida fans is "six to sixty. We opened the store in 1997, during the 25th anniversary of Kikaider in Hawaii, and since we grew up here, that really meant something. So we've specialized in Kikaida stuff -- action figures, cards, videotapes. DVDs will be out soon.

"A lot of parents out there are introducing their kids to Kikaida through the videotapes, and the toys coming out now are such high quality that people are buying them all over again. The best part of this is seeing little kids come in and get all excited over Kikaider the way we did.

"Kikaida is a Japanese phenomenon, and Hawaii is the only place where it took off in such a big way. At the All-Hawaii Collectors Expo earlier this year, local fans brought over the original stars Daisuke Ban and Shunsuke Ikeda (from Kikaider-01) and they were amazed at the huge reception."

Not surprised, but paying close attention, was KIKU-TV president Joanne Ninomiya, who originally spotted the show during a trip to Japan back in the '70s and brought it to Hawaii.

"As the original Kikaida fans grew older, interest has peaked, and die-hard fans have been after us to bring the series back," explained Ninomiya. "So here we are!"

The big difference between then and now is that pleasing fans has become professional. There are Kikaida Web sites -- go to http://kikaider.almostblue.net/media.htm to hear the theme song! -- and KIKU-TV has a way-cool site at http://www.generationkikaida.com that explains everything else you'd need to know, such as the theme song "Go Go Kikaida" or "Tatakae! Jinzo Ningen Kikaida!" by Yuki Hide. There's also a "Generation Kikaida -- Hawaii" DVD in the works for next spring, and tie-in and quizzes with outlets such as Zippy's.

"The main goal is to give fans one last chance to go back in time and relive some fond memories," said Ninomiya.





Click for online
calendars and events.
E-mail to Features Editor
---
---
© 2001 Honolulu Star-Bulletin
http://archives.starbulletin.com