CLICK TO SUPPORT OUR SPONSORS

---

---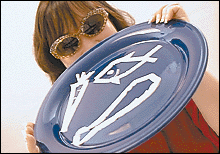 The Weekly Eater
BY NADINE KAM
Sunday, November 4, 2001
---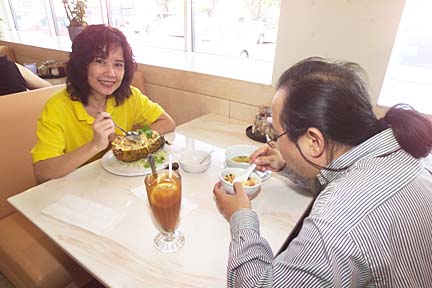 DENNIS ODA / DODA@STARBULLETIN.COM
Shu Ling, left, and Archie Chang enjoy lunch at Hong
Kong Orchid Cafe. Ling is sharing her pineapple beef
fried rice with Chang, who quickly finished his
won ton noodles.
---
Tradition beats Chinese
eatery's pasta experiments

The first time I noticed the space at 1159 Kapiolani Boulevard a tiny restaurant named Pietro's had moved in, serving up pasta, Japan-style. A watered-down version of Italian, it nevertheless caught on with some, growing big enough to move up the street into larger quarters.

After Pietro's left 1159, several restaurants rushed in one by one to take its place, without much luck. Now Hong Kong Orchid Cafe has joined the procession, and I have a pretty good feeling about this restaurant. I dunno. Call it karma, but maybe HKOC was meant for this space. Just as Pietro's brought a Japanese sensibility to Italian pasta, HKOC brings a Chinese twist to spaghetti.

New wave Chinese? Hmmm. The last time I was in Hong Kong was about five years ago. Is this what they've been up to? As intriguing as this new menu might be, just as with the Japanese pastas, the new dishes here are a challenge meant only for the most open-minded.

At first glance, HKOC seems your typical Chinese restaurant, with a big menu of thready Hong Kong noodles in won ton soup ($4.50), braised with pig's feet ($6.50), or braised with ginger and green onion ($5.50). Then there are the soothing congees, or rice soups, with various ingredients stirred in, such as scallops ($6.50), chicken ($6.25) and preserved egg and pork ($6.25).

All of this is served in a spare room, with a wall-sized poster of Kowloon as viewed from a boat in the harbor. At the right of the picture is the zigzag pattern of the China Bank building. At the left is the convention center. If not for the image's bluish monochrome tint, you'd almost feel you were there. I thought it was a good sign that there were a lot of Cantonese speakers in the house who seemed to be enjoying themselves.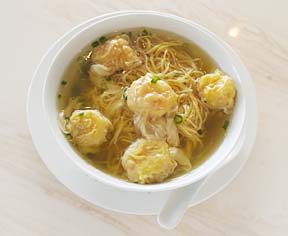 DENNIS ODA / DODA@STARBULLETIN.COM
Won ton noodles, a house special also pictured at left.
---
HKOC actually has an advantage Pietro's didn't have in that it starts with a basic menu that people will understand completely. This may be one of the most Chinatown-worthy restaurants you'll find outside of Chinatown, which seems to be losing ground to the suburbs, particularly Kaimuki and Kapolei!

To start, our waiter pointed us toward the deep-fried honeydew ($3.95), which instead of being pieces of fruit turned out to be sweet cubes of pudding -- like almond tofu, but with honeydew melon flavor -- in a crispy coating. They arrived looking like fried oysters. It was actually very good, though most people would probably prefer to have this as dessert.

You might also start with satays ($4.50), with a choice of six beef, chicken or pork skewers. Ask and they'll let you mix all three, a good way to determine your favorite. These are served with a dark peppery gravy that is not the usual straight-from-the-bottle sauce.

Shrimp with walnuts ($8.50) is nicely arranged, with the mayo and condensed milk topped shrimp in the plate's center, the sesame-and-honey-coated almonds encircling them. And here's a new one for you: This entree came with a bowl of rice and simple, homemade melon soup. To receive such extras is unheard of! Things really must be changing in Hong Kong.

There is no duck on the menu, but who needs it when the deep-fried half chicken ($9.50) is superb.

But you want to know about those pastas. Well, first of all, these take 20 minutes to prepare. Chicken, seafood, pork chops and vegetables are baked with the spaghetti with a coating of cream, white or red sauces. The first is rich and cheesy, though the noodles beneath it remain bland. And let the color red be a warning to you -- that red sauce is way too sugary for adult consumption. I think both cream and white sauces will appeal to kids who like the high-recognition factor of spaghetti and whatever ingredients you choose. Don't get the pork chops ($7.95), which are bony, and be aware that though seafood ($8.50) baked this way remains tender, I only found two shrimp, one piece of scallop and two small pieces of squid in my dish. It's mostly noodles.

Desserts come in the form of drinks, whether ice coffees or bubble teas. You may also opt for delicate mango mousse or green tea cakes from Panya.

Hong Kong Orchid Cafe

1159 Kapiolani Boulevard / 593-8186

| | |
| --- | --- |
| Food | |
| Service | |
| Ambience | 1/2 |
| Value | |

Hours: 10:30 a.m. to midnight daily

Cost: About $16 to $25 for two





See some past restaurant reviews in the


section online. Click the logo to go!





---

Nadine Kam's restaurant reviews run on Thursdays. Reviews are conducted anonymously and paid for by the Star-Bulletin. Star ratings are based on comparisons of similar restaurants:

| | |
| --- | --- |
| | excellent; |
| | very good, exceeds expectations; |
| | average; |
| | below average. |

To recommend a restaurant, write: The Weekly Eater, P.O. Box 3080, Honolulu, Hawaii 96802. Or send e-mail to nkam@starbulletin.com
E-mail to Features Editor
---
---
© 2001 Honolulu Star-Bulletin
http://archives.starbulletin.com