CLICK TO SUPPORT OUR SPONSORS

---

---
Island Images



Saturday, November 3, 2001
---
IT'S CHILD'S PLAY AT MAEMAE SCHOOL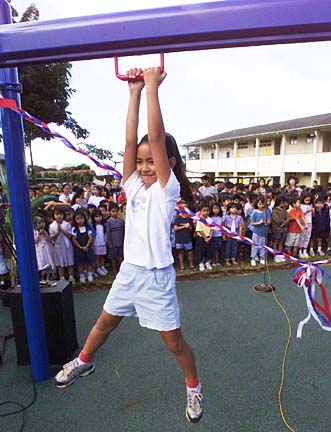 KEN SAKAMOTO / KSAKAMOTO@STARBULLETIN.COM
Maemae School second-grader Jennis-Ann Hatakenaka
tried out some new playground equipment yesterday,
watched by her schoolmates. The Wyllie Street school
assembled and dedicated the new equipment yesterday.
---
LIGHTING A CANDLE FOR WORLD PEACE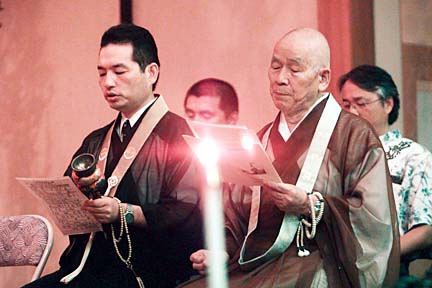 GEORGE F. LEE / GLEE@STARBULLETIN.COM
Isle Buddhists and clergy prayed for world peace last night
at the Honolulu Myohoji temple in Nuuanu in a service
sponsored by the Hawaii Association of International
Buddhists. The "Prayer for Peace" ceremony also celebrated
the inauguration of the World Peace Pagoda in Lumbini, Nepal.
---
OUTSTANDING CONTRIBUTION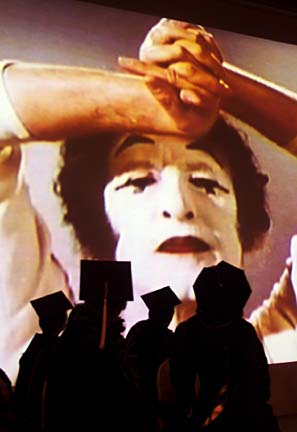 DENNIS ODA / DODA@STARBULLETIN.COM
Marcel Marceau received an honorary degree yesterday
from the University of Hawaii by special action of the
Board of Regents. After the ceremony at the UH art
building auditorium, a video about the famous mime, above,
was shown to those present. The degree symbolizes a
lifetime of accomplishment and acknowledges dedication
to human values.
---
E-mail to City Desk
---
---
© 2001 Honolulu Star-Bulletin
http://archives.starbulletin.com