CLICK TO SUPPORT OUR SPONSORS

---

---
Monday, October 29, 2001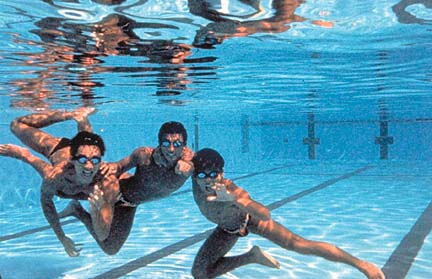 HIFF
High school nerds try to make a splash as synchronized
swimmers in the bouyant "Waterboys," screening
Nov. 11.
---
HIFF rolls 'em


Hawai'i International Film Festival
launches its 21st season
despite a shrinking budget

Documentary quite an 'endurance' test


Hawai'i International Film Festival

---

By Tim Ryan
tryan@starbulletin.com

It's difficult to run a film festival, whether it has the stature and glitter of a Sundance or the intimacy and charm of Honolulu. With growing interest in film, especially "indies," hundreds of festivals have sprouted all over the world in the last decade, all vying for that hot movie, filmmaker and actor.

In the Hawai'i International Film Festival's 21-year history, the organization has gone from hosting just a few dozen films to more than 160 this year, accompanied by more than a 50 percent drop in its annual budget from $1.2 million a decade ago to $475,000 now.

Although HIFF is recognized by prominent filmmakers and critics as the top film festival in North America for Asia and Pacific films, the organization now has no travel budget, normally about $25,000, or promotions budget, also about $25,000. And like it or not, most filmmakers want to accompany their films, which means they want a trip to Hawaii. Although Quantas and Aloha Airlines "are indispensable" in providing assistance, there are some regions where these airlines don't fly, so airfare must be paid out of pocket, said HIFF executive director Chuck Boller.

Boller, who has been with HIFF 13 years in various capacities, says he spent "90 percent" of his time this year trying to raise money.

"For nonprofit organizations it's the nature of the beast, but we could be much more creative if we could concentrate on selecting films and coordinating events," he said. "I go into the hole everytime I offer someone airfare."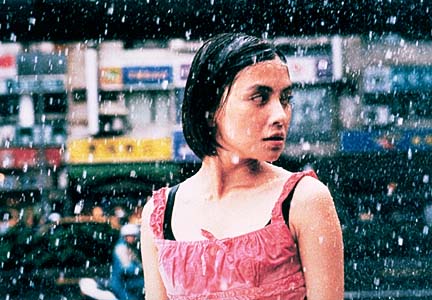 HIFF
Taiwanese popstar Sinje plays a street vendor who
hawks betelnuts in "Betelnut Beauty."
---
HIFF still managed to expand this year. It has more venues than in previous years , including the Academy of Arts Theatre and a 300-seat capacity Windward theater, and more films, with 25 countries represented. The HIFF Ohana today has about 1,250 members which Boller expects to reach 1,500 by Friday. The memberships represent about 10 percent of HIFF's budget.

Another first is having a Hawaii producer and director, David Cunningham, open the festival with his film "To End All Wars." The $14 million independent film, which will be rated R when released, also is nominated for a Golden Maile award, HIFF's top honor. For the first time in HIFF history, the opening night film will be seen on two screens -- the 1,600-seat Waikiki Theatres 1 and 2 -- because of the enormous interest. Also screening will be the musical "Lagaan: Once Upon a Time in India" and "Crooked Earth" starring Temuera Morrison of "Once Were Warriors."

HIFF officials had hoped that the Nicolas Cage film "Windtalkers," directed by John Woo and filmed on Oahu, would open the event but MGM pulled its release after the Sept. 11 attacks on the United States. That has been the only effect on the festival from the assault, Boller said.

The director emphasized that having the three Japanese actors who star in "To End All Wars" attending is "very important" because of HIFF's relationship to Asia. Peter Fonda also will attend the festival to present his remastered film "The Hired Hand" next weekend. When Dennis Hopper -- Fonda's co-star in the seminal 1969 film "Easy Rider" -- submitted a film this year, "The Spreading Ground," HIFF officials envisioned a reunion between the two actors and an "Easy Rider" retrospective at a Maui venue.

But Hopper's film about a serial killer was determined to be to too brutal for HIFF and the two actors' schedules conflicted, Boller said.

Mililani-born and raised Hong Kong actress Maggie Quigley -- known as Maggie Q -- will attend HIFF because her film "Gen-Y Cops" is being shown.

Otherwise, it's been tough for the festival to get some of the major media attention Boller would like because HIFF is unable to provide airfare and accommodations. The organization is flying in an Entertainment Weekly reporter but was unable to afford the New York-to-Honolulu airfare for a Talk magazine reporter.

The New York Times is expected to send a writer, as is the entertainment trade magazine "Hollywood Reporter." "Variety" is also considering sending a film reviewer.

HIFF's requests for assistance from other air carriers have been rebuffed, Boller said.

"Last year about 5,000 people came to Hawaii just to attend HIFF," he said. "It makes sense to me that HIFF would fly people here on state money and promote the festival on state money because this is about tourism.

"Indirectly and directly we are promoting travel to Hawaii."

Here are festival highlights:

>> World Premieres: "Blood of the Samurai," directed by Hawaii's Aaron Yamasato; "Plan B," starring Diane Keaton and directed by Hawaii-born filmmaker Scott Coffey; and the documentary "Journey of Honor," by Hawaii Public Television's Stuart Yamane. The documentary is about the re-visit of 12 Hawaii World War II veterans to the battlefields of Italy after 55 years.

>> United States premieres: Korea's "Friend" and Japan's "Snowland Revisited."

>> Gala presentations: "Lantana," a mystery film starring Geoffrey Rush; Canada's "The Fast Runner"; Korean award winner "JSA"; "The Endurance: Shackleton's Legendary Antarctic Expedition" (see review on page D1); the Chinese World War II war epic, "Purple Sunset"; and Japan's "Warm Water Under a Red Bridge," starring Koji Yausho.

>> Golden Maile Award nominees: "Seasons of Guavas" (Vietnam); "The Fast Runner," an Inuit-made Cannes cinematography award winner (Canada); "Bungee Jumping of Their Own" (South Korea); "The Firefly Dreams" (Japan); "Millennium Mambo," directed by 1995 Golden Maile winner Hou Hsiao Hsien (Taiwan); "To End All Wars" (USA).

>> Golden Maile Award documentary nominees: "The Endurance: Shackleton's Legendary Antarctic Expedition" (USA); "In the Name of Growth (Fiji); "Made in China" (Canada); "My Mother India" (Australia); "Revolution O.S." (USA); and "Sleeping With the Enemy," about a program of bringing together Israelis and Palestinians in Japan (Israel).

---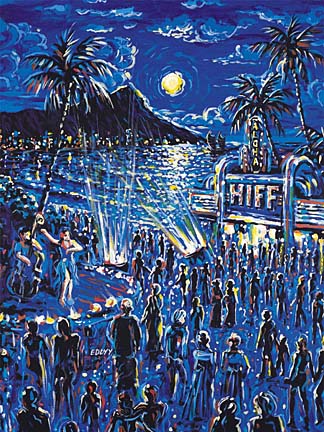 HIFF / EDDIE Y
Eddie Y designed HIFF's 2001 poster after festival
officials saw a mural he had painted at Kapono's.
Program guides are available at the HIFF box office,
screenings sites, Blockbuster and Starbucks locations.
---
Documentary quite an
'endurance' test

---

By Scott Vogel
svogel@starbulletin.com

What: "The Endurance: Shackleton's Legendary Antarctic Expedition"

When: 6:30 p.m. Nov. 6

Where: Consolidated Waikiki Theaters, 333 Seaside Ave.

Cost: $7; $6 for HIFF Ohana members, students, seniors and military

Call: 528-4433

"Endurance" refers not to the effort required to sit through this documentary about Sir Ernest Shackleton's failed trans-Antarctic expedition of 1914, but rather to the ship on which the expedition was launched. Nevertheless, the story's film version (directed by George Butler and written by Joseph Dorman and Caroline Alexander based on the latter's book) frequently slips into PBS "Frontline" mode, an unsavory combination of piety and sober-mindedness that leeches energy from the Shackleton story.

Brimming with vignettes of courage, hubris, drama and comedy, it's a tale that ought to tell itself, in theory at least. Shackleton's quest, to become the first explorer to cross the Antarctic continent, was launched via a newspaper ad that said it all:

"Men wanted for hazardous journey. Small wages. Bitter cold. Long months of complete darkness. Constant danger. Safe return doubtful. Honor and recognition in case of success."

And danger is exactly what quickly befell the crew of the Endurance when the ship became trapped in ice while still en route to the continent.

There the men remained for 10 months, amusing themselves via such activities as hockey and theater nights requiring no small amount of drag performance. A bad situation quickly became worse at the end of the 10 months, however, when the Endurance was at last destroyed by giant ice floes, forcing the crew to camp out in the open for an additional five months.

But the worst was still to come. Determined to save his crew from certain death on the Antarctic ice, Shackleton, along with five shipmates, set sail in a smaller boat to South Georgia Island, some 800 miles away. The 14-day trip is the heart of the story, a journey through some of the world's most treacherous waters, during which the men endured gigantic icebergs, waterlogged sleeping bags and rough seas (though they did manage to have tea at 5 p.m. nightly).

Upon reaching the island, Shackleton and company still had to trek over the South Georgia mountains on foot to a whaling station some 17 miles distant. There, looking unshaven, gaunt and filthy, they immediately asked for the manager, a past acquaintance of Shackleton's. According to one source, the man who answered the door at the whaling station conveyed the following message to his manager:

"There are three funny-looking men outside, who say they have come over the island and they know you. I have left them outside."

It's just this sort of ironic distance that "Endurance" needs more of. After all, despite frigid conditions and a perilous stint in the wild, all the ship's crew made it back to civilization alive. Furthermore, Shackleton's was a somewhat pointless expedition, a mission centered more on personal glory than the contributions to science its leader claimed to champion.

Which is not to say the expedition isn't a terrific adventure story, or that its present documentarians haven't chosen a marvelous subject for their film.

---

[HAWAI'I INTERNATIONAL FILM FESTIVAL]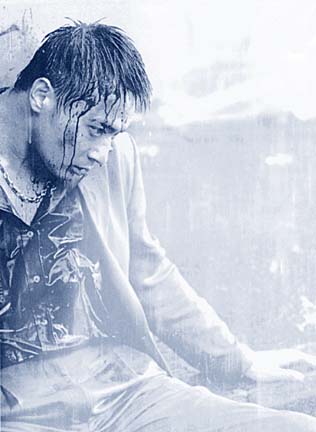 A scene from the movie "Friend," background, which
screens Saturday and Nov. 7 at Dole Cannery 8.
---
Korean film 'Friend' has haunting refrain, skilled cinematography

Friend (Those Were the Days)

9:30 p.m. Saturday at Waikiki 2 and 9:30 p.m. Nov. 7 at Dole Cannery 8

This impressive Korean drama is based on real events and characters from director Kwak Kyung-taek's youth. It tells the tale of four boyhood friends whose bond is tested as they grow up and go their separate ways.

Two of them live a life of crime. Joon-suk is the son of a gang boss, and Dong-su, the only son of an undertaker who sees crime as a way out of having to take over his father's dreary business. Their common livelihood and friendship soon puts them on a collision course that would end with death. A key line, "friends have nothing to be sorry about," proves to be a haunting refrain.

Actors Jang Dong-gun and especially Yoo Oh-sung (with a hard, chiseled look made for the big screen) carry the second half of this sometimes brutal film. Starting with the severe beatings given out by the boys' school headmaster, the violence -- while timed to let the story take its course -- is wince-inducing, but Kyung-taek's handsome cinematography and art direction takes a bit of the sting out.

It's not hard to see why "Friend" was such a critical and box-office hit in its native country.

-- Gary C.W. Chun

Yaguchi film a good-natured audience pleaser

Waterboys

Screens at 3 p.m. Nov. 11 at Dole Cannery 9

This zany, good-natured comedy by festival favorite Shinobu Yaguchi grows on you, as four dorky high school boys try to make something of their lives, finding inspiration in, of all things, synchronized swimming.

It starts off as more like unsynchronized flailing, much like the fish that occupy the school's nearly drained pool. Much of the film's comedy works on the impression that many of the film's characters are out of their element, but are making due.

In the boys' attempts to impress their new, pretty swimming teacher and rid the pool of fish leftover from a sportsfishing class, they try to pay the school's water bill by selling tickets to their school's annual festival, that will feature what they hope will be a successful display of synchronized swimming.

There are some neat and hilarious bits, especially the boys' first attempts at what is usually considered a girls' activity. Naoto Takenaka, who was the flamboyant dancer in Yaguchi's earlier film "Shall We Dance," is at his comedic, spastic best as a dolphin trainer from a nearby aquarium that reluctantly takes on the task of training the boys in unorthodox fashion.

Yaguchi also tweaks and pokes fun at Japanese gender roles as well, and the climactic, heroic scene of synchronized swimming is an audience pleaser.

-- Gary C.W. Chun

Getting tickets, and other details

When: Friday through Nov. 11 on Oahu; Nov. 7 through 11 on the Big Island; Nov. 9 through 11 on Maui and Kauai

Where: Signature Theatres in Dole Cannery and Windward Mall, Waikiki Theatres 1 and 2, The Hawaii Convention Center and The Academy of Arts Theatre

Tickets: $7 for the general public; $6 for HIFF Ohana members, students, senior citizens, military and PIC (Pacific Islanders in Communications) members. Available at the HIFF box office at The Shops at Dole Cannery, by phone, fax or via the Internet, or at the door. Tickets purchased on the day of the show go on sale one hour before the first screening of the day at that site.

Opening night tickets: $25, fund-raiser, with no discounts or HIFF Ohana benefits

Flash passes: Only available to HIFF Ohana Silver and Gold members. To join HIFF, call Trevor Tavares at 528-3456 Ext. 16.

Contacts: 528-HIFF (4433); by fax 524-4986; online at www.hiff.org.

NEIGHBOR ISLAND VENUES

Kauai: Kauai Community College, Waimea Theatre and the Kilauea Theatre

Big Island: (Hilo) Palace Theatre, University of Hawaii Hilo Campus Center and the Honokaa Peoples Theatre; (Kona) Aloha Theatre, Keauhou Shopping Center's Paniolo Room and Keauhou Cinemas

Maui: Maui Arts & Cultural Center Castle Theatre

Tickets: $6 fgeneral and $5 for students, senior citizens, military and PIC members, available at the venues. Tickets go on sale one hour before the first screening of the day.

Call: Kauai 634-6940; Maui 876-0576; East Hawaii (Hilo) 969-9412; West Hawaii (Kona) 322-3362.

Film presents blunt look at Taipei teen street life

Betelnut Beauty

Screening at 12:30 p.m. Nov. 4 and 6 at Dole Cannery 8

An appealing, matter-of-fact drama about teenage street life in Taipei, the film's young leads, Chang Chen (last seen as the desert gang leader in "Crouching Tiger, Hidden Dragon") and hapa Taiwanese popstar Sinje play lovers trying to eke out a living, he as a bakery shop assistant and petty thief, she as a scantily-clad street vendor who hawks mildly intoxicating betelnuts to lecherous older-male drivers passing by.

Sinje perfectly captures the endearing if flighty energy of her character Fei-fei; she's always chatting away on her cellphone (usually with an often-absent father she's trying to connect with), freely spending with her mom's credit card and going to raves in small clubs with her aimless boyfriend.

Director Lin Cheng-Sheng, while captivated with his lead characters' conviction to make the best of their limited lives, lends a cautionary note to his story. He seems to be saying that street kids can only end up two ways: being discovered by a television crew searching for a highly disposable pop star, or pursuing a life of petty crime that could lead to a deadly end.

-- Gary C.W. Chun





Click for online
calendars and events.
E-mail to Features Editor
---
---
© 2001 Honolulu Star-Bulletin
http://archives.starbulletin.com