CLICK TO SUPPORT OUR SPONSORS

---

---
Sunday, October 28, 2001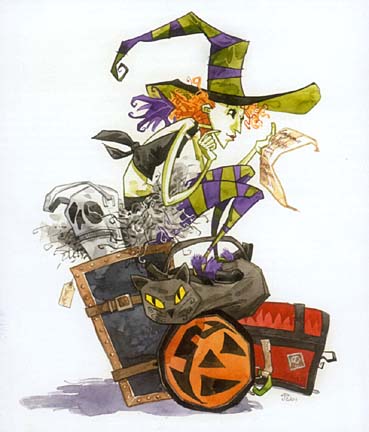 'Scary Godmother' has
the right fright

---

By Gary C.W. Chun
gchun@starbulletin.com

I've always thought that Halloween is an especially fun holiday for the kid in all of us, and there's one award-winning comic and children's book illustrator who has taken the witchy holiday to heart and whose work deserves wider exposure to an all-ages audience.

For four years, Jill Thompson has been relating the delightful adventures of Scary Godmother in both her watercolored hardcover books for younger readers and her black-and-white comics. Her other main character is Scary Godmother's little, bright-eyed niece Hannah Marie, who meets the witch by befriending a not-at-all-scary monster named Bug-A-Boo, who, when he's not camping out under Hannah's bed, lives with Scary Godmother in her house's basement on the Fright Side.

"Scary Godmother is like your fairy godmother, but for Halloween," Thompson said in a recent on-line interview for Westfield Comics. "There's really nothing scary about (her). She's fun and macabre; reminiscent of childhood with a little bit of social commentary mixed in."

And that's the strength of Thompson's work. She has such a distinct artistic signature in both her drawings and writing that this creator-owned project's appeal is across the board. Her characters are lively, her dialogue and storylines always engaging, and the watercolor work in her books sublime.

"You can almost hear the swish of her swift yet deliberate brushstrokes," fellow cartoonist Mary Fleener said in a brief review of Thompson's work for The Comics Journal. "The textures she gets by puddling water on the paper to conjure a murky nighttime sky are undulating and spooky."

Her four hardcover books published by Sirius Entertainment--"Scary Godmother," "The Revenge of Jimmy," "The Mystery Date" and "The Boo Flu" -- should be available in bookstores as well as comic book stores, and if not, are well-worth ordering.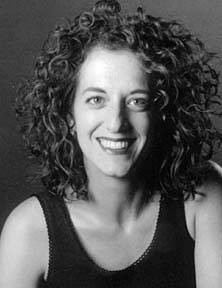 COURTESY PHOTO
Jill Thompson: With her blazing auburn hair and
energy, she's a model for the spry Scary Godmother.
---
There are other delightful characters that populate the Fright Side, like Mr. Pettibone, the skeleton who lives in Scary Grandmother's closet. "There's the vampire family, Max, Ruby and their son Orson, who live down the road from (her) in Belfry Manor," Thompson said. "Max is a traditional, old-timey, bald-headed, long black cloak-wearing vampire, and his wife is kind of like a 1950s monster movie hostess in her style. She's a bit more modern in her tradition and her ways. Their son Orson is a bespectacled little vampire boy who kind of combines the best features of both of his parents (and) Hannah's playmate."

There's also Harry, the always-famished werewolf (for treats and snacks, that is) who lives with his fortune-telling mother in a cave in the forest. A story arc that involved him, called "Wild About Harry" found a home in three consecutive issues of Thompson's comic, and is available now in a paperback collection. Thompson's also in the midst of creating a six-issue comic book series that goes explores the characters' origins in depth.

In another on-line interview with PopImage, Thompson said Scary Godmother grew out of her desire to be a good auntie to her niece and make a Halloween book that was "cool," unlike what she found in bookstores. "Y'know, they were either too cutesy or too scary and that didn't seem too fun. Either it was this old, elegant rhyme about Halloween or it was like the Care Bears wearing black masks and rouge on their cheeks."

She also wanted to create a book that everyone could read, "that a young child could have read to them, but in the back of their minds they want it to be the book that they will one day read themselves. 'Cause that's the kind of experience I had when I was growing up."

Scary Godmother has not just been on the printed page, however. A play based on Thompson's characters has just completed a run in her Chicago hometown, and Thompson's hard at work converting Scary Godmother into a TV animated series. When not drawing in her sketchbook at home or on the road, she's working with Mainframe Entertainment (the company behind the CGI-animated series "Reboot") to co-create a 13-episode series.

The witch is a character close to Thompson's heart. In fact, having met Thompson at the San Diego Comic Convention four years ago, I'd guess that with her blazing auburn hair, slender figure and energetic persona, Thompson herself seems to be the model for the spry and sassy Scary Godmother.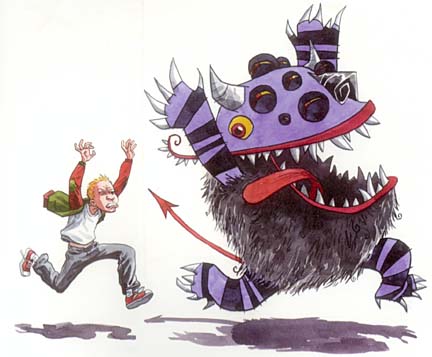 Thompson's is as courteous as she is talented. She got her first professional illustration job while still in high school, graduating from the American Academy of Art in Chicago, a school which claims other fine comic book draftsmen such as Alex Ross and P. Craig Russell as alumni.

Thompson then landed a job at DC Comics, where she worked on Wonder Woman and also distinguished herself with her drawings for some of DC's mature-reader imprint Vertigo titles, particularly Neil Gaiman's acclaimed Sandman series, Grant Morrison's The Invisibiles and an overlooked co-creation with Will Pfeifer called Finals.

The only other self-inspired character that she helped create before Scary Godmother was the spacey Delirium for Neil Gaiman's Sandman, also injecting a lot of herself into the character, Gaiman said in The Sandman Compendium, "in terms of body language, facial expressions and so on."

Besides all this, Thompson is an avid pro-wrestling fan, to the extent that she was tapped to do a project with the female Hulk herself, Chyna, that unfortunately fell through. But all is not lost for wrestling fans. Look for World Wrestling Federation fan favorite Mick (aka the masked Mankind) Foley's children's holiday book, "Mick Foley's Halloween Hijinx," created in collaboration with Thompson.





Click for online
calendars and events.
E-mail to Features Editor
---
---
© 2001 Honolulu Star-Bulletin
http://archives.starbulletin.com