CLICK TO SUPPORT OUR SPONSORS

---

---
Wednesday, October 24, 2001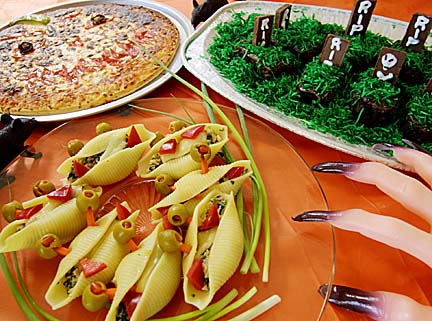 RICHARD WALKER / RWALKER@STARBULLETIN.COM
Easily assembled at home are, from top, Pumpkin Face
Pizza, Tombstone Brownies and Monster Mouth pasta
shells.
---



Double, double toil and trouble /
Fire Burn and cauldron bubble
Eye of newt and toe of frog /
Wool of bat, and tongue of dog ...
OK, so you may not want
to make those dishes.

---

By Nancy Arcayna
narcayna@starbulletin.com

But, it is the time of year to get out the cauldrons and scare up some treats for party guests.

Halloween just wouldn't be the same without all the goodies. Creating bewitching party decorations and ghoulish snacks are half the fun.

With so many parents and community organizations now throwing parties as a safe alternative to trick-or-treating -- and given the young-at-heart adults like myself who want parties of their own -- a few quick and easy ideas should come in handy.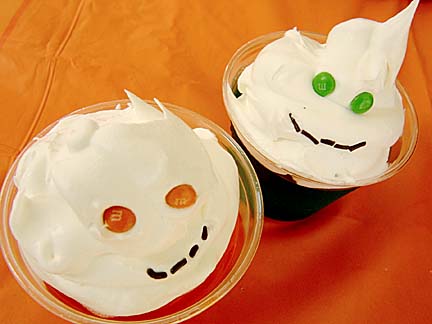 RICHARD WALKER / RWALKER@STARBULLETIN.COM
Add whipped cream atop Jell-O, add a face
and you've got some sweet-tempered ghosts.
---
Creepy, crawly food definitely added to the holiday allure at our recent Halloween party for 15 children and their parents. My husband and a few friends prepared treats including Monster Mouth Pasta Shells filled with spinach and tuna casserole, a Silly Snake Sandwich filled with peanut butter and jelly, a Pumpkin Face Pizza, Tombstone Brownies, Rice Krispies Pumpkin Balls and more.

We found a host of recipe ideas in magazines, cookbooks and online, but found it could be a struggle to make them picture-perfect from scratch. In some cases we came to rely on store-bought shortcuts. A basic cheese pizza with added toppings, for example, became a serviceable Pumpkin Face Pizza without the hassle of rolling out dough. Placing a pot of chili into a large plastic cauldron (available at Party City for $9.99) offered a clever effect with little effort. Bone, pumpkin and ghost cookie cutters turned simple sandwiches into decorative, holiday-specific treats.

Ghostly graveyard settings are perfect for Halloween desserts. A pan of brownies was easily transformed into a graveyard, with a little green coconut and chocolate candy bar pieces for tombstones.

Another colorful and simple idea was the Graveyard Pudding Dessert: Just chill some Jell-O and pudding in clear plastic cups, then top with spoonfuls of Cool Whip to create a ghostlike image. Candy pieces make eyes. These treats are so simple, I managed to make them even with a sprained wrist.

With a little improvisation, ordinary party dishes are transformed into devilish munchies. A little food coloring can go a long way. Add eyeballs to dishes to bring them to life. Breadsticks can be distorted to appear as fingers. Creativity and imagination can definitely add depth to your party feast.

Monster Mouth Pasta Shells

"Delightful & Frightful Halloween Recipes" (Favorite Brand Name Recipes, 2001)

1 teaspoon vegetable oil
1 medium onion, chopped
4 slices bacon, chopped
1 pound ground beef
2 medium plum tomatoes, seeded and chopped
1/2 teaspoon salt
1/4 teaspoon black pepper
4 slices American cheese, chopped
1/2 package of jumbo pasta shells (about 18 shells), cooked and drained
Baby carrots, olives, bell peppers, small pickles or cheese slices for decoration

Preheat oven to 350 degrees. Lightly grease a 13-by-9-inch baking dish.

Heat oil; add onion and bacon. Cook until onion is tender. Add beef; cook and stir about 5 minutes. Stir in tomato, salt and pepper, then cheese. Spoon mixture into cooked shells. Place in baking dish. Bake 3-5 minutes or until hot.

Cut carrots into very thin strips. Poke ends into the olives and attach to shells to make eye stalks. Cut peppers or cheese into fang shapes for teeth; pickles may be used for tongues.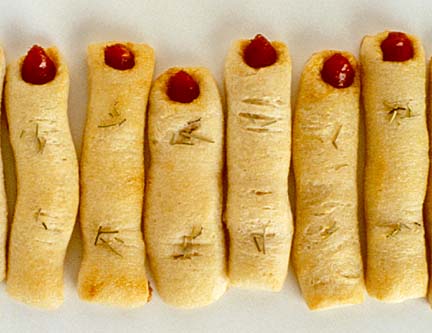 HORMEL PEPPERONI
Breadsticks with pepperoni "nails," above, give new
meaning to the concept of finger food.
---
Finger Food

Hormel Pepperoni

1 can refrigerated breadstick dough
1 pepperoni stick
Dried rosemary, to taste

Separate breadsticks and place on greased cookie sheet. Cut pepperoni into fingernail shapes and press into dough. Cut knuckle marks into "fingers" and sprinkle with rosemary to create a hairy-knuckle look. Bake according to package directions.

Monster Munchies

"Delightful & Frightful Halloween Recipes"

4 English muffins
Pizza sauce
Mozzarella cheese
Pepperoni
Green onion, peppers, mushrooms, etc. to decorate

Cut English muffins in half. Spread pizza sauce over the muffins and sprinkle on cheese. Cut pepperoni to create pumpkin faces or monsters. Peppers, mushrooms and green onion may also be used.

Note: A full-size cheese pizza can be accessorized as well.

Gelatin Eyeballs

www.britta.com

3 ounces lemon gelatin
1 cup hot water
1/2 cup miniature marshmallows
1 cup pineapple juice
1 8-ounce package cream cheese
1 cup heavy cream, whipped
1 cup mayonnaise
Red food coloring

Dissolve lemon gelatin in 1 cup water in a double boiler, add marshmallows and stir to melt. Remove from heat. Add pineapple juice and cream cheese. Beat until well-blended. Cool slightly. Fold in whipped cream and mayonnaise. Chill until firm.

Using a melonballer, scoop into balls. Use red food coloring to paint on blood-shot lines.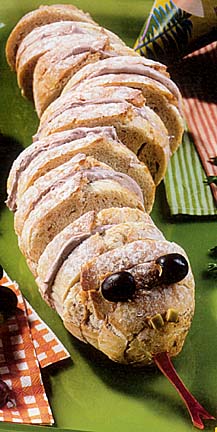 FAVORITE BRAND NAME RECIPES
Kid-friendly peanut butter and jelly sandwiches
are arranged into the form of a slithering snake.
---
Silly Snake Sandwich

"Delightful & Frightful Halloween Recipes"

1/2 cup peanut butter
1/2 cup jelly, any flavor
1 loaf of French or Italian bread, sliced
Red pepper, black olive, green olive
1/4 cup marshmallow crème (optional)

Using a small amount of peanut butter, attach the first two inches (about 3 slices) of bread together to make the snake head. Cut bell pepper into a 2-inch long tongue. Cut a shallow horizontal slice in heel of bread and insert tongue. Cut black olive in half lengthwise; attach with peanut butter to head to create eyes. Attach small pieces of green olive with peanut butter for nostrils.

Combine remaining peanut butter, jelly and marshmallow crème. Spread on half of the bread slices; top with remaining bread slices.

Place snake head on a large serving tray. Stand up sandwiches in wavy pattern behind the head to resemble a slithering snake.

Tombstone Brownies

1 package brownie mix
1 cup chocolate frosting
2 milk chocolate candy bars
White icing
3/4 cup flaked coconut, tinted green with food coloring
12 pumpkin candies

Preheat oven to 350 degrees and line a 13-by-9-inch pan with foil extending beyond edges of pan; grease foil.

Prepare brownie mix according to package instructions. Bake 30-35 minutes; do not overbake. Cool.

Use foil to remove the brownies from pan; peel off foil. Frost and cut into 4-by-2-inch bars.

Break up candy bar into small pieces and use icing to write "R.I.P." or draw skulls on pieces. Let stand until set. Press one chocolate piece into the end of each brownie for the tombstone. Sprinkle tinted coconut on each brownie for grass and place one pumpkin candy on the coconut.

Nutritional information unavailable.



Click for online
calendars and events.
E-mail to Features Editor
---
---
© 2001 Honolulu Star-Bulletin
http://archives.starbulletin.com