CLICK TO SUPPORT OUR SPONSORS

---

---
Friday, October 19, 2001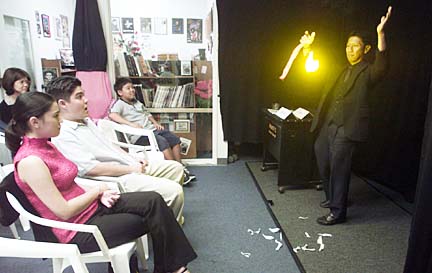 KEN IGE / KIGE@STARBULLETIN.COM
"Mr. O," or Harvey Ouchi, as he is sometimes known,
gets flashy with his magic act at Monty's Magic Theater.
In the front row are Kristi Aucoin, left, Chris Flynn
and Kenny Hirota.
---
Small-scale magic
conjures up smiles

---

By John Berger
jeberger@starbulletin.com

I enjoy table magic and admire those who do it well. Showroom and concert hall stunts are great entertainment, but the bigger they get, the more they seem to be about equipment rather than skill. David Copperfield may have made the Statue of Liberty "disappear" live on television, but when the mechanics of the illusion were explained, it turned out that anybody could have stood up on that specially constructed stage and created the same result with no training at all!

So no offense to the true international superstar illusionists with their multimillion-dollar extravaganzas, but credit is due to the practitioners of table magic, the "foot soldiers" of the profession who work up close and personal with audiences.

Table magic, or parlor magic, is about developing the ability to create illusions by manipulating objects, be they magic props or items supplied by the audience. This is what Monty's Magic Theater is all about.

The "theater" isn't easy to find. It only seats 20, and no signs are visible as you drive mauka on Queen Emma Street. But it's worth looking for.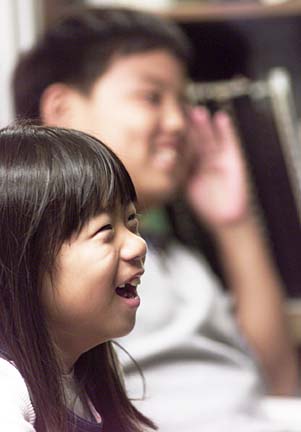 KEN IGE / KIGE@STARBULLETIN.COM
Brittney Arakaki, 7, and Kenny Hirota, 11, got a
good chuckle out of Yona Chock's act.
---
The concept is casual. It's almost like having three magicians performing in your living room, or being invited into a magicians' clubhouse. You will want to sit up close as Monty (a k a Monty Witt) and his co-stars work their magic. The crowd on Tuesday got a great show. The kids were entranced.

>> Harvey "Mr. O" Ouchi wears mirrored sunglasses and takes the stage to the familiar theme of "Mission: Impossible." His repertoire consists primarily of familiar illusions using scarves and playing cards. Personality is his thing -- acting may be part of his show as well. There were a couple of times it seemed that Ouchi had blown it -- "Am I getting any closer?" he asked when he had to take a second shot at telling someone which card they were holding -- but his skill as an entertainer made even the apparent misfires entertaining.

It's like watching Frank DeLima blow a line and improvise something that's funnier than original scripted material. Ouchi is like that -- and if it's all part of the act, then more power (and applause) to him!

Ouchi's final illusion, involving a glass of water and a copy of the Honolulu Star-Bulletin, worked perfectly.




Monty's Magic Theater

When: 7:30 p.m. today and tomorrow

Where: 1270 Queen Emma Street Suite 612 (enter on the makai side of the building)

Admission: $12 adults; $8 (call for details)

Call: 524-1791




>> Yona Chock, billed as "The Magic Storyteller," is a children's magician. Her show is based around the contents of a trunk supposedly bequeathed to her by a 14th-century magician and only just delivered "this afternoon" by a mysterious little man with a pointed hat. The story of each item becomes almost as important as whatever illusion is eventually created. Chock's stage persona is reminiscent of children's TV character Pogo Poge.

Kids young enough to buy into the premise of the story will likewise enjoy Chock's semicomic adventures with the various items in the 700-year-old "magic trunk."

>> Witt is a magician for all ages and a fine entertainer. He wears black, projects energy and enthusiasm from the moment he steps on stage, and increases the impact of his illusions with the momentum of his performance. Much of what he does may well be "Magic 101" for practicing magicians, but that doesn't reduce the entertainment value for the rest of us. Time flew as Witt worked.

He turns a regular rope into a "magic" rope, cutting the rope into pieces of different lengths, rejoining then into a single rope, separating them again, and so on. It's basic but Witt is a wonder. Those helping with the trick can keep their piece as a souvenir.

One of the kids in the audience was enthralled when Witt asked him to hold a magic ball in his clenched fist and the ball became two balls. Witt and his assistant did it a second time, and the boy's face again lit up with wonder.

Witt's finale consists of illusions involving a "magic portal" (a large brass-colored metal ring) that he wears on a cord around his neck. The object comes with a history that Witt shares as he demonstrates its capabilities. Basic magician's craft? Maybe. Entertaining? Absolutely.

Witt and his friends will perform tonight and tomorrow. They plan to return next month and then increase the frequency of their performances in December.





Click for online
calendars and events.
E-mail to Features Editor
---
---
© 2001 Honolulu Star-Bulletin
http://archives.starbulletin.com