CLICK TO SUPPORT OUR SPONSORS

---

---
Wednesday, October 17, 2001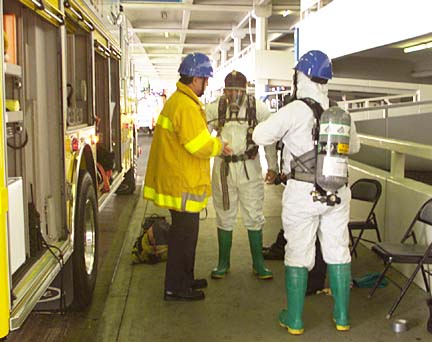 KEN SAKAMOTO / KSAKAMOTO@STARBULLETIN.COM
The Honolulu Fire Department's HazMat team suited up at
Ala Moana Center yesterday to respond to reports of a
suspicious plastic packet containing white powder.
---
Smaller teams tackle
suspicious packages
in Hawaii


In an effort to handle the larger
number of reports, HazMat
will respond in small units

---

By Nelson Daranciang
ndaranciang@starbulletin.com

The Honolulu Fire Department will use smaller, extra teams to assist overtaxed Hazardous Materials crews in responding to the rising number of suspicious packages or substance reports.

The Fire Department yesterday established the assessment teams to assist HFD's two HazMat Units which have been going from one call to the next since last Friday.

Each of the assessment teams will consist of one captain and two hazardous materials technicians who have experience working on a HazMat unit and will be working overtime. The HazMat units will respond to all other cases, including reports of exposure to suspicious substances, that may require decontamination.

The assessment teams have limited equipment and will respond "only to cases of suspicious envelopes that are not opened," said Capt. Richard Soo, HFD spokesman.

The Fire and Police departments have added staff and refined procedures.

On Monday, police and firefighters responded to 27 suspicious package/substance reports. Over the weekend they responded to 25. None of the substances tested positive for any hazardous biological or chemical agents.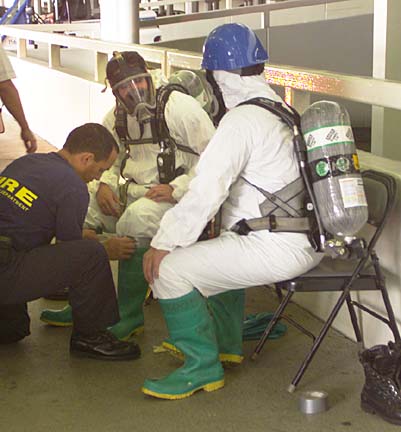 KEN SAKAMOTO/ KSAKAMOTO@STARBULLETIN.COM
A plastic packet on the floor of the Ala Moana Satellite City
Hall prompted a call to hazardous materials crews yesterday.
Honolulu police said a 46-year-old female noticed the packet,
which contained a small amount of white residue. HazMat
crews responded, neutralized the substance and bagged it
for disposal. Fire officials said because of the backlog of
suspicious packages reported, it will take a while before
the substance is identified.
---
In a normal month, the Honolulu Fire Department receives about 50 reports of hazardous or unknown substances -- only nine to 12 require response by a HazMat Unit, Soo said.

Honolulu police have additional staff on a volunteer basis to help respond to reports of suspicious packages or substances. The extra officers also will be on overtime.

Dispatchers also will ask people who report suspicious mail to try to contact the sender to verify the contents.

"We will still send officers to respond. We take these kinds of cases seriously," said Jean Motoyama, HPD spokeswoman.

One case yesterday could result in a criminal prosecution.

A woman opened an unmarked envelope placed on a desk in the maintenance office of Coral Creek Golf Course in Ewa. The envelope contained a white powder and a threatening note making reference to the powder, Soo said.

The woman and five other golf course employees who either handled the letter or who came in contact with the woman were decontaminated by HFD HazMat personnel. A firefighter who the woman embraced also was decontaminated.

All were taken to St. Francis Medical Center-West for observation then released. The maintenance office remains closed until a laboratory test on the powder is done.

Neighbor island fire departments also are altering procedures.

A Hawaii County Fire Department Hazardous Materials Team did an on-the-spot test of a white powder found at Kohala High School to determine the substance was not anthrax or another dangerous substance.

Kauai Fire Department Battalion Chief Bob Kadan decided to investigate a suspicious white powder found on the loading dock of the Princeville Hotel himself, rather than commit the department's only hazardous materials truck to a 60-mile round trip from Lihue. It turned out to be talcum powder used to separate the pages of a magazine.
E-mail to City Desk
---
---
© 2001 Honolulu Star-Bulletin
http://archives.starbulletin.com