CLICK TO SUPPORT OUR SPONSORS

---

---
Wednesday, October 17, 2001
ELECTRIC KITCHEN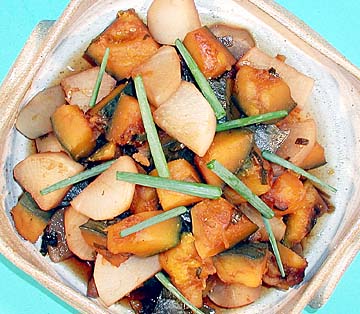 COURTESY OF HECO
Kabocha pumpkin is the basis of a hearty stew.
---
Veggies make savory dishes

"The Electric Kitchen" airing in the second half of October features Chad Kanehira, produce manager of Safeway's Kaneohe store with vegetable recipes.

"Electric Kitchen" airs at 9:30 a.m. Sunday, 8:30 p.m. Monday, 5 p.m. Tuesday and 6 p.m. Thursday on Oceanic Cable Channel 16. It also airs on Maui at 8:30 p.m. Thursday on Calabash Channel 44 (52 in Lahaina) and on the Big Island at 5 p.m. Monday and 5:30 p.m. Wednesday on Na Leo o Hawaii Channel 55 in Hilo and Kona.

Here are some of Kanehira's recipes. All the recipes from the show, as well as an archive of recipes dating to 1995, are available at the Hawaiian Electric Co. Web site, www.heco.com.

Watercress and Luncheon Meat

1 (12 ounce) can luncheon meat
1/2 medium onion, chopped
1 bunch watercress, cut into 1-1/2 inch lengths
1 (8-ounce) package bean sprouts
1/8 teaspoon pepper

Cut luncheon meat into thin strips. Lightly brown onion; add luncheon meat and stir-fry for a few minutes. Add remaining ingredients and stir-fry 30 seconds. Serves 4.

Pumpkin with Daikon

1/2 cup water
1/2 cup soy sauce
1/2 cup brown sugar
1 small piece ginger, sliced
1 large clove garlic, crushed
Dash salt
2 pounds kabocha pumpkin, skinned, in 1-inch cubes
1 pound daikon, peeled, in 1-inch cubes
1/4 cup sliced green onions

In a large pot, combine water, soy sauce, sugar, ginger, garlic and salt. Cover and bring to a boil. Add pumpkin and daikon. Lower heat and cook 15minutes, tossing mixture occasionally. Garnish with green onions. Serves 6.

Nutritional information unavailable.





Click for online
calendars and events.
E-mail to Features Editor
---
---
© 2001 Honolulu Star-Bulletin
http://archives.starbulletin.com