CLICK TO SUPPORT OUR SPONSORS

---

---
Friday, October 12, 2001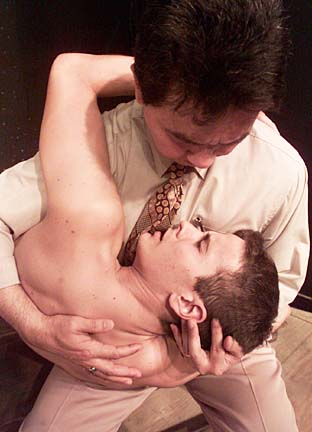 FL MORRIS / FMORRIS@STARBULLETIN.COM
Eric Nemoto is the psychiatrist who comforts his troubled
patient, played by Noah Johnson, in a scene from "Equus."
---
Weird relationship


'Equus' has a horse as a
lover, god and object of rage

---

By Scott Vogel
svogel@starbulletin.com

A horse is a horse, of course, of course, unless you're Alan Strang, the teenage protagonist of "Equus," in which case a horse is also a lover, a god and, finally, the object of murderous rage. And in all the annals of horse literature -- from "The Black Stallion" to "National Velvet" to "My Friend Flicka" -- it's safe to say that there isn't a more macabre depiction of equine/human relations, nor of the horrific ways they might end (that bloody horsehead scene in "The Godfather" notwithstanding).

At the start of "Equus," Alan has been entrusted to the care of Dr. Martin Dysart, a child psychiatrist, having blinded six horses in a stable with an icepick-like implement. This awful crime, especially given Alan's former passion for the animals, is undeniably shocking, and one based on a true story imparted to playwright Peter Shaffer by a friend at the BBC. Shaffer's Alan, as in real life, is the progeny of a pair of domineering parents who seem devoted to religion and stoicism in equal measure. And the blinding, again as in real life, follows a sexual encounter between Alan and a young girl on the floor of the stable.

It was out of these few details that "Equus" was born, a tabloid story transformed by a playwright's alchemy into a meditation on the aims of psychiatry and its utilitarian ideas of so-called normal behavior. The play, which enjoyed a long run in London and an even longer run in New York during the early '70s, is rich in ideas on everything from joyless marriages to the limits of parental responsibility. But like Shaffer's more celebrated "Amadeus," it's of most interest when contemplating human uniqueness as it clashes with society's oppressive forces.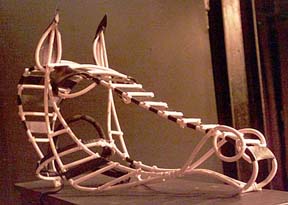 'Equus'

When: 7:30 p.m. Wednesday; then 7:30 p.m. Thursdays to Saturday; 4 p.m. Sunday through Nov. 11

Where: The Yellow Brick Studio, 625 Keawe St.

Cost: $10

Call: 591-7999




"The doctor doesn't want to destroy the god that the boy has found, because it's so individual to him," said actress Frances Enos of Alan's horse obsession, after the cast of The Actors' Group production of "Equus," opening Wednesday, had retired to a room above the tiny theater. (Ornate rattan and leather horseheads designed by Kurt Wurmli -- a Ph.D. candidate in Asian Theater at the University of Hawaii -- keep things on a nonliteral level.) And indeed the play seems to proceed in two directions at once, trying both to discern the source of Alan's mysterious fetish and examine whether it's a nasty habit worth breeding out of him. Enos plays Alan's mother; in consequence, much of his behavior is pinned on her.

"As wacky as she is," continued Enos, "and as unrealistic as her assessment is at the very end, there is some truth in it. At one point she says to the doctor, 'If you added up everything we ever did, from the first day on earth to this, you wouldn't find why he did this terrible thing - because that's him.' And I think that's the universal parental lament - 'It's not my fault! I did my best!'"

At this point, Eric Nemoto, who plays the doctor, excused himself from the meeting, saying that he was off to celebrate his birthday, an occasion he would have forgotten about had his wife not reminded him. The cast erupted in laughter. "You're becoming Dysart!" screams one.

Dysart -- the author both of Alan's salvation and demise -- is as fascinating a creature as Alan, a pedant condemned to "improve" his charge, even as he finds his own existence increasingly negligible. And like Alan's mother, he is condemned to be a co-conspirator in whatever the boy becomes, as is the boy's father, here played by Hayden de M. Yates. ("I'm not expressing myself, like [Alan] is," said Yates. "So just like him, I have to look for a place where I can express my passion.")

And in the eye of this hurricane of blame and guilt sits Noah Johnson, an actor who's demonstrated his nimbleness with odd creatures before (e.g., as the witch boy in Hawaii Pacific University's "Dark of the Moon"). According to director Powell, his Alan is a stunning creation, and one that may signal "a major career" for the actor. So far, the least that can be said is that Johnson is bravely meeting the role's many challenges. By that I mean the climactic sexual encounter/eye-gouging scene which the actor must perform (along with his concubine Devon Leigh) in the nude.

It's the trickiest of stage moments -- at its premiere, it was the longest nude scene ever seen on the British stage -- yet Johnson is taking it all in stride.

"He does go to the gym a lot," laughs Powell. But then: "Wait. Maybe I shouldn't say that!"





Click for online
calendars and events.
E-mail to Features Editor
---
---
© 2001 Honolulu Star-Bulletin
http://archives.starbulletin.com