CLICK TO SUPPORT OUR SPONSORS

---

---
Friday, October 12, 2001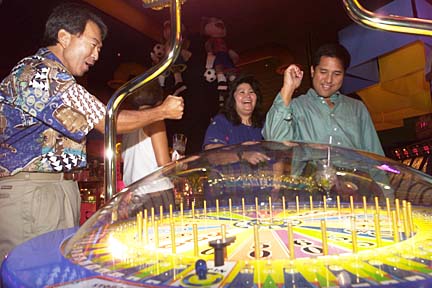 GEORGE F. LEE /GLEE@STARBULLETIN.COM
From left, Ron Kobayashi, Barbie Rosario and Danny
Rosario had a go Tuesday night at the Wheel of Fortune
in the second-floor amusement area of Dave & Buster's.
---
D&B's is
packing 'em in


The games, food and drink
emporium is going strong

---

By Shawn "Speedy" Lopes
slopes@starbulletin.com

"I played the golf game and one of those shooting games, but this is the one I absolutely adore," says 24-year-old Danielle Freeman, dismounting what appears to be the back end of a snowmobile. It is actually a video-game simulator called Arctic Thunder, and Freeman, a first-time patron of the newly opened Dave & Buster's on Auahi Street is already an old pro.

"Did you just see me beat those four guys?" she asks, with a naughty gleam in her eye. "I recommend this one to all the girls. The seat vibrates!"

Perhaps this is not quite what Dave Corriveau and Buster Corley had in mind when they first envisioned their "playground for adults" nearly 20 years ago, but if recent crowds at Ward Entertainment Center are any indication of its relevance to Hawaii, the concept is working quite well regardless.

Even without a major advertising blitz, the restaurant-slash-pub-slash-entertainment complex appears to be off to an auspicious start locally. Word has spread quickly since the new Dave & Buster's Honolulu franchise opened for business Oct. 3, and night-lifers of all ages have queued to get a glimpse -- and taste -- of the D&B phenomenon.

With 30 locations in the United States, one each in Taiwan and Canada, and plans for more overseas, Dave & Buster's has seen a rapid worldwide expansion, much of which has occurred throughout the '90s. It was the conceptual pairing of Corley's casual-yet-elegant Buster's Restaurant in Little Rock, Ark., with Corriveau's Slick Willy's World of Entertainment, a neighboring billiard-and-game parlor that resulted in their first franchise in Dallas in 1982. Their new Honolulu location is reportedly a staggering $10 million venture.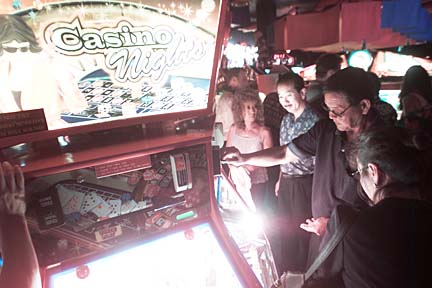 GEORGE F. LEE /GLEE@STARBULLETIN.COM
Would-be gamblers gather around the casino like arcade
in the second-floor amusement area of Dave & Busters.
---
Upon entering on Level 2 of the Ward Entertainment Center, patrons are ushered in by a host of amiable doormen who greet every patron with a courteous smile and an open door. The Viewpoint Bar, one of several drinking areas in the three-story complex, is off to the immediate left, overlooking much of the dining room. If dining during the evening, customers may have a bit of a wait before being seated, as flocks of curious patrons have been eager to sample the D&B menu.

"I'd like to try everything at some point, but for now I can vouch for the buffalo wings and quesadillas," says 48-year-old Vance Lam, whose four-person party, which included his wife, mother and 14-year-old son (children are welcome as long as they are under the supervision of an adult), devoured several dishes of D&B appetizers.

"We're hitting the games after this. I think I better count my bills before we start."

Whether enjoying Dave & Buster's $15,000 mahogany billiard tables or the countless diversions supplied by Level 3's bustling Million Dollar Midway, customers would do well to keep an eye on the time and their wallets. The atmosphere is part Vegas, part Punahou Carnival; lights flash, video games bleep and buzz, and liquor is plentiful.

Noticeably absent is the usual clinking of coins or tokens, which have been replaced by a high-tech PowerCard system. Instead of filling their pockets with cumbrous handfuls of coins, patrons are encouraged to purchase credits on Dave & Buster's PowerCards, which allow them to operate games with a single swipe.

Perhaps just as impressive as its Million Dollar Midway is Dave & Buster's rooftop Sunset Bar (the only one of its kind in the entire D&B chain), a breezy, canopied patio which boasts a wall of spirits, a formidable selection of brews (bottled, canned and on tap), an enjoyable soundtrack (Everything but the Girl, Soul II Soul and Groove Armada, among others) and a lovely view encompassing Waikiki from the east and Kewalo Basin to the west.

"What are you guys drinking?" Freeman asks a small gathering of locals barside. Heineken and Newcastle, is their reply.

"Have you guys been downstairs yet?" They haven't, they say.

"Well, don't leave until you try one of those really wild driving games, OK? They're really fun, trust me."





Click for online
calendars and events.
E-mail to Features Editor
---
---
© 2001 Honolulu Star-Bulletin
http://archives.starbulletin.com