CLICK TO SUPPORT OUR SPONSORS

---

---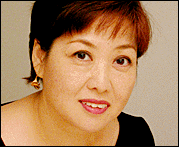 In The Garden



Friday, October 12, 2001
By Suzanne Tswei
---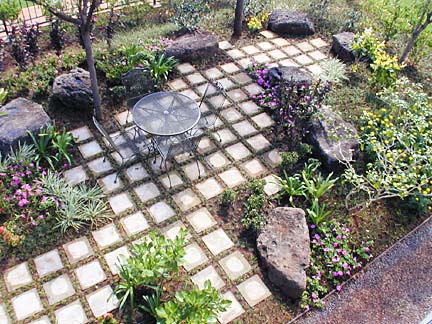 CRAIG T. KOJIMA / CKOJIMA@STARBULLETIN.COM
Concrete pavers are set in a layer of sand to create a
barbecue and dining area. This is an easy and expensive
option for extending lanai space without building a patio.
---
Outside from the inside

A garden should be a place of delight and refuge -- a private oasis where you can kick off your shoes at the end of the day and relax. It shouldn't be merely a showpiece created just to impress your neighbors.

Landscape architect Lester Inouye thinks gardeners sometimes miss that point.

"You see the nice Japanese gardens at the front of the house. Everything looks so nice, and you work so hard to keep it nice, but you are not the one who really gets to enjoy it," he says.

By keeping a garden in the front yard, you are giving your neighbors a lovely scene to look at while you are cooped up in the house.

"If you are the one who's working so hard to keep the garden looking nice, you should be the one to enjoy it. Put it where you can see it and use it," Inouye said.

The true Japanese gardens are kept in the back yard where it is private. The homeowner comes home after work, changes into more comfortable Japanese wear and goes out into the garden for some quiet time. The garden becomes an outdoor extension of living space.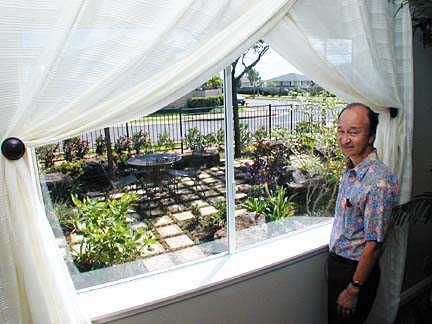 CRAIG T. KOJIMA / CKOJIMA@STARBULLETIN.COM
Landscape architect Lester Inouye designed The Legacy's
award-winning in the Parade of Homes. He was able to
the most with little money for a big yard.
---
We should learn from that idea of outdoor living, said Inouye, who has put his theory into practice many times. His latest garden design incorporating a dining room, a talk-story room, a children's play room and barbecue area earned the best-landscape award in The New Parade of Homes 2001.

The 700-square-foot garden, based on a Newport theme, is at Residence 6 in the Legacy development by Castle & Cooke Homes Hawaii Inc. Inouye also designed gardens for the other five model homes at the Legacy.




Garden by Lester Inouye

Where: Residence 6, The Legacy by Castle & Cooke Homes Hawaii, Inc. At 95-934 Kuaoa St., Mililani. Take Mililani Mauka exit off H-2 Freeway, right onto Meheula Parkway, left at Kuaoa Street, follow signs to the Model Village.

Award: The New Parade of Homes 2001 Landscape Award given by American Society of Landscape Architects, Hawaii Chapter

Hours: 1 to 5 p.m. Monday, 10 a.m. to 5 p.m. Tuesday through Sunday

Call: 626-1133




The first rule to remember when you plot your garden is to use all of the space, said Inouye, who has a landscaping degree from Harvard University. Planting a hedge around the perimeter of your property screens out neighbors and noise, and defines your private area.

"The hedge makes you a good neighbor. You keep others out and yourself in. It makes your yard usable. Most people live inside the house; they draw their curtains and that's it. But you paid for everything, including the land. You might as well use the outside as well," Inouye said.

Next, identify your priorities and the things you want for a garden in order to come up with an overall plan before drawing up a specific garden design. Remember to research the plants and materials you want to use so that you end up with the right plants for the right locations.

In his design for Residence 6, Inouye selected different plants for the hedge. In one area he picked a popular hedge plant, mock orange, which is sturdy and easy to grow. He also used variegated hibiscus for its mottled green-and-white leaves to match the model home's light-colored exterior walls.

Inouye took care to place the plantings in line with the windows to allow the homeowner a clear view of the garden. He placed the outdoor dinning room -- a dining set on concrete pavers surrounded by trees, bushes and flowering plants -- directly outside the kitchen window.

He created an outdoor talk-story room by placing large smooth lava rocks in a grouping outside the living room windows. Small trees and other surrounding plantings will provide shade and colors when they mature.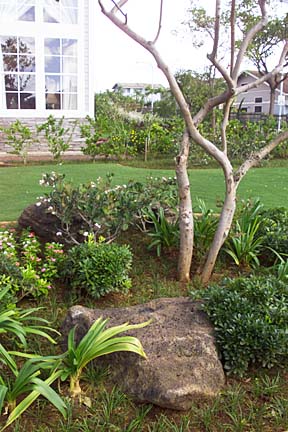 CRAIG T. KOJIMA / CKOJIMA@STARBULLETIN.COM
Low maintenance were chosen for the garden. More
colorful potted flowers can be added around the
landscaping and changed with the seasons.
---
"You should remember to put the trees or plants where you can see them from the inside. You can still enjoy the garden when you are inside the four walls," Inouye said.

A patch of grass next to the outdoor dining area provides a sunny spot for children to play. The play area is visible from the kitchen to allow parents to keep an eye on the little ones.

The barbecue area is next to the open lanai, which is right off the kitchen and family room. Inouye extended the lanai space by using concrete pavers set in a layer of sand. Such extension is easy and inexpensive for do-it-yourselfers.

Inouye selected easy-to-care-for plants for the garden: lily of the Nile, Mondo grass, geometry trees, kokotan bushes, tiare and dwarf ixora, among others. They provide the permanent, low-maintenance backdrop for the garden.

In between, he planted yellow marigold, pink and red impatiens and petunias for spots of colors. These small patches of color deliver big visual impact and can be easily changed to reflect different seasons.

On the shady side of the house, Inouye planted a hedge and a few trees, laying down gravel to keep gardening to a minimum.

"You can plan your own private outdoor area any way you want, and you can put in as much work or as little work as you want.

"People think landscaping is all work, but it doesn't have to be that way. It is also fun, and Hawaii (with its year-round hospitable climate) is the perfect place for it."

The model home's garden -- which included an automatic sprinkler system and professional installation by Takano Nakamura Landscaping Inc. -- cost about $30,000 to create. Inouye said homeowners can easily duplicate the garden for about one-third that cost if they do most of the work themselves.





---

Suzanne Tswei's gardening column runs Saturdays in Today.
You can write her at the Star-Bulletin,
500 Ala Moana, Suite 7-210, Honolulu, HI, 96813
or email stswei@starbulletin.com
E-mail to Features Editor
---
---
© 2001 Honolulu Star-Bulletin
http://archives.starbulletin.com