CLICK TO SUPPORT OUR SPONSORS

---
---
Tuesday, October 9, 2001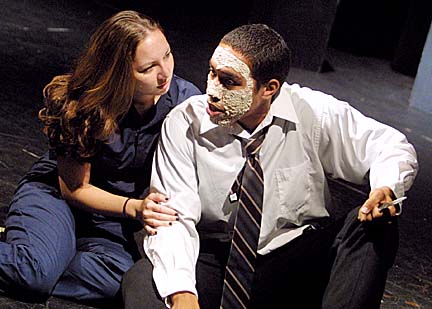 RICHARD WALKER / RWALKER@STARBULLETIN.COM
Moses Goods III plays the lead in "Edmond" -- a part
meant for a Caucasian -- in "white face." Kathy Hunter
also stars in the Ernst Lab Theatre production.
---
Gifted actor leads
disturbing tour of
urban underside

"Edmond"
Performances at 11 p.m. Friday and Saturday at Earle Ernst Lab Theater, University of Hawai'i at Manoa. Tickets $7 with discounts for seniors and UHM students. Call 956-7655.

---

Review by John Berger
jberger@starbulletin.com

Racial epithets fly in places but race and prejudice turn out to be of minor importance as the University of Hawai'i at Manoa Ernst Lab Theatre opens its Late Night Theatre series with an enigmatic production of David Mamet's "Edmond." Moses Goods III stars in the title role.

Goods again proves himself one of the most versatile actors in the UH theater program. His triumphs include strong supporting performances in last year's Kennedy Main Stage productions of "The Summer Festival: Mirror of Osaka" and "No One Will Marry A Princess With A Tree Growing Out of Her Head," and his stellar performance in tandem with Helen Lee in playing the two "halves" of Mephisto in Kennedy's magnificent marathon staging of "Faust I"/"Faust II" last spring).

This time around, Goods, who happens to be African-American, is playing a character originally written as Caucasian. He performs with a thick coating of what looks like oatmeal on his face. The mask helps tell the story in at least two ways. On one hand, Goods' make-up is director Taurie Goddess' way of reversing the old-time theatrical device of Caucasians performing in "black face." It also sets the character apart from those around him.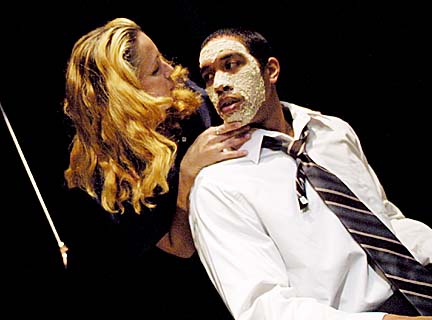 RICHARD WALKER / RWALKER@STAR-BULLETIN.COM
Christine Hauptman plays the spurned wife of
Moses Goods III in "Edmond."
---
The story transcends race anyway. Edmond abruptly and quite coldly informs his wife that he's leaving her because he no longer finds her interesting. After a few drinks in a bar, he decides to he's ready for some sexual healing. In the big-city sex district, Edmond gets cheated, ripped off, beaten and robbed. He gets played but not laid.

Edmond eventually becomes dangerous for a moment or two -- kick a dog once too often and it'll bite somebody -- but lacks the street smarts necessary to survive in the urban jungle.

Goods' mask becomes a way of showing Edmond's alienation from those around him as well as being a device that allows the audience to more quickly accept Goods in a role originally envisioned as Caucasian.

From a third perspective, Edmond's experiences could be those of any white-collar executive who goes looking for action in dangerous places and ends up with more than he bargained for.

In any event, the role is a demanding one and Goods gives a phenomenal performance. He skillfully negotiates each step in Edmond's emotional disintegration from naive innocence to unstable murderous rage. Goods creates a fine portrait of a man who meekly absorbs the abuse of others, and then becomes a danger to himself and those around him when he suddenly snaps.

Goods is so convincing as he plays out Edmond's emotional turmoil and bewilderment in blundering from one misadventure to another that you may even forgive the man for the cruel dismissal of his wife.

Christine M. Hauptman, Kathy Hunter, Ben Lukey and Hank West wore uniform blue overalls to portray the various people Edmond encounters on his journey into the depths. Hauptman suffers beautifully as the hapless wife, then gets to show her seductive side as one of the sex workers. Hunter likewise gets to play several types of characters: sex workers in some scenes, a coffee house waitress named Glenna in another.

Goddess presents Edmond's story on a stage that's almost as bare as his prospects for survival.

Goddess' vision, good ensemble work, and Goods' performance in the title role, makes "Edmond" a best bet in late-night theater this weekend.





Click for online
calendars and events.
E-mail to Features Editor
---
---
© 2001 Honolulu Star-Bulletin
http://archives.starbulletin.com