CLICK TO SUPPORT OUR SPONSORS

---

---
Wednesday, October 3, 2001
ELECTRIC KITCHEN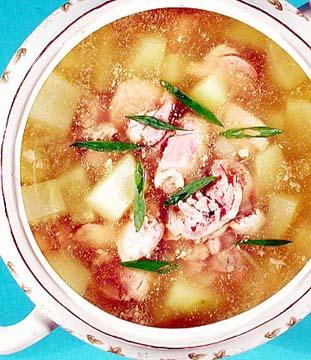 HECO
Chunks of green papaya flavor a traditional
Filipino version of chicken soup.
---
Chicken pairs with papaya

"The Electric Kitchen," airing in the first half of October, features Chad Kanehira, produce manager of Safeway's Kaneohe store, with recipes using fruit.

"Electric Kitchen" airs at 9:30 a.m. Sunday, 8:30 p.m. Monday, 5 p.m. Tuesday and 6 p.m. Thursday on Oceanic Cable Channel 16. It also airs on Maui at 8:30 p.m. Thursday on Calabash Channel 44 (52 in Lahaina) and on the Big Island at 5 p.m. Monday and 5:30 p.m. Wednesday on Na Leo O Hawaii Channel 2 in Hilo and 14 in Kona.

Here is a recipe from Kanehira. All the recipes from the show, as well as an archive of recipes dating to 1995, are available at the Hawaiian Electric Co. Web site, www.heco.com.

Chicken Soup with Green Papaya

2 1/2 pounds chicken pieces
1 teaspoon salt
Dash pepper
3 tablespoons salad oil
1 small piece ginger, crushed
1 onion, sliced
2 14-1/2 ounce cans chicken broth
2 cups water
1 large green papaya, pared and seeded

Season chicken with salt and pepper. In a large saucepot, heat oil and brown chicken. Add ginger and onion; cook until onion is transparent. Add broth and water. Cover and simmer 1 hour.

Cut papaya into 2-by-2-1/2-inch pieces. Add papaya to soup and cook 5 to 10 minutes or until papaya is tender. Serves 6.

Nutritional information unavailable.





Click for online
calendars and events.
E-mail to Features Editor
---
---
© 2001 Honolulu Star-Bulletin
http://archives.starbulletin.com