CLICK TO SUPPORT OUR SPONSORS

---

---
Wednesday, October 3, 2001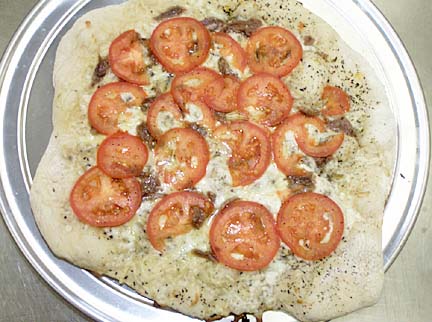 DENNIS ODA / DODA@STARBULLETIN.COM
Albert Grande's anchovy pizza with fresh tomatoes.
---
Zen of pizza


Albert Grande takes his beloved
pizza-making to the
Web and far beyond

Good dough is a must in making fine pizza

---

By Betty Shimabukuro
bshimabukuro@starbulletin.com

ALBERT GRANDE is a normal guy with a normal hobby that he just happens to take to abnormal levels -- which is OK, considering his object is peace to all the world, through pizza.

Clearly, these are not the best of times. Fear and financial uncertainty have scarred the toughest among us. Flag-waving may ease the pain, but Grande offers another therapy. Pizza therapy.

This doesn't mean ordering take-out. This means squeezing the dough with your own hands, rolling it out, layering on the toppings and baking it in your own oven. You've heard of aromatherapy? Imagine what the scent of a fresh-baking pizza will do for your stress glands.

Grande believes so strongly in the zen of pizza that he not only makes some every week, he's out to spread the word. He publishes a free pizza newsletter and runs a Web site, www.pizzatherapy.com (motto: "Pizza on Earth, Good Will to All").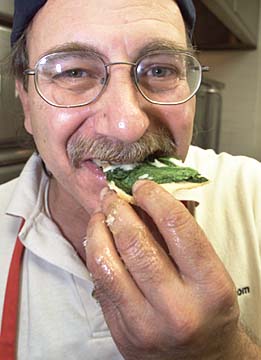 DENNIS ODA / DODA@STARBULLETIN.COM
Below, Grande takes a bite from his freshly made
spinach pizza. "It really is a kind of universal food,
"Grande said. "Everybody loves pizza."
---
"It really is a kind of universal food," Grande says. "Everybody loves pizza."

His newsletter goes to 870 subscribers in 40 countries, including Slovenia and Antarctica. His Web site draws 250 serious visitors a day. "That's pretty amazing for a little Web site about pizza in Hawaii."

This is pizza therapy: People gathered around to make pizza will end up sharing, and not just the pepperoni. They'll talk, learn about each other, relax.

"It gets people involved," Grande says. "It's a very cool family activity."

He remembers his father making pizza when he was a teenager in Providence, R.I. "He'd go to a bakery and get dough and kind of smoosh on the tomatoes and cheese and pepperoni, and out would come the best pizza you've tasted in your life."

He'd have the kids help, Grande says. "He knew what he was doing, it was pizza therapy! You sit down, you laugh, you talk, you joke."

HIS FRIENDS would even take part. "And we were rebellious kids. Who could see hanging around with your father on a Saturday night? And we did."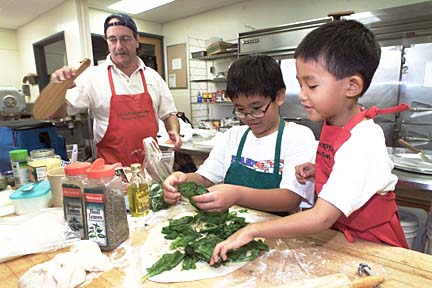 DENNIS ODA / DODA@STARBULLETIN.COM
Darien Shimabukuro, 8, center, and Caleb Perez, 5,
help Albert Grande put fresh spinach on a pizza.
"It gets people involved," Grande said of pizza
building. "It's a very cool family activity."
---
Grande, who comes from pure Italian stock ("all four of my grandparents were off the boat"), eventually adopted the pizza tradition himself, although he did his father one better by learning to make dough from his mother.

He brought the little food fetish with him when he moved to Hawaii 15 years ago. Grande now lives in Waipahu and teaches special education at Waialua High School, where pizza makes frequent appearances in class.




Good eatin'

Albert Grande will conduct pizza-making demonstrations for non-profit groups for the cost of ingredients. Contact him:
By email: webmaster@pizzatherapy.com
By snail mail: 94-1257 Lumikula St. No. 5U, Waipahu 96797




He says it promotes math (measuring), science (the properties of yeast), even English (describing pizza and researching pizza tales).

Pizza grounds his life. Grande even courted his wife, Charlene, with a pie.

"Our first date, I made her pizza."

"It wasn't therapy, though," Charlene recalls.

"It was pizza pick-up," he says.

IT ALSO WORKED. Charlene now handles the one stress point of Grande's pizza-making, the cleanup. "It's a tornado in the kitchen," she says. "Ceiling to floor." But worth it, she adds, because the pizza's better than anything available take-out.

Grande's Web site was born 2-1/2 years ago and within months had a following far beyond his expectations.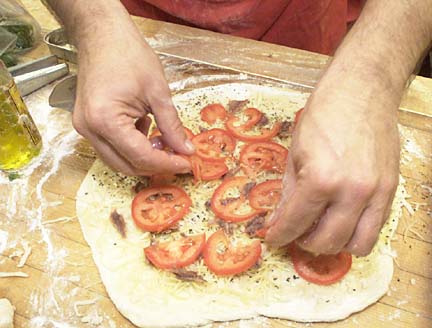 DENNIS ODA / DODA@STARBULLETIN.COM
Grande adds fresh tomatoes on his anchovy pizza.
---
The site offers recipes, a history of pizza, a forum for exchanging pizza thoughts and a running poll on favorite pizza toppings -- pepperoni is the leader at the moment. It also offers links to commercial sites where pizza supplies and cookbooks can be purchased.

Grande is hoping to earn some income off the site, and is courting sponsors. Fleischmann's yeast is already paying for a banner ad.

His dream: "I go around doing pizza demos and I get paid to do it. I go around the country promoting pizza. Pizza therapy."





Click for online
calendars and events.
E-mail to Features Editor
---
---
© 2001 Honolulu Star-Bulletin
http://archives.starbulletin.com