CLICK TO SUPPORT OUR SPONSORS

---

---
Monday, October 1, 2001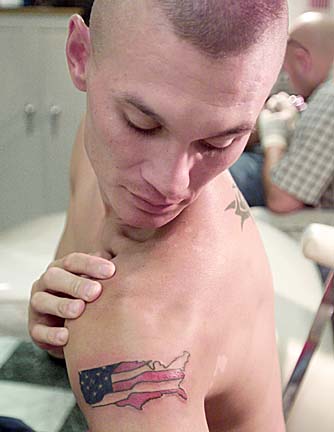 GEORGE F. LEE / GLEE@STARBULLETIN.COM
US Marine Thomas Fish looks over his new tattoo.
---



A Waipahu body artist finds
clients eager to put their patriotic
fervor on permanent display

---

By Gary C.W. Chun
gchun@starbulletin.com

In the wake of a national crisis brought on by the terrorist attacks on New York City and Washington, D.C., for some of us, it wasn't enough to immediately give blood, donate money or buy and proudly wave our flag.

We needed to wear our American pride on our hearts. Or at least on one of our arms or legs.

That idea came to Jerry DeGuzman a couple of weeks ago. The enterprising owner of Sudden Rush Tattoo and Body Piercing in Waipahu said last Tuesday afternoon in his small shop "that I wanted to do something. I already donated money, but I couldn't donate blood because of a recent piercing."

Two Saturdays ago, DeGuzman had stepped just outside his shop, "counting the cars -- we only did one tat and one piercing that day -- asking myself what can I do for s----s and grins," or, to put it more elegantly, to step up his walk-in business.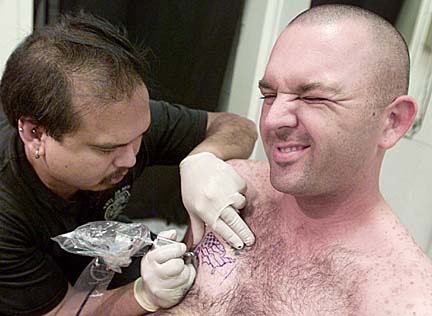 GEORGE F. LEE / GLEE@STARBULLETIN.COM
US Marine Sean Kohlmeyer winces as tattoo
artist Jerry DeGuzman begins his work.
---
And then inspiration came into view in the form of a small version of the Stars and Stripes that one of his tattoo artists put on the antenna of his parked lowrider. The idea solidified more so later that day "when I saw my dad fly a big flag at a family barbecue.

"So I thought up a free service, where customers of mine could get a patriotic tattoo free of charge."

Since last Monday his phone's been ringing off the hook, "over a hundred calls," DeGuzman said. The bulk of the response has been coming from outside Waipahu, and not necessarily from those in the military. Clients are coming from as far as Kailua, Hawaii Kai and Waianae.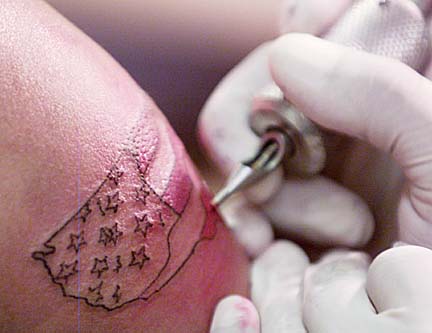 GEORGE F. LEE / GLEE@STARBULLETIN.COM
Tattoo artist Jason Lusano fills in the color on Fish's tattoo.
---
Compared to the garish tattoo illustrations that covered the walls of DeGuzman's reception area and filled two binders on his glass counter, the two choices of patriotic tattoos being offered are simple and sublime. One is in the shape of the United States (including Alaska and Hawaii), rendered in stars and stripes, and the other is a small looped ribbon in red, white and blue.

"Now people have to call to make appointments to get their free tattoos, because we're booked for the next three weeks," he said.

Then a customer suggested selling the patriotic tattoos and donating half of the revenues to a relief fund.

"So, for those walk-in clients with no appointments, I'll be charging $50, with $25 of it being a donation."

DeGuzman said he's been getting calls from a number of people who've never gotten a tattoo. "One first-timer was a woman whose husband is in the Navy and was going to be deployed. She opted for getting the ribbon design put on her leg, and she didn't pass out or call me dirty names," he said with a small chuckle. (He stressed that he and his staff of two artists are drug-free and licensed by the state Department of Health's sanitation branch.)

One man there on a work break had planned to get his son's name, "Luke," tattooed on his back shoulder, which already bore the ornately lettered name of his daughter, "Jasmen." On seeing the display of patriotism all around him, he was contemplating adding the U.S. tattoo as well.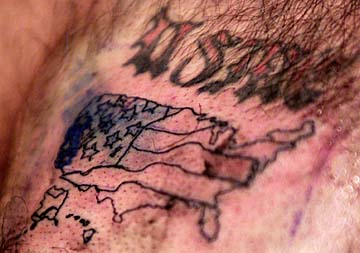 GEORGE F. LEE / GLEE@STARBULLETIN.COM
A close up of the stenciled outline of
US Marine Sean Kohlmeyer's tattoo.
---
Meanwhile, Dean Ganon of Waialua, who works at the airport Budget car rental, had already made an appointment and was ready to get his third tattoo. "I wanted to show my patriotism," he explained. "It was really wrong what (the terrorists) did, so, in a small way, I wanted to show that I care for my country and I hope that after what happened, it will help bring people together."

In the meantime, a short, bespectacled, gray-bearded man in a sun hat walked in, with the help of a cane. Louis Race of Ewa Beach, a former construction machinery operator now on disability, had come in earlier in the day without an appointment. DeGuzman and his other artist, Steve Looney, were already busy, so Race left to kill some time before returning.

Like Ganon, Race also wanted a patriotic tattoo. His last tattoo, a blurred black panther on his right forearm, dates to the '60s.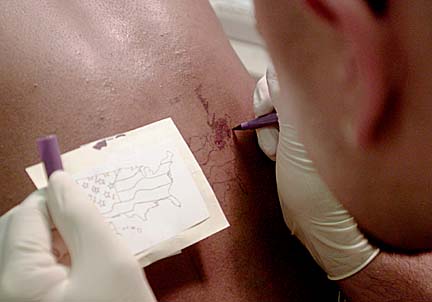 GEORGE F. LEE / GLEE@STARBULLETIN.COM
Tattoo artist Steve Looney inks in a detail on
US Marine Franklin Acree's back.
---
"My son's in the Army Reserves," he quietly said, "and I'm doing this for both him and my country. It's horrible what happened, real bad -- so many people senselessly killed."

Remembering the national situation from his own youth, Race said that while "Vietnam was a war, this is not a war," realizing that after an initial assault, there will probably be smaller military operations over a long period of time. "And we already know that in Afghanistan, Russia didn't do quite well in the 10 years or so they were there.

"My son is 20 and living at home. I know he's not too happy, scared even. When he went into the reserves right out of Waipahu High School and came back home from boot camp, he said he was changed because they teach you to kill.

"But even if my son wasn't in the military, I'd still get a U.S. tattoo, more so now after all this. I'm hoping my son might come to this place later to get his tattoo," he said.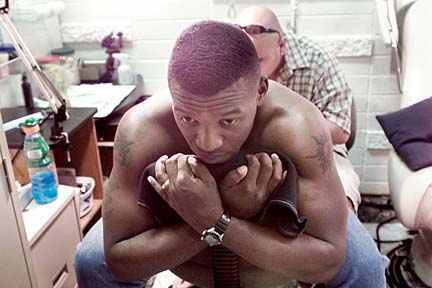 GEORGE F. LEE / GLEE@STARBULLETIN.COM
US Marine Franklin Acree waits for the needle as
tattoo artist Steve Looney begins his work at the
Sudden Rush Tattoo parlor.
---
Just a couple of feet away, Ganon was in the midst of getting a tattoo from Looney.

"I have two sisters in the military: One's in the Air Force, and the other's serving on the USS Stennis that's being deployed to the Middle East," Looney said in explaining his eagerness to get back to work after a brief vacation on Maui.

As Looney carefully applied the last brightly colored touches to his work, he briefed Ganon on how to care for the still-fresh tattoo: "It should heal within seven to 10 days if you take care of it by keeping it moist, use antibiotic ointment and don't expose it to direct sunlight."

If only it were that easy to heal our country's wounds.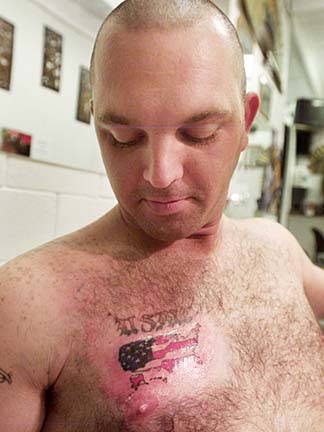 GEORGE F. LEE / GLEE@STARBULLETIN.COM
US Marine Sean Kohlmeyer inspects the finished
handwork of tattoo artist Jerry DeGuzman.
---




Click for online
calendars and events.
E-mail to Features Editor
---
---
© 2001 Honolulu Star-Bulletin
http://archives.starbulletin.com