CLICK TO SUPPORT OUR SPONSORS

---

---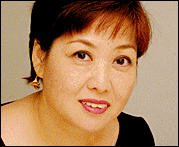 Local Color



Sunday, September 30, 2001
BY SUZANNE TSWEI
---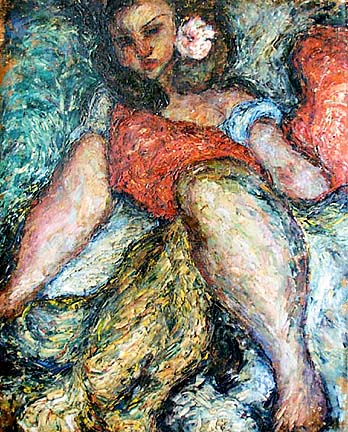 "Dancer at Rest" is an elaborate oil by Madge Tennent,
whose later works were watercolors and drawings.
The painting is being listed for $50,000.
---
Painter colored
her world with
Polynesian women

» See also: Gallery: Prescription for painting

---


"A real artist is nothing if not completely honest," Madge Tennent used to say.

She was soundly criticized for her honesty. Her portraits of Hawaiian women were too ... well ... rotund, the critics charged. They failed to convince her.

"Though my primary concern has been with the aesthetic of the manners, grace and appearance of the Hawaiians, as is well known, I have been criticized for the size of my Hawaiian women," Tennent said.




"Yesterday and Today"

Featuring artworks by Madge Tennent and Chris Campbell
Place: Cedar Street Gallery, 817 Cedar St.
Time: 10 a.m. to 5:30 p.m. Mondays, Thursdays and Fridays; 10 a.m. to 4 p.m. Tuesdays, Wednesdays and Saturdays, through Oct. 26
Call: 589-1580

Tennent Art Foundation Gallery

Where: 203 Prospect St.
Hours: 10 a.m. to noon, Tuesday through Saturday; 2 to 4 p.m. Sunday, or by appointment
Admission: Free
Call: 531-1987




"To people who are used to the size -- always graceful, however weighty -- of the Hawaiians, there is no need to explain that this regal appearance is the very warp and woof of the Hawaiian body."

Big is beautiful, Tennent thought. She saw the Hawaiian women as fulfilling the standards of classic Greek beauty, and she wanted to portray their stately presence without compromise.

Tennent was the first artist to paint Hawaiians in their "aesthetic of fullness," as one art critic said. She had to endure harsh words for her artistic choice, but she also was praised for her unique vision.

Art dealer Donald Angus was among the first to see the intrinsic beauty of Tennent's portraits when others thought of her work as scandalous.

"There are many painters in Hawaii, but only one artist," Angus said. He compared her to Gauguin, praising their artworks as glorifying the Polynesian race.

Angus was a teenager living next door to Tennent and was impressed by her artistic ability even before she painted Hawaiian women. They became friends and he helped champion her work.

Being an astute art collector, Angus thought of buying art as like owning a racehorse. "In either case, if you feel you have a winner in terms of money and the race, you do your best to back your judgment," Angus said.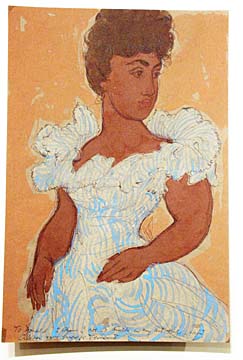 Tennent's watercolor of a Hawaiian woman is entitled "Waiting."
---
He backed up his judgment with a large personal collection of her artwork. His collection hasn't been seen in public since 1968, when it was shown at the Contemporary Arts Center, which since has shut down.

The collection is on view again, this time at the Cedar Street Gallery. Angus died earlier this year, and his estate is selling the artwork through the gallery.

"This is a pretty great opportunity for the public to see Tennent's work and also to purchase her work. There hasn't been a great deal of her work available for a long time," said gallery owner Mike Schnack.

The gallery has about 100 pieces, ranging from simple drawings to elaborate oil portraits. The prices range from $100 up to $50,000 for a large oil titled "Dancer at Rest."

Tennent started painting portraits of the islands' white society to help support her family after arriving in Hawaii in 1923. But when she painted for herself, she painted native women.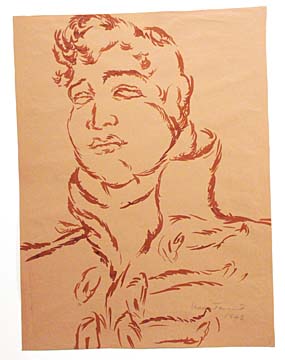 An ink drawing of one of the ali'i.
---
"From my reading of her, she just fell in love with the Hawaiian women," Schnack said. "She had always done figurative work, but she painted portraitures in the classical style before she discovered her own style."

Tennent lived and worked in Hawaii for 50 years. She gave up painting large oils when her health declined, and focused more on drawings and watercolors. She died on Feb. 5, 1972.

Tennent, born Madeline Grace Cook, was born in Dulwich, England, in 1889 to an architect father and a writer mother, who both nurtured her innate artistic ability.

She grew up in Cape Town, South Africa, where she had little schooling. Recognizing her talent and the limited opportunities in Cape Town, her parents moved the family to Paris to allow her better art training at the Academie Julian.

Young Madge did not disappoint her parents. She worked long hours six days a week. On Sundays she went to the Louvre to study the works of the old masters, whom she referred to as her "spiritual ancestors."


Tennent portrayed Hawaiian women's stately
presence without compromise. Her ink drawing
above is called "Feather Boa."
---
When she was 13, she entered a charcoal drawing in a competition with students from five other art academies. She placed fifth, an outstanding accomplishment considering that her competitors were much older.

Due to financial difficulties, the family had to return to Cape Town, where Tennent became director of a government art school when she was 16. By the time she was 24, Tennent had established her own art school and also became known for her public piano performances. She met her future husband, Hugh, an officer in a New Zealand regiment, at one of her concerts.

The couple moved to New Zealand and later to British Samoa, where Hugh accepted a job as the government treasurer. Although she was busy with two young children, Tennent continued drawing and painting. She became fascinated by the looks of the Polynesians.

In 1923 the Tennents left Samoa for England. They stopped in Hawaii and never left.

Many of Tennent's artworks, including her childhood drawings, are on view at the Tennent Art Foundation Gallery on Punchbowl. Her heirs -- son Arthur and his wife, Elaine -- oversee the gallery.





---




---

Suzanne Tswei's art column runs Sundays in Today.
You can write her at the Star-Bulletin,
500 Ala Moana, Suite 7-210, Honolulu, HI, 96813
or email stswei@starbulletin.com
E-mail to Features Editor
---
---
© 2001 Honolulu Star-Bulletin
http://archives.starbulletin.com