CLICK TO SUPPORT OUR SPONSORS

---

---
Friday, September 21, 2001




[ DIVISION II SPORTS ]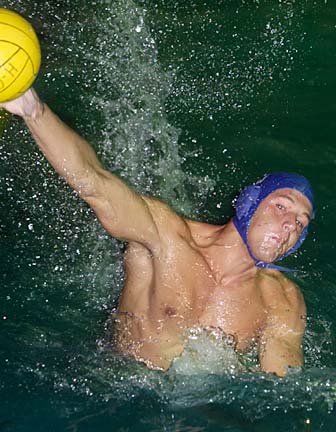 GEORGE F. LEE / GLEE@STARBULLETIN.COM
Brigham Young-Hawaii's Vanja Kalabic leads the Seasiders
tonight in a match against the only other men's collegiate
water polo team in the state -- the Chaminade Silverswords.
---



Yugoslavia native Vanja Kalabic
hopes to help strengthen the new
Brigham Young-Hawaii
water polo program

---

By Brandon Lee
blee@starbulletin.com

BRIGHAM YOUNG-HAWAII men's water polo player Vanja Kalabic doesn't know English that well. After all, he'd never been to the United States, much less Laie, before this summer.

But the 6-foot-3 freshman driver from Belgrade, Yugoslavia, does know and play water polo well. And for the time being, that's good enough for the Seasiders, who recently started their first season in the sport after soccer was dropped by the school last year.

On a roster of 12 other freshman and only four upperclassmen, Kalabic, who turns 20 next month, has clearly stood out this season more for his play than the fact that he's the only foreigner on the team. Cited before the season by BYUH coach Aukai Ferguson as his most impressive recruit after a stint on the Yugoslavian junior national team, Kalabic has played that way.

"He brings a lot of the European style to our program," Ferguson said of Kalabic. "He's creative, aggressive and draws a lot of ejections. He's physically strong. He would probably start on any team in the country."

Through nine games for the 3-6 Seasiders, Kalabic has led or tied for the lead in goals scored in all but one of them. His single-game high was six in a double-overtime loss to Santa Clara two weeks ago. For the year, Kalabic leads BYUH with 30 goals (on 64 shots) and 22 ejections drawn, and is third with 15 steals.

"He's a talented player, with a real good attitude, who comes from a strong polo background," Ferguson said. "I told him we needed that, as a first-year program."

Despite the team's sub-.500 record, Kalabic's play has helped BYUH defeat nationally ranked La Verne (Calif.) and the only other men's collegiate program in the state -- Chaminade. The Silverswords are playing their 18th season of water polo and are members of the Western Water Polo Association, an organization made up mostly of teams from Southern California. The Seasiders' membership application to the WWPA is still pending approval, though their schedule is heavy with member teams.

BYUH and Chaminade are set to tangle for the second time tonight at 6:30 at Kamehameha Schools' pool.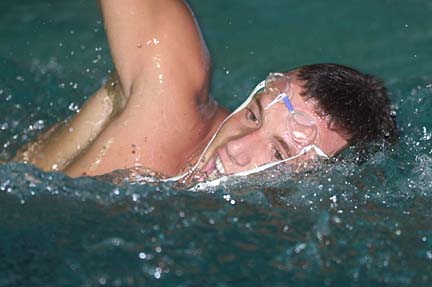 GEORGE F. LEE / GLEE@STARBULLETIN.COM
Vanja Kalabic leads the Seasiderstonight in a match
against the Chaminade Silverswords.
---
Neither school has an adequate home facility to host games, so both travel to the mainland for all of their regular-season competition, save for the five games they play against each other at various facilities on Oahu.

Though Kalabic is not BYUH's vocal leader -- that duty is shared by co-captains Aaron Waldrip and Colby Brink -- he knows he must lead in other ways.

"I should create game, should be playmaker," Kalabic said of his role. "I lead by example."

While Kalabic had previously seen the BYUH campus only in pictures, and was recruited by Ferguson solely by e-mail, he said the coach was one of the biggest reasons he decided to come to BYUH. Intent on pursuing an international business management degree and playing four years in helping to build the Seasider program, Kalabic happily discovered upon his arrival that Ferguson was able to bring in other talented players to lay the foundation with him.

"I think (Ferguson is) a good coach, and I can become a better player with him," Kalabic said. "There are many players that are good here. Coach needs to work with all of us, and we will get better. For future, (we) should be a good team. This year is a new experience for everybody."

So far, Kalabic is a young man content with many new experiences. He enjoys his new home, school and program. He's still learning his new language, but is ambitious about that as well.

"No, I'm not good in English," he said. "Maybe next year."

---



E-mail to Sports Editor
---
---
© 2001 Honolulu Star-Bulletin
http://archives.starbulletin.com