CLICK TO SUPPORT OUR SPONSORS

---

---
Friday, September 14, 2001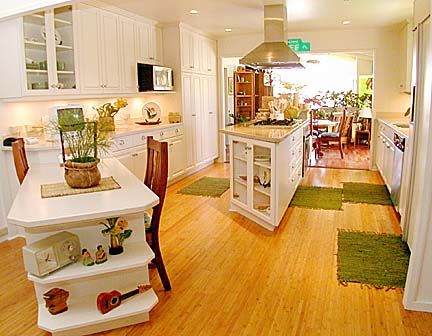 CRAIG T. KOJIMA / CKOJIMA@STARBULLETIN.COM
Gillem Neff wanted an open kitchen configuration
that would allow easy access to storage spaces
and work areas.
---
Cooking up
a kitchen


A couple in East Honolulu discovers
a recipe for success in an award-winning
remodeling project that made
their culinary dreams real

---

By Suzanne Tswei
stswei@starbulletin.com

The new kitchen at John and Gillem Neff's East Honolulu home is as much for her as it is for him. They both like to cook, and they both had their own ideas of the ideal kitchen.

He is the creative cook who likes to make up new stir-fry dishes on the spot. She's the neat cook who wants to have everything put back in its place. They both wanted a kitchen that is practical as well as good-looking.

He leaned more toward practicality, while she paid a little more attention to the color scheme and lighting. Happily, they agreed on all the details that went into their new kitchen.

It took three months of eating out or barbecuing in the back yard before their new kitchen was finished in July. But the result is well worth the small inconvenience, they said.

"It's definitely more fun to cook in there now, but I am still in the process of learning. I still have to figure out where my wife hid the sugar," he said.

The new kitchen is bright and airy, with more counter space, sensible storage, better lighting and improved traffic flow. The 1960s-style kitchen, which was gutted, now has a contemporary look in soft hues and top-of-the-line appliances.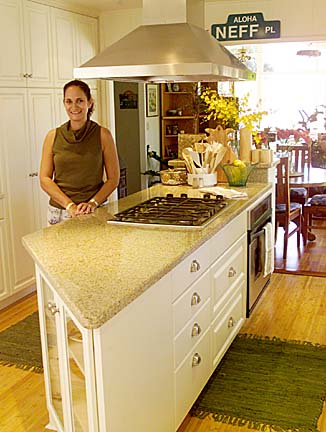 CRAIG T. KOJIMA / CKOJIMA@STARBULLETIN.COM
The center island houses a gas stove and oven.
---
The remodeling was among the award winners at the recent Building Industry Association of Hawaii 16th Annual Renaissance Building and Remodeling competition. The kitchen remodeling, by Mark Olson and Shelley Tanner of John Cook Kitchens, won the Carl Reppun Award, which is named after the chairman of the first competition.

The Neffs said they've wanted to update their kitchen since they bought the home seven years ago. They've had time to narrow down their wish list, and that helped them work with the designers to come up with specific changes.

"A gas stove was No. 1 on the list. I've always wanted a gas stove. I never cooked on gas before, but I heard all the good things about it," John Neff said. His new gas stove is living up to all his expectations. It delivers heat quickly and evenly, making it perfect for stir-frying.

The second item on their wish list was better configuration of the kitchen. The couple wanted to make sure that placements of the stove, sink and other working areas tied in with the storage spaces and traffic flow.

A center island was built to house the gas stove, oven, drawers for knives and cooking utensils, and large pull-out drawers for pots and pans. To add visual interests, glass display cabinets were added at the ends of the island for collectible china with tropical flower motifs.

The pull-out drawers made working in the kitchen a lot easier, he said. Before, he used to have to dig through cabinets for the pots and pans. Now they are neatly laid out in the drawers, allowing for easy access.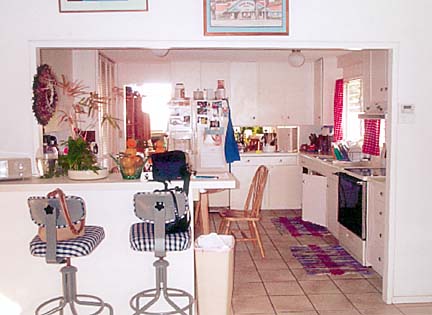 JOHN COOK KITCHENS
The Neffs' old kitchen was plain and cramped. The
old flooring was replaced with bamboo for a
warm, homey touch.
---
"The most difficult thing used to be, I had to bend down to dig through everything to get the pot I wanted. Now the pots and pans are right there under the stove, and I can leave it neat -- because my wife wants it neat, or I get scolding," he said.

Even the cutting boards, which he likes to have several specifically assigned for meat, fruits, vegetables and such, have their own storage space next to the sink. The space was designed to be narrow to allow the cutting boards to stand on their sides for easy sliding in and out of the space.

The Neffs chose granite as a counter top for the center island. The granite can stand up to heat and won't be damaged by hot pots and pans. To save money, they chose Corian as a counter top for the rest of the kitchen.

The Neffs picked a simple stainless sink because it is easy to clean and maintain. John Neff said a basic, functional sink without "hoses hanging out" was essential to him because he likes to clean up as he's cooking. A simple sink makes the cleaning up more efficient, he said.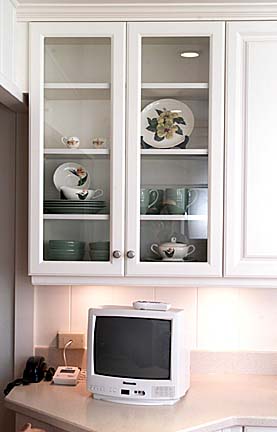 CRAIG T. KOJIMA / CKOJIMA@STARBULLETIN.COM
There's room for extra appliances underneath
the cupboard.
---
Gillem Neff said her husband surprised her by noticing and insisting on a change to a small detail that had to do with looks and not function. The couple ordered a quarter-inch bevel for the counter top edging, but the Corian counters showed up with the traditional rounded edge.

"He walked in the room, and his eyes went to the bull-nose (rounded) edge immediately. And he wanted it taken out. I was thinking that it was nice we were making progress and that with the counter top in place, we were almost finished," she said.

That was a slight setback that was corrected right away. But the kitchen floor took more time to complete. They had ordered ceramic tiles, but the tiles could not arrive in time. The Neffs switched to bamboo flooring.

"The one thing you should know about bamboo flooring is that it has to be acclimatized for 10 days before you can install it," he said. The flooring material had to be left in open boxes in the kitchen for 10 days. Without the 10-day period, the flooring could swell or shrink due to moisture at the site.

The bamboo gives the kitchen a warm color and is easier on the feet. It is also easy to maintain and makes their kitchen more attractive with a homey atmosphere, they said.

"We weren't really going for a fancy kitchen. We weren't trying to impress anybody. We just wanted something that would reflect our personality, and I think we've accomplished that," he said.





Click for online
calendars and events.
E-mail to Features Editor
---
---
© 2001 Honolulu Star-Bulletin
http://archives.starbulletin.com