CLICK TO SUPPORT OUR SPONSORS

---

---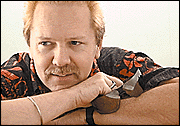 Island Mele



Friday, September 14, 2001
By John Berger
---
"Brimstone"

Brimstone
Hobo House on the Hill (HHHRCD 0019)

Hobo House principals Lawrence Yurong, Roni "Hobo Kid" Yurong and Ronnie Esteban make a successful foray into contemporary local reggae music with the debut of Brimstone. The duo -- Kahi Fernandez and Ka'iana Ako -- wrote most of their own material. Only two songs are remakes. Both are done well.

Synth tracks are the core of the Hobo House sound. Live instruments add texture. "Hawaii Nei," the obvious hit, benefits from the work of roots reggae master Isis (bass) and Binghi T (guitar). Jamin "Chief Ragga" Wong adds his star power as part of the drum programming/keyboards team; Wong and B.E.T. also appear as guest vocalists.

Fernandez and Ako hold their own with the celebrity guests. The result is an excellent debut and the type of local reggae-beat music Hawaii can be proud of. It's commercial and well-crafted.

http://www.hobohouseonthehill.com

---




"Precious Island"

TAPUarii
Native Tahiti (NAT 004)

Tahiti's TAPUarii brings a fresh sound to Hawaii as he makes his American debut with an assist from Robi Kahakalau. Some it was recorded in Tahiti. Some of it here. It's an eclectic and exemplary mix of Tahitian- and English-language pop and reggae-beat music.

The most noteworthy is a bi-lingual remake of "Love 'n Honesty." Fiji contributes an Afro-urban rap introduction and then adds his distinctive voice to an arrangement that's part Tahiti and part Fugees.

Kahakalau sang the original version in her days with the Island Style Band. Her protégé's reworked version is a rare example of a remake improving on an original hit. Hawaii's "island music" radio stations should already be playing this.

TAPUarii and his production team season the mix elsewhere by blending traditional Tahitian instruments with modern electronic tracks. His Tahitian-language reggae-beat songs pose a question: When will Hawaii's "island music" acts create comparable Hawaiian-language reggae?

---




"Lovely Hula Hands"

Various artists
Hana Ola (HOCD 42000)

No one does a better job restoring out-of-print Hawaiian recordings for re-release on compact disc than Michael Cord and Harry B. Soria Jr. Their latest project is a gorgeous collection of gems from the 49th State Hawaii label that flourished after World War II. It includes Hilo Hattie's early recording of "When Hilo Hattie Does the Hilo Hop," several beautiful numbers by Genoa Keawe, and one by the Bee Sisters.

Joe Keawe, Aunty Emma Kamaka and "Naughty Abbie" Sang are among the other artists featured. Each of the 18 songs is a classic Hawaiian hapa-haole hit. The clarity of the restored recordings is exceptional even without allowing for the age of the best available monaural recordings.

Soria's detailed annotation explains the social context of the songs. He also provides brief bios of the legendary artists and composers, and makes the album a valuable addition to any collection of 20th century Hawaiian music.

http://www.cordinternational.com





---




John Berger, who has covered the local
entertainment scene since 1972, writes reviews of recordings
produced by Hawaii artists. See the Star-Bulletin's Today
section on Fridays for the latest reviews.
E-mail to Features Editor
---
---
© 2001 Honolulu Star-Bulletin
http://archives.starbulletin.com