CLICK TO SUPPORT OUR SPONSORS

---

---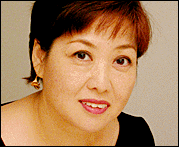 In The Garden



Friday, September 14, 2001
By Suzanne Tswei
---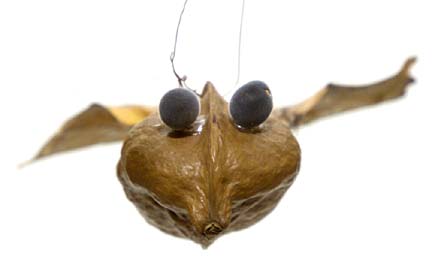 DENNIS ODA / DODA@STARBULLETIN.COM
Fish ornament made out of garden remnants.
---
Foster Garden specialist
crafts wreaths with isle flair

To tell the truth, Joyce Spoehr was faking it when she taught her first wreath-making class. Coming from the mainland, she had worked with only pine branches, moss and other fresh garden cuttings. She had not a clue what to do with dried banana leaves, tropical seed pods and foliage.

The only thing that was familiar to her was the wire cloth hanger, reshaped into a circle to form the foundation for the wreath. Putting her best poker face forward, she charged ahead as if she were an old pro.

She's been through worse. Once, when she was manager of the only hotel in the Cook Islands, she had to figure out how to roast a piglet for Prince Phillip of England in a hurry. She had forgotten to arrange for the chef to come in and ended up cooking the princely feast herself. If she managed to pull that one off, then the wreath was not a problem, she thought.

But her scheme was doomed from the start. She grabbed some banana leaves, bunched them up and tried to tie the bundle onto the hanger. It was a mess.

"I was really winging it, let me tell you. Basically I was screwing up right from the beginning. It was horrible," Spoehr recalled.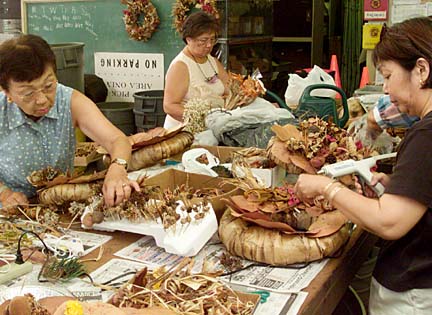 CRAIG T. KOJIMA / CKOJIMA@STARBULLETIN.COM
Winnie Ito, left, Charlene Chang, and Harriet
Morimoto (in black) are busy making holiday
wreaths from dried garden materials.
---
"One person in the class, Melody Fanning, who has since become my best friend, later told me that she thought I had to be either a complete idiot or a real genius who's figured out a new way to do things that nobody else has ever thought of before. And she suspected I was not a genius."

Fanning suggested that Spoehr not bunch up the leaves. Instead, she suggested that she leave them flat when attaching them to the wire base. Others also made suggestions that saved Spoehr from further making a fool out of herself.

"Can you believe, from that beginning 20 years ago, I actually went on to make more wreaths?" Spoehr said. She and Fanning formed a partnership and made Christmas wreaths for sale at craft fairs for 10 years. Spoehr also continued to teach wreath making at city gardens and recreation centers, all the while picking up tips on local-style wreaths.

Spoehr is now recreation specialist at Foster Botanical Garden and shares her wreath know-how in free classes offered at Foster and other city-run botanical gardens. The classes at Foster are ongoing, while others, at Wahiawa and Hoomaluhia botanical gardens, are scheduled to begin next month. Call Spoehr for the schedule, 522-7064.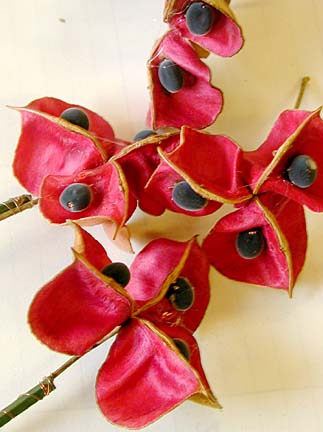 CRAIG T. KOJIMA / CKOJIMA@STARBULLETIN.COM
Dried garden materials in Joyce Spoehr's class.
---
About half a dozen women who attend Spoehr's Foster classes have been making wreaths for sale to help raise money for the garden. Their wreaths, about 20 inches in diameter and priced for about $25, will be for sale at the garden's fall plant sale Sept. 29.

These wreaths are fashioned from an array of hard-to-find dried tropical seeds, branches and foliage found at the city gardens, such as the colorful seed pods of the mgambo tree. The capsules, when open, reveal bright red inner walls and velvety black seeds. (The seeds are prized and sewn into necklaces that retail for hundreds of dollars.)

"That's the best thing about working at Foster -- I can get all kinds of dried materials that are not available to other people," Spoehr said. She gathers the materials and offers them free to the classes. Students are encouraged to bring materials from their own gardens also.

Hawaii's tropical plants offer unusual colors, textures and shapes for wreaths, Spoehr said. Best of all, resourceful wreath makers can make spectacular creations without having to spend much money.

"You really don't have to go out to buy anything. Just use recycled things, or pick up things from the ground or the highway. There are a lot of free materials out there; you just have to know where to look," said Spoehr.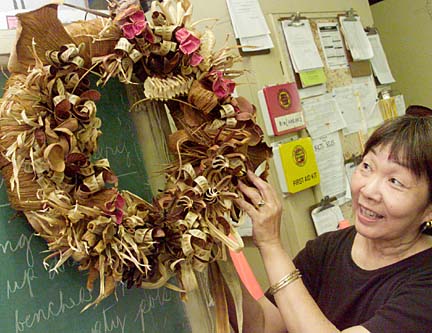 CRAIG T. KOJIMA / CKOJIMA@STARBULLETIN.COM
Harriet Morimoto shows off her finished wreath.
---
After 20 years of making wreaths, she's learned wreath-making skills as well as the locations for the best dried materials, all of which she shares with her students. There's only one thing she hasn't mastered, Spoehr said. She can't manage to get rid of the cockroaches after she's loaded up her car with dried banana leaves collected from the wild.

"When I first started doing this 20 years, a cockroach got stuck in my odometer. I had it removed for $35. Then the next year, another one got stuck in the odometer again," she said.

It would have cost more than $100 to remove the second cockroach, so Spoehr left it in. She has a new car now, but she's afraid she saw some cockroaches scurrying about after a recent banana leaf collecting excursion.




Holiday Wreath- and
Ornament-making Classes

Where: Foster Botanical Garden, Wahiawa Botanical Garden, Ho'omaluhia Botanical Garden
When: 9:30 to 11:30 a.m. Mondays at Foster; 9:30 to 11:30 a.m. Tuesdays beginning Oct. 9 at Wahiawa; 1 to 3 p.m. Wednesdays beginning Oct. 10 at Ho'omaluhia
Cost: Free
Call: Joyce Spoehr, 522-7064, recreation specialist for Honolulu Botanical Gardens

---




Coming up

Foster Botanical Garden Fall Plant Sale

Place: 50 N. Vineyard Boulevard
Time: 9 a.m. to 3 p.m. Sept. 29
Admission: Free
Call: 537-1708








---

Suzanne Tswei's gardening column runs Saturdays in Today.
You can write her at the Star-Bulletin,
500 Ala Moana, Suite 7-210, Honolulu, HI, 96813
or email stswei@starbulletin.com
E-mail to Features Editor
---
---
© 2001 Honolulu Star-Bulletin
http://archives.starbulletin.com