CLICK TO SUPPORT OUR SPONSORS

---

---
Sunday, September 9, 2001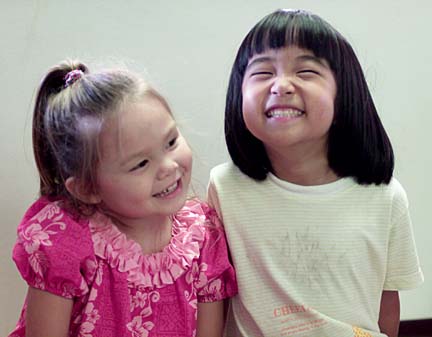 DENNIS ODA / DODA@STARBULLETIN.COM
Children often start school full of enthusiasm. Taylor Bader, left,
and Chikako Mukaiyama are all smiles as they listen to their
teacher read a book at Kawaiaha'o School.
---
Kindling the
spark of learning


Parents and teachers are
challenged to keep students
motivated

---

By Nadine Kam
nkam@starbulletin.com

SCHOOL STARTS OUT as an adventure. What could be more fun than field trips, singing songs and playing alphabet games in the classroom, or screaming, running and laughing on the playground with dozens or hundreds of other kids?

But after awhile, students realize that school is not really play but a job, one they're stuck with one monotonous day after another. Consider the length of time young adults are willing to commit to an employer, relationship or eyeshadow with the amount of time youths are required to stay in school. Is it any wonder that some lose interest and begin to run out of steam?

Adults who feel stalled in their lives or careers may call in a motivation coach for a little pep talk to help them set goals and fulfill their ambitions. But most students must make their way through at least 12 years of schooling on the strength of their own motivation, with a few words of encouragement or threats from their parental units.

For every star pupil there are many other students who simply go through the motions of attending class, there but not there. Now that another school year is shiny and new, teachers and parents are faced with the continuing dilemma of sparking interest in the unmotivated.

For parents, lesson No. 1 might be to follow the 30-second rule of making an impression.

"Children stop listening to adults after 30 seconds, after which you become background noise," said Karuna Joshi-Peters, a clinical psychologist who works with children and families. She said she recognizes the tug-of-war between kids and parents as captured in the work of "For Better or Worse" cartoonist Lynn Johnston. In one of the cartoonist's books, the teenager Mike is depicted in his bedroom, asking Mom, "If this is a lecture, how long is it going to be?"

"That's exactly a kid's attitude," Joshi-Peters said. "After awhile, they don't want to listen anymore. Lecturing can make a child get oppositional."

Repetition, after all, does get to be a bore.

"They're always being told what to do. Parents tell them to clean their rooms. Teachers tell them to do their homework. If they participate in sports, they're told to play hard AND maintain a certain G.P.A. (grade point average)."

Joshi-Peters said parents who want to motivate their children would do well to limit the nagging and model the desired behavior.

"After awhile, you have to inspire, not preach," she said. "Children will pick up on family values, not values that are spoken, but values that are demonstrated. If you're a person who gets things done, who has meals on the table at a set time, who has your life under some control, your children will pick up on that.

"It's easy to love children," she said. "It's hard to remember to respect them and acknowledge them as human beings, because they think they're cool and that they know it all. To an extent they do, but they don't. They just don't want to hear that they don't."

It's sometimes hard to tell whether it's Joshi-Peters the psychologist or the parent talking, and she says it's both. She went to graduate school while one of her children was a newborn and one was 5, and she was able to mix parenting with her education. Her eldest son is now working for a software company in Seattle; the other has just entered Rochester Institute of Technology on two scholarships.

"We are an academic family, but my children didn't get 4.0s. We had reading in our house, so they picked up on education as an important value, but I didn't want it to be the only value.

"Parents have to be careful what they ask of their child because they will get all of it. So you want your child to get a 4.0, but at what cost? I wanted well-rounded kids who would succeed at life, and success in life is more than a G.P.A. It means being successful socially as well as academically, thinking as well as feeling. There has to be a balance, knowing how to work and to play."

Working toward dreams

At Kailua High School, Derek Minakami is the state's "2001 Teacher of the Year," but he takes a humble approach to working with students, an important component being "caring for them."

"It's not me vs. them. I'm there to help them achieve their dreams and work toward that."

The task is all the more daunting considering Minakami teaches earth science, conceptual physics, physics and advanced physics. Can you feel your eyes glazing over?

Suffice to say, Minakami has had his share of students who went on to pursue higher education in physics and astrophysics, but for most, all he hopes is to instill an appreciation for the sciences in everyday life.

"In the beginning of the school year I try to pick activities that show science is all around us," he said.

This might involve making sky observations -- "something that scientists do that (students) might do on their own," he said. Or he'll just hand them a battery, light bulb and wire and see if they can create light.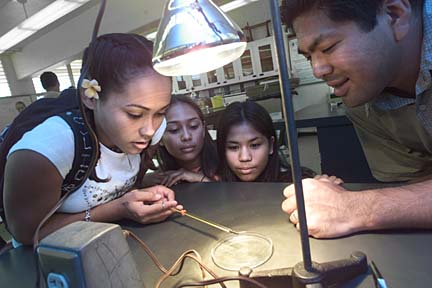 KEN IGE / KIGE@STAR-BULLETIN.COM
Derek Minakami, right, the state's 2001 Teacher of the Year, leads
ninth-graders Erin Guerrero, left, Brittany Hamocon, center, and
Tiara Aflague through their lab work on light energy in earth
science class at Kailua High School.
---
"We've all used flashlights," he said, "but a lot of them have no clue how it works. They just fumble around. From this experience they're introduced to circuits, different kinds of current, and learn how they can use this knowledge to make a motor or use electricity to perform a function."

Sometimes he'll bring in newspaper or magazine articles that remind them that science fiction has a basis in reality. For instance, scientists at NASA are using L.E.D.s (light-emitting diodes) to make plants grow faster and wounds heal faster.

"Knowing that this kind of science is going on, I ask my students if they were to design an experiment, what would they do, to get them to think and act like scientists to create their own studies and investigations."

Not bad for a guy who wasn't a star performer in high school.

"I did have the external motivation in that I wanted to become an engineer, like my dad, but because I was not totally into it, it's made me consider what I could do to help make science more interesting and more engaging for students.

"It's a reality that at this point in life, some of them can't see beyond the weekend. That's what makes teaching a challenging profession, but it pushes me to try harder and try different strategies, while maintaining the integrity of the class, so it's not just a dog-and-pony show."

Starting young

For parents who feel they need outside help to get their message across, PSI Seminars: Strategies for Life Success, offers a $150 two-day basic seminar for kids ages 5 to 12, a youth leadership program for ages 8 to 14, and weeklong $795 Teen Experience program.

Sylvia Trepte, facilitator for youth seminars in Honolulu, said parents must have gone through the PSI Basic Seminar before enrolling their children, so they can work toward goals as a family.

What is stressed in the Basics for Kids course is balance, she said, in physical being, community values, creativity and spirituality in terms of being connected to all things.

"We cover exactly what is covered in the adult program, except it's done through skits, music and songs," she said. "It's all done in such a playful, fun way, and it's a participatory way so children get it at a very deep level, as opposed to sitting down and hearing it."

PSI Seminars has been in Hawaii for 27 years, enough time to gauge the outcome of going through the program.

"Our students do very well," Trepte said. "Teachers have seen the difference in children who have gone through the program. They say that our students are able to see whole situations and contribute to solutions so that everyone wins.

"We also hear from the parents, who say that when they get tired and lose track of their goals it's their child who will say, 'You can't say that; you have to be positive.' "

Through the classes, children learn to make choices and deal with the consequences of what they have chosen. "In the process, they are free to let go of manipulative behavior patterns such as sulking, whining and bullying," according to PSI's reading materials.

"I can't think of any child who would not get something out of it," Trepte said.

Joshi-Peters agrees that much of the foundation for learning responsibility and communication takes place when children are very young and without it, they may fun into trouble in later elementary and early intermediate school years, when adolescence and peer pressure come into play.

"It's a tough time because many things are happening, and intermediate and high school is when academic performance becomes crucial. By that time, you'd better have a structure in place, because once trouble starts, it's difficult to fix."

Minakami doesn't believe in the quick fix, either. He said the idea of motivational classes, while well-meaning in theory, would not work for all teens.

DENNIS ODA / DODA@STARBULLETIN.COM
Erin Wong, 3, left, and Taylor Pader, 4, have fun dancing to the
"Jump Jimmy Joe" song sung by their teacher, Linda McDaniel
at Kawaiaha'o School.
---
"We have leadership classes at Kailua, but just as with motivational programs like Tony Robbins and PSI, the difference is that the people who attend want to be there. Their minds are open.

"Forcing kids to be in that situation creates a difficult situation in that many kids are self-conscious to begin with. They don't want to leave their comfort zone and they don't like putting themselves on the line. So much of being in high school is about being cool and looking cool.

"As adults, we have to do the little things to make them feel comfortable with who they are," Minakami said. "I was just a typical teenager, just average. There's nothing wrong with that and that shouldn't stop anyone from thinking it's ever too late to do something, to better yourself and to learn."

Sometimes the message is better understood when it comes from a peer. Several public high schools offer peer-counseling programs, and at Farrington, there is a teen center which offers various mediation and peacekeeping classes, with an emphasis on peer-education counseling.

"We give them empathetic skills and equip them to be more caring toward each other, know resources where they can go to help, and know their limitations so if they can't help someone they'll know where to refer them," said Alison Colby, a social worker employed by the state Department of Education at Farrington.

It would be easy to say that motivation is 80 or 90 percent of a student's responsibility, but with schools and parents making up the other 20 or 10 percent of an individual's success, Colby said, "Sometimes we need to reach out more because if they're not doing well, it may be symptomatic of other things not going well with them. We cannot be so rigid as to say, 'You're not meeting us halfway, so too bad.'

"At the same time, it's important to set high expectations because we can't have them giving only a small percentage of what they're capable of, and that level is different with each student, their strengths, their personalities. It's a real balance. You can't push some too far or they'll withdraw. Sorry to be so fuzzy about it, but that's the way it is."





Click for online
calendars and events.
E-mail to Features Editor
---
---
© 2001 Honolulu Star-Bulletin
http://archives.starbulletin.com