CLICK TO SUPPORT OUR SPONSORS

---

---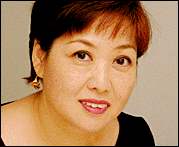 Local Color



Sunday, September 2, 2001
BY SUZANNE TSWEI
---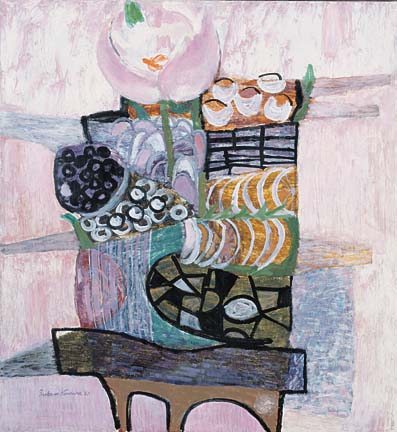 SHUZO UEMOTO / SPECIAL TO THE STAR-BULLETIN
Sueko Kimura's oil on canvas entitled "Morimono."
---
Exhibit reunites
divorced couple through
their art

---


HE WAS A QUIET LONER. He tooled around mostly in his white T-shirts and shorts. The odds and ends that piled up in his apartment made the place look like a junkyard.

She was outgoing and a welcomed guest at every gathering. She always looked immaculate in the stylish clothes she made for herself. Her Nuuanu home -- clean, organized and beautifully decorated -- was suitable for a magazine centerpiece.

Keichi and Sueko Kimura were as different as night and day. On the outside. But on the inside, the husband and wife were strikingly similar.




"Inner World, Outer World:
The Art of Keichi and
Sueko Kimura"

Place: Honolulu Academy of Arts, 900 S. Beretania St.
When: 10 a.m. to 4:30 p.m. Tuesday to Saturday, 1 to 5 p.m. Sunday, through Oct. 28
Admission: $7; $4 for seniors, students and military; free to members and children 12 and under. Free on the first Wednesday of the month.
Call: 532-8701




They were the black sheep of their families. Both were intense and determined, creative and unconventional. They chose a path less traveled for nisei seeking a life away from the plantations. They became artists, and their careers helped lead the way for a new generation of Japanese-American artists in Hawaii after World War II.

Both were successful in commercial work and gained critical notice for their own artwork. But for the 20 years that they were married (and even after their divorce in 1962), they never exhibited their work together as a couple. They were included in group shows, but there was never an exhibit featuring just the two of them.

For the first time, the Kimuras are together in an exhibit, offering a glimpse into their differences and similarities. Aptly titled "Inner World, Outer World: The Art of Keichi and Sueko Kimura," guest curator Marcia Morse has mounted a retrospective culled from the private collection of Juli Walters, the Kimuras' only child. The exhibit runs through Oct. 28 in the Graphic Arts Gallery at the Honolulu Academy of Arts.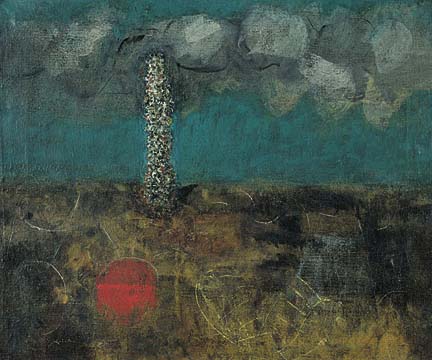 SHUZO UEMOTO / SPECIAL TO THE STAR-BULLETIN
Keichi's painting "Momento mori" is an oil on canvas.
---
Keichi Kimura, who died in 1988, spent the last years of his life living next to the landscaping company that Walters ran with her first husband, George. He regularly gave her pastel drawings to show his appreciation for the apartment/studio space that she and her husband provided for him.

"He used to say those were the happiest years of his life," said Walters, who developed a close relationship with her father. He lived simply and meagerly, and cared only about making art. As an excuse to give him some spending cash, the Walters hired him to design their company's Christmas cards for the 15 years he lived there.

"My father didn't make the usual Christmas cards. He never made happy Christmas cards. They were very beautiful to look at, but they were kind of weird. There was always something dark in them," Walters said.

He cut woodblocks to create black-and-white designs for the cards and used angel images repeatedly. But the images were not uplifting; they were ominous but subtly so.

One example, which is among several original prints included in the exhibit, shows an angel descending upon an earth that has turned into a ball of fire and the people on Earth raising their arms skyward in desperation.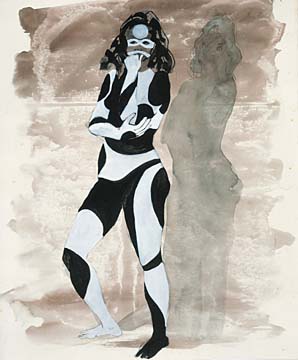 SHUZO UEMOTO / SPECIAL TO THE STAR-BULLETIN
An untitled ink and gouache on paper, by Sueko.
---
"My father's art was serious. His work dealt with death and things like that. A lot of people liked the surrealistic things he did," Walters said.

Walters' husband's death affected her father deeply, although he never talked about it. The two men were close, and after Walters died, Kimura did a series of work using skeleton images, some of which are in the exhibit.

Her father was a recluse, but he also enjoyed the company of his friends, some of whom were other leading Hawaii Japanese artists, such as Isami Doi. He dropped all commercial jobs and concentrated on his own work, often making his own tools and baking his customized pastel colors in the microwave oven.

By comparison, her mother, who was a faculty member at the University of Hawaii's Art Department for 25 years, was more abstract and experimental. Most of Sueko Kimura's work in the exhibit comes from her own collection. She is living in a retirement home and no longer makes art.

"My parents were very different, and you can really see how different they were in their artwork," Walters said.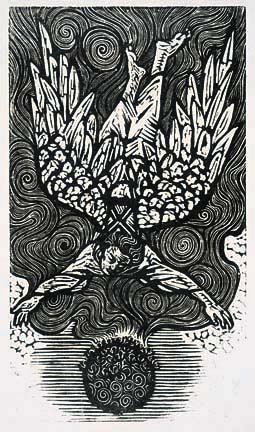 SHUZO UEMOTO / SPECIAL TO THE STAR-BULLETIN
This Christmas card, designed by Keichi, is a woodcut.
---
"They had their own styles, especially my father -- he didn't follow anything, he didn't try out new things, he just did his own thing. My mother tried all kinds of new things."

Even the way they applied paint to the canvas was different, she said. Her father liked to control the paint more, carefully building up layers and layers and creating specific images. Her mother applied paint more loosely and thinly, allowing serendipity to take its course.

"You can tell whose painting it was by the way the paint was layered on. He really liked the process of making the art, and she was less concerned with the process," Walters said.

Her parents remained supportive of each other's work despite the divorce. They had minimal contact, but they always asked about each other through Walters.

Once her father became enraged by what he thought were derogatory remarks made by an art critic against his former wife. He leaped out of his car in the middle of traffic when he spotted the art critic, ran up and slapped the critic.

"It was obvious that they still cared a lot about each other; they just couldn't live together. They cared very much about each other's art also. They were artists in their own right, and each has a place in the history of art in Hawaii," Walters said.

---

Art show
traces Kimuras'
converging worlds

Excerpted from "Inner World, Outer World: The Art of Keichi and Sueko Kimura" by artist/educator/writer Marcia Morse, curator of the exhibit. The catalogue accompanies the exhibit at the Honolulu Academy of Arts and is available for $14.95 plus tax.

---

SHUZO UEMOTO / SPECIAL TO THE STAR-BULLETIN
Sueko Kimura's self-portrait.
---
SUEKO MATSUEDA was born June 10, 1912, in Papa'ikou on the island of Hawai'i, one of six children, and the only girl, born to issei parents who had come to the islands from Fukushima Prefecture. She was raised on the island of Maui in a plantation community, but did have an opportunity to travel to Japan for a year with her mother and a brother when she was about 8 years old. Sueko knew early on that she wanted to be an artist -- not an easy aspiration for a young Japanese woman of her generation. After high school, she left the family home in Kahului to move to Honolulu, against the wishes of her family who initially tried to bring her home, to attend the University of Hawai'i at Manoa. It was here she met Keichi Kimura, a fellow student, for the first time. She received her B.A. in art in 1936, and subsequently moved to California to attend the Chouinard Art Institute in Los Angeles. She worked in the Art Department of Bullock's department store (1937-39), concurrent with completion of her graduate studies. After a year of work at Bowman, Duete and Cummings Advertising Agency in San Francisco, she returned to the islands in 1941 to serve as art director in their Honolulu office.

---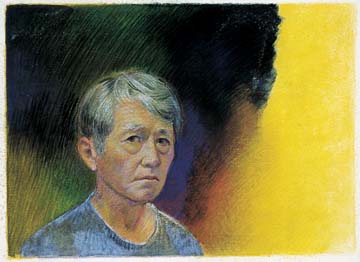 SHUZO UEMOTO / SPECIAL TO THE STAR-BULLETIN
Keichi Kimura's self-portrait.
---
KEICHI KIMURA was born September 20, 1914, in Waianae, the youngest of eight children born to issei parents, Yonekichi and Ume Kimura, who arrived in the islands sometime after 1890 from Yamaguchi Prefecture and became watermelon farmers in Makaha valley, after initially settling on the island of Hawai'i. In 1918, Ume and her children moved into Palama to be closer to schools; Yonekichi joined his family after the end of the first big sugar strike. When Keichi was 7 or 8 years old, he and his mother went to Japan for several months, traveling in the province from which the senior Kimuras had come. Though still a child, Keichi was to remember a prevalent atmosphere of authoritarian nationalism, which perhaps contributed to his lifelong skepticism toward most forms of organizational structure.

Keichi attended McKinley High School, where Shirley Russell provided his first formal instruction in art. Russell, mentor to many of Hawai'i's young artists, would later remember Keichi as her favorite and best student. Keichi subsequently attended the University of Hawai'i at Manoa, and earned his B.A. degree in art in 1936. While at the University, Keichi studied with Henry Rempel, who had returned to Hawai'i from Europe a strong advocate of the abstract/modernist aesthetic, and with printmaker Huc Luquiens, more strongly linked to traditional aesthetics and techniques. After graduation, Keichi worked briefly in San Francisco as a graphic artist in the advertising agency of Bowman, Holst, Macfarlane and Richardson. In 1937 he moved to Los Angeles to attend Chouinard Art Institute. After less than a year, he had to return to Hawai'i to be near his terminally ill mother; he also lost his father soon after his mother's death.

Beginning in 1940, Keichi became active in the island art world, winning three awards in an auspicious debut in a juried exhibition at the Honolulu Academy of Arts. In May 1942, Keichi Kimura and Sueko Matsueda were married.





---




---

Suzanne Tswei's art column runs Sundays in Today.
You can write her at the Star-Bulletin,
500 Ala Moana, Suite 7-210, Honolulu, HI, 96813
or email stswei@starbulletin.com
E-mail to Features Editor
---
---
© 2001 Honolulu Star-Bulletin
http://archives.starbulletin.com