CLICK TO SUPPORT OUR SPONSORS

---

---
Sunday, September 2, 2001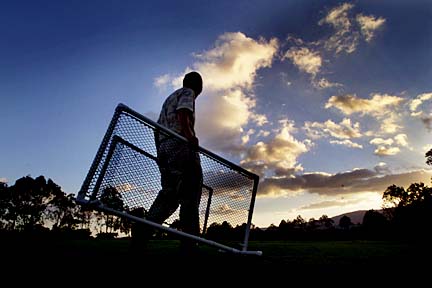 DENNIS ODA / DODA@STARBULLETIN.COM
Bob Tsuru moves range dividers on the Waikele Golf Course. The
course is owned by Amfac, which has been eliminating
assets for the past decade.
---
Dynasty in decline


Amfac, the first Hawaii company
to earn $1 billion in revenue, is a
shadow of its former self

By Tim Ruel
truel@starbulletin.com

WHAT WAS ONCE a "Dynasty in the Pacific" and the first Hawaii company to generate $1 billion in revenue is now just a golf course in Waikele, some land on Maui and Kauai and a lot of legal troubles.

Amfac may be the most obvious unmentioned symbol of the downfall of Hawaii's once-supercharged economy. Bought by a Chicago-based real estate company for nearly $1 billion in 1988, Amfac has gone from the largest conglomerate in the state -- with 8,500 workers in the islands -- to a development company with a few hundred employees.

At the time JMB Realty Corp. made its offer for Amfac, Chairman Judd D. Malkin -- the "M" in JMB -- told the Chamber of Commerce of Hawaii that the company would pursue agriculture "for the long term." Neil G. Bluhm, a Chicago deal-maker and the "B" in JMB, was quoted as saying: "We aren't here to tear up a company."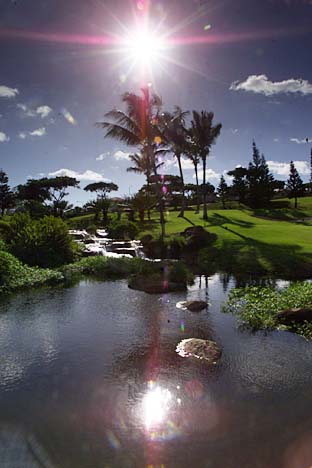 DENNIS ODA / DODA@STARBULLETIN.COM
The Waikele Golf Course is one of the few Oahu properties
owned by Amfac.
---
At the time, Amfac was one of Hawaii's largest landowners, with nearly 60,000 acres in possession and another 100,000 under lease. The company produced a quarter of the state's sugar. Amfac also owned the Fred Harvey resorts in Grand Canyon National Park and Death Valley National Monument. Then-Gov. John Waihee threatened to use the "full power of his office" to block any deal for Amfac that would harm the state's interests.

During any corporate takeover of a land-rich company, its fear is that the real estate is worth more than it appears on the books. A takeover is, in effect, a cheap way to buy a lot of land. Selling the assets at market prices would provide huge returns. Whether that was ever JMB's original intent is not clear. Not even high-ranking former employees can say they know for sure. Regardless, Amfac's future took a turn in 1991, when Hawaii's economy ran out of gas and the Japanese real estate bubble popped.

As widely expected, sugar plantations began shuttering on all islands. Amfac shut down its Kauai production last year, and sold 18,000 acres of Garden Isle land to native son Steve Case, chairman of AOL Time Warner, for $25 million. Amfac is now down to fewer than 5,000 acres on Maui, 1,000 acres on Kauai and the Waikele Golf Course on Oahu, which Amfac purchased in 1993 for $36 million.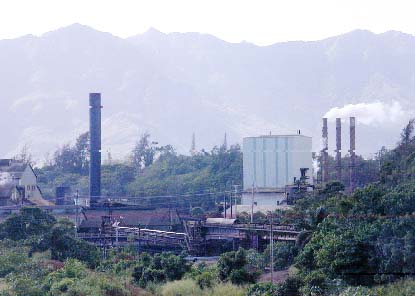 DENNIS ODA / DODA@STARBULLETIN.COM
Raw sugar is processed shortly before Amfac's
Lihue Plantation closed last year.
---
JMB bought Amfac amid a rapid expansion of assets. A year before the Amfac purchase, JMB bought Canada's Cadillac Fairview in a $3.8 billion deal. A year later, JMB bought Randsworth Trust plc of London in highly leveraged $800 million deal. Shortly after, a much bigger JMB said it would have to slow its acquisition pace.

Even before Hawaii real estate started crashing in 1991, Amfac began cutting back on non-land assets. In 1989, the company sold its interest in Hawaii Cocoa Chocolate Co., the only cocoa grower in the United States, now known as Hawaiian Vintage Chocolate Co. In 1991, Amfac sold its Big Island papaya business, and closed its lumber and building materials operations on three islands. Amfac Distribution later sold its electrical supplies and heavy-equipment divisions.

In 1993, the company announced it would phase out Oahu Sugar, which had operated on land leased in Waipahu for a century. According to statements at the time, JMB had poured $35 million into its sugar plantations to keep them alive, including $4.8 million for Oahu Sugar. The mill closed in April 1995.

The sell-off continued, soon to include Amfac's land. At the beginning of 1995, Amfac reported $614.6 million in assets on its books. As of June 30 this year, that total was $229.8 million, a 63 percent decrease.

The downsizing was inevitable after Hawaii's land values tanked, according to Nicholas Ordway, an economics professor at the University of Hawaii. Holding onto the assets just wouldn't make financial sense for Amfac, which JMB had set up as a limited liability company. You can't depreciate land.

Exacerbating the problem was the amount of time it took for land values to return. "We always thought these things moved in a five-year cycle. We never expected a 10-year cycle," said Chris Kanazawa, who stepped down as Amfac's president in 1998 to become president of Coldwell Banker Commercial Pacific Properties. Kanazawa and others left rather than follow Amfac's property development unit when it moved to Maui.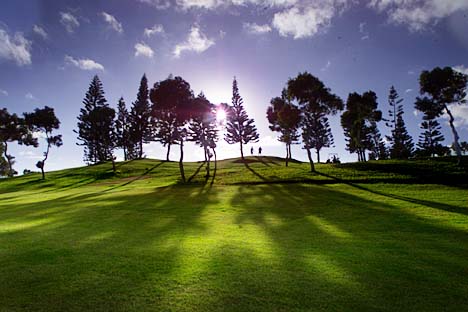 DENNIS ODA / DODA@STARBULLETIN.COM
The sun sets on the Waikele Golf Course. Eli Empron, left, and
Jamie Jeffryes look toward the first hole. Waikele's owner, Amfac,
has reduced its assets and faces a number of lawsuits.
---
JMB was further hindered by its unfamiliarity with Hawaii, where the development approval process can require the patience of a grandparent, observers said.

"What they probably should have done is sold off in 1990," Ordway said. The fact that Amfac didn't sell off right away suggests JMB did have a long-term view for Hawaii, as the company promised, Ordway said.

"They weren't quite lying," Ordway said. "Embellishing" is probably a better word, he said.

Technically, Amfac is owned by Chicago-based Northbrook Corp., an affiliate of JMB Realty. Salary, expenses and benefits for employees of the parent company who work for Amfac get paid from Amfac, a total that typically hits seven figures each year. JMB was to also get an annual allowance from Amfac, but has waived it, mainly because the subsidiary has produced no cash flow.

In 1995, Amfac dropped its employees' retirement plan in favor of an annual contribution of 3 percent of compensation. By the end of that year, Amfac was down to 1,000 employees. As of the beginning of this year, the company had 305 workers.

In the most recent quarter, ended June 30, Amfac reported $5 million in land sales, a jump from $711,000 the year before, but not enough to boost earnings to profitability. The company lost nearly $4 million in the quarter, down from a loss of $7.5 million in the year-earlier period.

As of June 30, Amfac owes Northbrook and affiliates $190.9 million for debt financing. Because of two separate lawsuits against Amfac, nearly all of that debt is in default.

The state Employees' Retirement System benefits program gave Amfac a $66 million loan in 1991. Amfac stopped making interest payments at the beginning of last year, and the ERS sued, saying Amfac defaulted on $77.4 million, including interest. The suit has been in a holding pattern as both sides attempt to work things out. A court deadline to end the standstill has been extended to the end of this month. The loan is secured by a first mortgage on two golf courses in Kaanapali run by Amfac.

On April 12, Circuit Court issued a $4.2 million ruling against Amfac's Oahu Sugar. Amfac had originally sued Walter Arakaki and Steve Swift in 1996 over the sale of equipment from the former sugar mill in Waipahu. The defendants claimed Amfac interfered with the removal and countersued. Amfac is seeking an appeal, according to its latest quarterly report.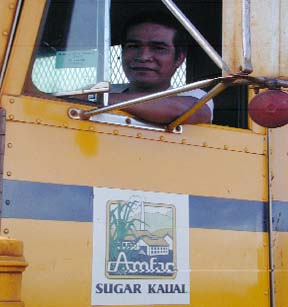 CRAIG T. KOJIMA / CKOJIMA@STARBULLETIN.COM
Donaery Guerroro drives a load of cane for Amfac on Kauai
before the company closed sugar operations last year.
---
If either case closes against Amfac, Northbrook and its affiliates could seek remedies for their debts, according to the report. In turn, that could cause a default on certificate of land appreciation notes sold in 1989 to fund JMB's purchase of Amfac. The notes are due in 2008.

WHATEVER HAPPENS, it's certainly far from Amfac's origins.

The company was founded in Honolulu in 1849 by a German sea captain turned merchant, Heinrich Hackfeld. The firm originally bore his name, but after World War I, in a show of nationalism the company's assets were turned over to a consortium of the Big 5 companies. They called it American Factors and the company's dry goods store became Liberty House.

The name was later shortened to Amfac and the company's stock was listed on the New York and Pacific Coast exchanges.

Its most visible property, Amfac Tower, was built in 1968 and sold off three years later.

By 1973, 71 percent of Amfac's revenues came from outside Hawaii. In 1983, its headquarters moved to San Francisco, but came back four years later. Just before JMB entered the scene, Amfac was posting large losses from troubled operations on the mainland.

In 1998, Liberty House went into bankruptcy for three years, facing pressure from lenders. As a result of a settlement, JMB gave up the retailer for $13.6 million in cash and notes, which went into an escrow account to cover claims from the Internal Revenue Service. In July, Federated Department Stores Inc. paid $200 million to buy Liberty House and will convert the stores to Macy's.

Around the time of Amfac's purchase in 1988, JMB operated a joint venture with Federated, known then as JMB/Federated Realty, which later became Urban Shopping Centers Inc. The company traded publicly, then was bought last year.

AMFAC'S FINAL PROJECT in Hawaii is now known as Kaanapali 2020 -- a master-planned development for its nearly 5,000 acres on West Maui. The project is subject to the input of the local community, the result of a settlement with some concerned Maui residents, who opposed a resort development in the area.

Amfac so far has seemed keen on the project, but observers say they are still watching new officials who have arrived on the scene from JMB.

Earlier this year, Gary Grottke stepped down as president of Amfac to work full-time for Chicago-based Quintus Resorts. He was replaced by Gary Nickele, a longtime executive of Northbrook, and Steve Lovelette, who is overseeing the Maui development. Neither could be reached for comment.

Grottke was known to be a straight shooter, said Lucienne deNaie, a resident who is closely involved with the Kaanapali 2020 project.

As for the new guys, she's keeping an eye out.

---




Going, going, gone...

In slightly more than a decade, Amfac has sold or closed many of its assets. Here is a list of what has been unloaded or shut down:

January 1989: 45 percent interest in Hawaii Cocoa Chocolate Co.

April 1991: Big Island papaya business goes to three California ranchers.

October 1991: Amfac Distribution shuts lumber and building materials operation.

August 1993: Amfac Distribution agrees to sell its heavy-equipment division to American Machinery.

April 1995: Oahu Sugar closes down.

November 1998: A portion of the former Oahu Sugar mill site goes for $7.7 million.

October 1999: 17-acre residential parcel in Kaanapali, Maui, for $4.5 million.

September 1999: Pioneer Mill Co. has its last harvest on West Maui.

January 2000: 17-acre residential parcel in Kaanapali for $3.5 million.

July 2000: 19-acre parcel in Kaanapali for $3.5 million.

August 2000: 1,600 acres of agricultural land in Kahoma, Maui, for $3.8 million.

September 2000: 14 acres at Hanamaulu on Kauai for $600,000.

November 2000: Kekaha Sugar Mill and Lihue Plantation close on Kauai.

January 2001: 5,500 acres of agricultural and conservation land in Launiupoko, Maui, for $14.5 million.

March 2001: 460 acres of agricultural lands on Kauai for approximately $3.5 million.

July 2001: 18,000 acres of agricultural and conservation land in Kauai for approximately $25 million.



E-mail to Business Editor
---
---
© 2001 Honolulu Star-Bulletin
http://archives.starbulletin.com