CLICK TO SUPPORT OUR SPONSORS

---

---
Business Briefs
Reported by Star-Bulletin staff & wire

Saturday, September 1, 2001
---
Kamehameha Schools extends conversion halt

The Kamehameha Schools will extend its moratorium on lease-to-fee conversions until the end of the year.

The $6 billion charitable trust said it needed additional time to study the local real estate market before deciding on how it plans to proceed with its remaining inventory of leasehold properties.

The moratorium went into effect May 1 and was set to expire yesterday.

"We knew this was a significant undertaking when we started it, and after four months of evaluation it is clear that we will need more time to complete the project," said Hamilton McCubbin, the estate's chief executive officer.

"I would look for a report from our Endowment Group by the end of this year."

Delta launches nonstop isle-Salt Lake City flights

Delta Air Lines inaugurate nonstop flights from Salt Lake City to Honolulu today, using a 287-passenger Boeing 767-400.

"This first-ever nonstop service to Honolulu dramatically improves access to Hawaii for customers traveling from the mountain states and the Midwest," said Mark A.P. Drusch, Delta senior vice president of network management.

From Honolulu, daily flight No. 192 is to depart at 10:30 p.m. and arrive in Salt Lake City at 8:45 a.m. local time, while return flight No. 225 departs from Salt Lake City at 11:30 a.m. with a 2:20 p.m. arrival time in Honolulu. In first class the configuration features 36 seats, each of which has an in-seat entertainment system, phone, computer power system and head- and footrests. There are 251 seats in economy class.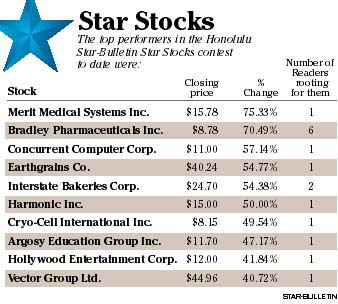 In other news...

Benchmark Hospitality takes over management of the Hilton Turtle Bay Golf & Tennis Resort effective today. The Texas-based international management company replaces Hilton Hotels Corp., which had managed the 800-acre property since 1983. A $30 million renovation is in progress at the 485-room hotel and golf course and is scheduled to be completed in phases from January to September of next year.




E-mail to Business Editor
---
---
© 2001 Honolulu Star-Bulletin
http://archives.starbulletin.com