CLICK TO SUPPORT OUR SPONSORS

---

---
Sunday, August 26, 2001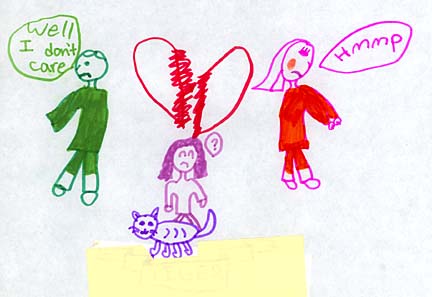 DRAWINGS FROM KIDS FIRST PROGRAM
A drawing made in the Kids First program
by children of divorcing parents.
---
Children of divorce


A program aims to ease the hurt
caused in the separation process

---

By Debra Barayuga
dbarayuga@starbulletin.com

The sketch by an 11-year-old says it all. It's of a man and woman fighting "blah, blah, blah, blah" and a sun observing them with a sad face. "I want you to stop arguing with each other because it doesn't make me feel good," the child wrote.

"I am sick of your childish fights over little things," wrote another child.

Yet another wrote: "I hate when you guys swear and scream at each other."

"Stop the fighting" is a common theme that runs through dozens of pictures and letters written by kids whose parents are going through divorce.

Theirs are the voices that often go unheard, resulting in emotional and behavior problems that can last even into adulthood.

And there are plenty of those voices in Hawaii. On average, about 5,000 divorces a year are filed statewide and at least half involve children, according to the state Judiciary. Of the 2,865 divorces filed on Oahu in the 2000 fiscal year, 1,466, or 49 percent, were families with minor children.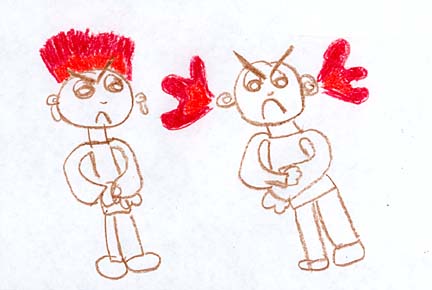 DRAWINGS FROM KIDS FIRST PROGRAM
A drawing made in the Kids First program
by children of divorcing parents.
---
But there is hope for parents and children of divorce if the parents put the kids first, say judges and psychologists who work with families.

Judges, attorneys and doctors recognized the need for a program to help families going through divorce. That recognition led to the creation of a program now known as Kids First, which focuses on the long-term effect of divorce on children.

In Hawaii, couples who file for divorce and have kids between ages 6 to 17 must attend the two-hour program with their children before the divorce is final.

Former Maui Judge Doug McNish was one of a group of people who helped start the program on Maui at a time when there were no models and research to draw on. As a Family Court judge, he saw parents coming to court every day over custody and visitation issues but who were forgetting the children.

"They were distracted by their own disputes that they often overlook what the kids' needs were," he said.

The message the program wants to get out to parents is to "focus on the kids" when making decisions.

Divorce is considered to be the second-biggest stressor in life, right behind the death of a child, said clinical psychologist Craig Robinson.

And the reality is, divorce tends to bring out the worst behavior in people. Unfortunately, those behaviors can affect children the rest of their lives, he said.

Anita Trubitt, a clinical social worker who works with families, says divorce is "really tough on all kids, but not necessarily for the rest of their lives."

Kids will find a way to go on with their childhood. They will go to school, have fun with their friends and find a way to love both parents, she said.

But kids will recover from the divorce only if parents don't put them in the middle.

If parents remain angry at each other, continue to blame each other, talk "stink" about the other parent, or use the child as a messenger or to spy on the other parent, the children will not recover, Trubitt said.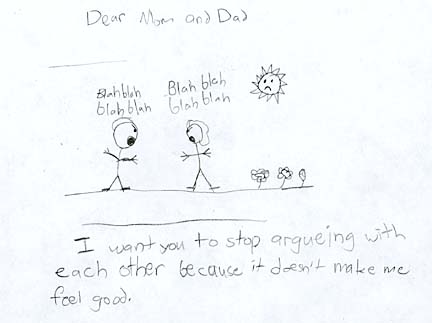 DRAWINGS FROM KIDS FIRST PROGRAM
In writing letters to their parents, one child focused on their
bickering, above, while another kept a positive attitude, below.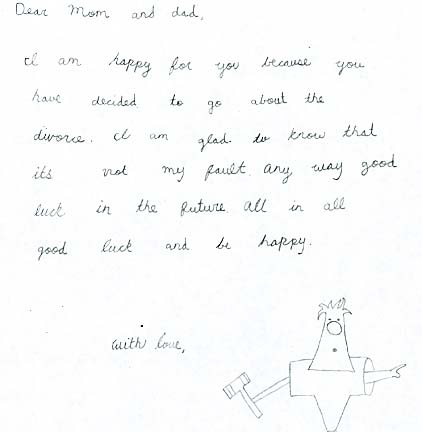 ---
Adolescents whose parents continue to fight throughout their childhood have little hope of forming a close and lasting relationship of their own, she said.

The best advice she can give parents is to "genuinely support" the child's relationship with the other parent. Acknowledge the child's love for the other parent and support their need to have the other parent be a regular part of their child's life, Trubitt said.

Many kids blame themselves for the divorce.

It is important for parents to tell their kids it is not their fault and that the parents are not divorcing them, said adult and child psychologist Sue Lehrke.

"Parents cannot divorce their children. Divorce has to do with Mom and Dad and how they get along and has nothing to do with whether the kids are good or bad."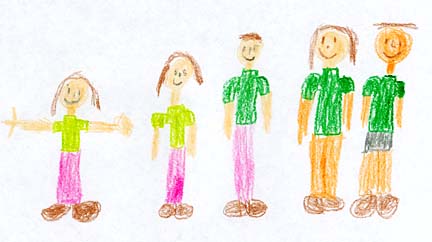 DRAWINGS FROM KIDS FIRST PROGRAM
Asked to depict their families before and after the
divorce, one child drew a happy "before," top,
then a grim "after," below.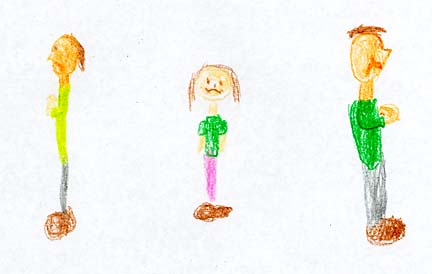 ---
At Kids First, children make new friends and learn they are not alone and that other kids and their families are also going through divorce, said Charlene Anaya, coordinator of Kids First on Oahu.

During the program, parents and children watch "The Purple Family," a nationally acclaimed video produced here that shows a family going through separation, how each family member reacts, and how they learn to adapt to the changes.

"No matter what happens, we're still their parents," the father says at the end.

Family Court judges and psychologists talk to parents about how divorce impacts children and how their attitudes can mean the difference between an amiable and contentious divorce. The program's intent is not to get parents to change their minds about divorcing.

Children get to express their feelings about divorce through age-appropriate activities such as drawing pictures or writing letters to their parents or putting on a judge's robe and presiding over a mock trial to decide who gets the car and house.

During one recent session, a 13-year-old girl blurted out, "You know, I never thought my family would go through this."

Many parents are embarrassed to show up at Kids First because it is so public. They think, "now everyone knows," Anaya said.

But making the program mandatory takes away some of that stigma, McNish said. "We're not saying you're doing it wrong. But if you're using our courts, we want you to have this information before using it."




Here are some messages from children to parents who are going through divorce. They are from letters written in the Kids First program; names are omitted to protect the children's privacy.

---

"Dear Mom and Dad: I wish I didn't have to choose sides."

---

"Dear Parents: I want you to please stop fighting and stop being mad at each other! And say sorry!"

---

"Dear Parents:

Please don't fight in front of me. It makes me feel like I'm the reason for the argument. I wish you would stop and think about us kids and how you're hurting us by doing what you do whenever you disagree.

Please tell me that you love and care for me. Let me know it's not my fault because sometimes I can't seem to believe that."

---

"Dad: You should really get some pillows at your place. You can't keep having us lug our pillows from house to house."

---

"Hurry up and get this over with so we can get on with our lives (because it's stressful for us)."



E-mail to City Desk
---
---
© 2001 Honolulu Star-Bulletin
http://archives.starbulletin.com