CLICK TO SUPPORT OUR SPONSORS

---

---
Wednesday, August 22, 2001
THE CHEFS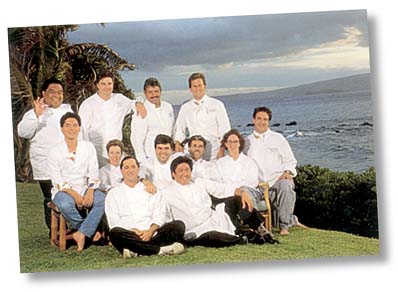 COURTESY
The 12 founding Hawaii Regional Cuisine chefs in the photograph above,
taken for "The New Cuisine of Hawaii" (Villard Books New York, 1994):
Front row, from left: Mark Ellman, Alan Wong.
Second row: Roy Yamaguchi, Amy Ferguson Ota, Jean Marie
Josselin, George Mavrothalassitis, Beverly Gannon, Peter Merriman.
Back row: Sam Choy, Philippe Padovani, Roger Dikon, Gary Strehl.
---




---


By Betty Shimabukuro
bshimabukuro@starbulletin.com

IT COULD STAND FOR Hair Replacement Center, and probably does, somewhere. But in this corner of the world, it means Hawaii Regional Cuisine and that stands for No More Frozen Fish.

Those of us who live and breathe fine dining see this weekend as the second coming. It marks the 10-year reunion of the founding of the HRC movement, a gathering of the 12 founding chefs for an evening of what ought to be spectacular dining.

All told, though, only about 1,000 people -- counting paying guests, chefs and their support staff -- will partake on Saturday night. That leaves a huge chunk of the state of Hawaii wondering what all the fuss is about.




HAWAII REGIONAL CUISINE
10TH ANNIVERSARY REUNION

Gala dinner: 6 to 10 p.m. Saturday
Place: Sheraton Waikiki
Feauring: All 12 founding HRC chefs, plus 13 new-generation chefs from the Hawaiian Island Chefs group, cooking at live stations.
Tickets: Reserved seats are sold out, but 200 "grazing only" tickets are available at $100, with a $10 discount for those charged on American Express. Grazing rights include open tasting from all the food stations and wine on demand, but you'll have to stand.
Benefit: Proceeds go to the 17 public high school culinary arts programs.
Call: Royal Hawaiian Shopping Center, 931-3155

HRC WAIKIKI FARMERS MARKET

Open market: 10 a.m. to 3 p.m. Saturday
Place: Royal Hawaiian Shopping Center
Featuring: Sale of fresh produce, seafood, coffee and flowers; cooking demonstrations, etnertainment, finals of the Hawaiian Vanilla Bean recipe contest.
Admission: Free
Parking: Discounts available in the center's garage.
Call: 922-2299




Truth is -- and the Food Network aside -- for much of the population the faces of our all-star chefs are one big blur, with the exception of the irrepressible Sam Choy. Dining out is a handsome plate lunch a couple times a week, and as for a dinner ticket of $125 per person -- well, there is that power bill to pay. This HRC dinner may as well be on the moon.

So. What's the big deal, anyway?

Truth is, even if you've never set foot in a fancy restaurant and never will, these chefs have affected your personal space, from the produce in your supermarket to the food on your airplane.

OK, they didn't change the world, but they did make one corner of it much more tasty and way more interesting.

No more frozen fish

Crash course on the HRC movement: In the late 1980s, several young chefs began individually to take on the staid continental-cuisine establishment that represented upscale dining in Hawaii.

Food writer Janice Wald Henderson, in her cookbook, "The New Cuisine of Hawaii," described the old-school food scene: "Visitors had their choice of dining in pricey restaurants on frozen, shipped-in, picked-before-it's -ripe food, or in tourist establishments that distorted traditional Hawaiian cooking for Western tastes. Small wonder that Hawaii had long been regarded as a paradise for beaches but a wasteland for food."

Got hair, thanks anyway

A few chefs dared to be different, experimenting with fresh fish from Hawaiian waters, seasonings from Asia and produce they got island farmers to grow for them. Their styles differed -- classic French, Mediterranean, Pacific rim -- but they all had solid culinary training and had paid their dues in hotel and restaurant kitchens throughout the country.

By 1991 they'd found each other. In August they got together for a few days on Maui, ostensibly for some quality talk-story time, and perhaps to share a few beers. By the time they left, they had a coalition and a name.

That was no small trick, by the way, choosing a name.

"Cuisine Hawaii" was one idea, rejected because it was already in use as a title for a Sam Choy cookbook. "Hawaiian Nouvelle" also came up, rejected as "too French."

"We hassled for days on the name," Choy recalls.

In the end, Hawaii Regional Cuisine came up in a collective process, and was accepted by acclamation of all 12, as most of the chefs recall. The acronym, however, invited barbs -- Hair Replacement Center being one of the first.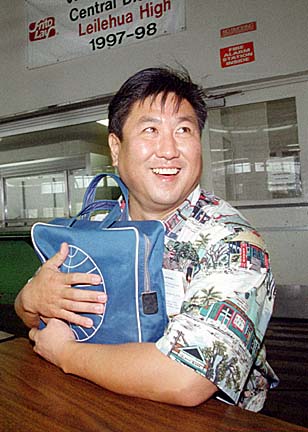 KEN IGE / KIGE@STARBULLETIN.COM
"I was so much the Pan Am-bag guy, I had back-ups in case
my bag broke," says Alan Wong, who still keeps a trademark
blue bag as a reminder of his wallflower past. He brought
it to his alma mater, Leilehua High School,
during a visit last year.
---
"When they said, 'HRC,' I said, 'What, Hard Rock Cafe?' " Philippe Padovani says.

But it stuck. "Finally we decide simple is best," George Mavrothalassitis says. "We call it Hawaii Regional Cuisine and I love it. I think it is perfect."

But what does it mean? "To me, it is cooking from the market," Mavrothalassitis says, using the finest ingredients at hand, not importing frozen or canned.

It's freshness, says Choy. "We found out what farmers can grow and when they can grow it. Fishermen, same thing -- what they can catch, when they can catch it."

"Taking products from Hawaii to the highest level, an international level," Padovani says, "so you get the impression that Hawaii has more than sunshine to sell."

But make no mistake: These chefs still use foie gras, truffles, dayboat scallops, caviar, all of the finer imported things, making them work in combination with hearts of palm from the Big Island, corn from Kahuku, sweet potatoes from Molokai.

Consider what's on the menu for Saturday's affair: Green Curry Keahole Lobster with Edamame Salad by Amy Ferguson Ota, Peking Duck Taco by Beverly Gannon, Sautéed Opakapaka with Thai Curry Fennel Potato by Gary Strehl.

Fast forward

The chefs did a cookbook -- Wald Henderson's 1994 publication. They did national TV shows. They signed contracts with major airlines to prepare menus for inflight meals. They opened restaurants by the fistful. (Case in point: Roy Yamaguchi, opening restaurant No. 26 in Baltimore, Md., this week, with four more planned by the end of October.)

Closer to home, they formed coalitions with farmers, guaranteeing them markets for the produce they needed to create great food. The trickle-down effect is that fresh herbs, mixed greens and vine-ripened tomatoes can be found in markets for the commonfolk, where once there were none.

The name and the fact that the HRC chefs were organized gave food writers something to get their arms around. Food in Hawaii began to draw press coverage across the country. A cuisine was born.

No more Pan Am bags

The HRC movement coincided with the birth of the Food Network and the advent of the chef-as-rock-star. A lot of local chefs started getting requests for autographs.

For someone as comfortable in the spotlight as Sam Choy, this was no problem, but others had to learn.

Alan Wong, for instance, describes himself in high school as "the Pan Am bag guy" -- a '70s stereotype for the ultimate geeky kid, afraid to speak up.

The kitchen was his sanctuary. On special occasions, he'd go into the dining room, but just for a moment. "You smile, you wave, you go back in the kitchen."

Before his first big cooking demonstration, he says, "I was dry-heaving and gagging ... someone gave me a beer ... actually, I had two beers."

Now he has three restaurants and the ultimate culinary prize, a James Beard Foundation Award. But he's still spooked by crowds and public speaking.

The original HRC meeting was a gathering of friends, Wong says. No pressure; a sanctuary for like-minded people. He regrets that this weekend's event will probably be the last of its kind. The logistics of gathering so many successful, busy people together are just too much. "I think this is the last time you're going to get this group in the same room, cooking together."





Click for online
calendars and events.
E-mail to Features Editor
---
---
© 2001 Honolulu Star-Bulletin
http://archives.starbulletin.com