CLICK TO SUPPORT OUR SPONSORS

---

---
Sunday, August 19, 2001




[LIKE TRY?]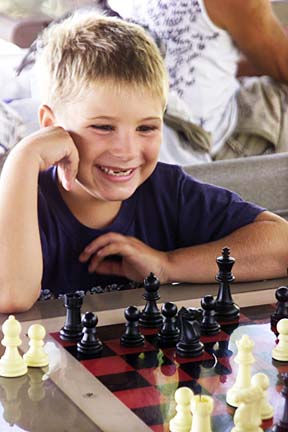 CRAIG T. KOJIMA / CKOJIMA@STARBULLETIN.COM
Aleksndar Stefanov, 8, learns a few moves from veteran players.
---
Board stories


Known for its surfers who rip
on boards, Waikiki Beach is also
a home to players and
their chess boards

---

By C.R. Dudley
cdudley@starbulletin.com

AN elderly Caucasian man peaks over your shoulder, rocking on his tiptoes to see the positions of the pieces on the chessboard. He's wrinkled, but not just average wrinkled. He's a deep craggy wrinkled that speaks of years of substance abuse of one form or another.

You shy away from him and his odor, but then realize you're concentrating on him more than your opponent's attacking knight, which is advancing in concert with a rook. Adding to that threat, a plastic phalanx of pawns skewers your center defense.

It's just a matter of time before your opponent can declare victory -- but not much time. This is quick chess. Two players have a maximum of five minutes each to complete an attack or force a would-be Kasparov into a Hesperian victory.

Maybe the elderly man leaning over your shoulder, who huffs an inconsolable, deep sigh -- like he's got a story too long to tell, is just waiting for you to be eliminated so that he can take your seat and give the board owner a real game. Maybe he has no idea what quick chess is about and is just enjoying the placement of black and white pieces on a black and white checkerboard mat. It doesn't matter. Quick chess is captivating.




Getting started

What: Waikiki quick chess.
Where: Kalakaua Avenue near Liliuokalani Avenue
When: Anytime, day or night, if a board and opponent are available.
Cost: $0.




Quick chess. The statement twists on itself. Imagine speed origami or eye-surgery races. Some endeavors just don't lend themselves to duels of speed.

Don't tell that to the cigarette smoking, fifth-nipping scions of quick chess in Waikiki. They gladly set aside the brooding countenances, utter silence and motionless minutes ticking away that are the hallmark of regular chess for lightning-handed, fast-thinking quick chess.

The openings, especially, click away at a frenetic pace. The man moving white (white moves first in chess by convention) starts the game by hitting a special count-down clock and then making his first move and then clicking the clock again. This sets the man playing black's clock to ticking. Ticking away. Ticking away for five precious minutes, which is all he has to defend white's attack.

For your veteran quick chess player, the opening moves are mechanical. For 15 or so moves, lasting a total of 30 to 40 seconds at most, the players move, click, move, click, move, click as they position their pieces in memorized defenses or offenses. The Torre attack is defended by the Caro Kann defense. They are machines, and if you're not a machine at this stage you will be ground up like a sheep caught in a combine.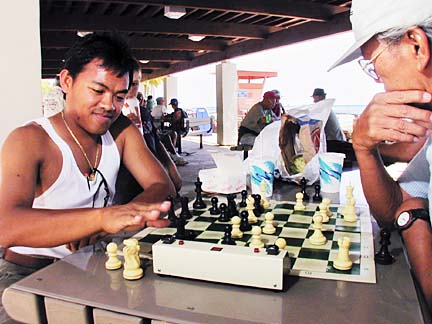 CRAIG T. KOJIMA / CKOJIMA@STARBULLETIN.COM
Alex Rubio, left, loses a quick, five-minute match
to Otniel Pascualin at Waikiki Beach.
---
The regular players know the standard openings. They rip through them without lifting the cigarettes from their lips. Move, click the clock, move, click the clock, move, click the clock ...

For a beginning quick chess player, the opening moves set the tone for the game to come. Without a knowledge of at least the most fundamental openings, the veteran player will set an offense so overwhelming in its positioning and possibilities that, literally, from the third move he will know if he is going to slaughter the beginning player or not.

For anyone wanting to try quick chess in Waikiki, getting into a game is fairly easy. Stop at one of the tables and watch for awhile to catch the tempo of the games being played. Sometimes there are official clocks and a lot of very serious people standing around or playing. Sometimes games are being played at a more leisurely pace.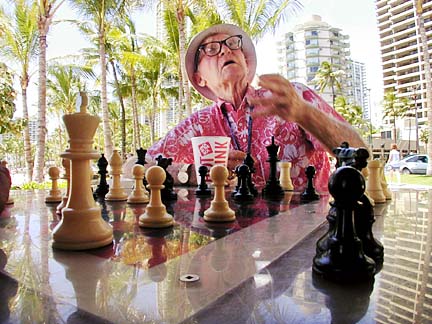 CRAIG T. KOJIMA / CKOJIMA@STARBULLETIN.COM
Under a structure at Waikiki Beach, chess players
gather for matches daily. Alfonso Dobronski
talks about the game he loves.
---
Time of day makes no difference. Clocks tick and players make quick-handed decisions at 3 a.m. or 4 p.m. or whenever it happens. If there is a regular schedule, it's an illusive one, existing in the heads of the regular players.

But, players ponder potential offenses in slower games that might be held at lunch or after dinner. It all depends on the boards, clocks and players that happen to be in Waikiki when you arrive. There is no rhyme or reason to it.

As you watch, try to gauge which games are being considered more seriously by the players and those watching. Try to find a game where some conversation is taking place. Or better yet, some laughter.

Once you've identified a forgiving set of players, approach them like any rookie. A somewhat hopeful, "Hey, how can I get a game?" approach is best.

Be straightforward about your abilities. It's not a place to learn the basic moves, but once you've got those down, you can sit at a game in Waikiki and feel comfortable. You'll get crushed by the regular players (don't bet, even if you win the first game, even if you win the second game; don't bet!) initially, but after a few games, you'll start to catch on.

For the person with no prior knowledge of chess, first learn the way each piece moves. The best way to do that is to attend one of the classes offered by the Mililani Chess Club. And then go get run over in Waikiki.

They call it blitz chess. There's a reason for that. Find out what it is by playing it for a little while in Waikiki. A very little while.
E-mail to Sports Editor
---
---
© 2001 Honolulu Star-Bulletin
http://archives.starbulletin.com