CLICK TO SUPPORT OUR SPONSORS

---

---
Hawaii Beat
By Star-Bulletin Staff
Sunday, August 19, 2001
---
Aiea defends Junior League
World Series title

Aiea became the first team in the 21-year history of the Junior League World Series to defend its championship yesterday.

And the team did it by completing what may be the most exciting comeback in those 21 years.

Aiea beat Maracaibo, Venezuela, 6-5 last night in Taylor, Mich., on a walk-off home run to right field by Kepa Wong.

"I was just trying to get on base so my teammates could get me home," Wong said. "This is very important. I always wanted to win the World Series. Last year, I didn't make this team. I worked harder this year, I made it and we won. It's a dream come true."

Wong would not have had a chance to be the hero had his teammates not come through in the bottom of the final inning of regulation. Aiea trailed 5-3 and was down to its final out with a runner on when Aiea manager Ron Yonesaki asked Shane Koga to pinch hit.

Koga promptly drilled a home run just over the left field fence to tie the game.

"I went to the plate to get a good solid hit," Koga said. "It was the biggest hit of my life."

The game will be broadcast Aug. 27 on ESPN2.

Pearls' season ends on extra-inning bomb

The Pearl City Pearls took defending champions Tri-County, Texas, to the 10th inning of the championship game of the Babe Ruth 16-and-under Softball World Series before losing at Abbeville, La., yesterday.

Miki Asamura pitched all 10 innings in the loss, giving up eight hits but seeing three errors committed behind her. The most damaging one came in the bottom of the 10th, when Texas put a runner on base before Asamura served up a game-winning home run to left field.

Asamura was named to the all-tournament team along with three other Pearls -- pitcher Erin Sing Chow, second baseman Tricia Arneson and outfielder Charity Senas. Senas was also the World Series batting champion with a .400 batting average.

Iolani takes Waimea boys volleyball title

Iolani defeated Waimea 11-5, 11-6 yesterday to win the title of the 13th annual Waimea Boys Invitational Volleyball Tournament at Gomes Gym on Kauai. The Raiders, seeded second after pool play, won all four winners bracket games in straight sets.

Host Waimea, coming out of the losers bracket, beat Waiakea 11-9, 10-12, 15-12 to gain the final.

Lanai tipped Maryknoll 11-8, 12-13, 16-14 for the consolation title.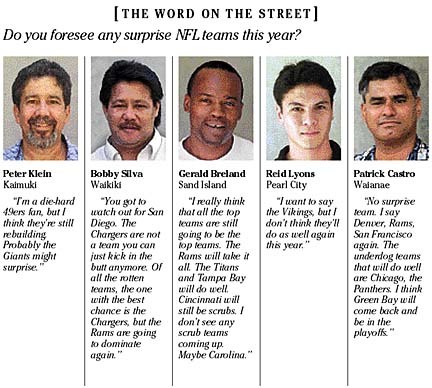 Hawaii's Own

Benny Agbayani, Mets: The St. Louis and Hawaii Pacific alumnus went 1-for-2 with a run scored and an RBI in New York's 5-4 win over the Dodgers.

Agbayani drove in the winning run in the eighth with his first sacrifice fly of the season. He drove a fly ball deep enough to center field to score Desi Relaford from third and allow Todd Zeile to advance from second to third. Agbayani tallied three sacrifice flies in each of the past two seasons.

Mike Fetters, Pirates: The Iolani graduate got his third straight day off in Pittsburgh's 6-5 loss to the Astros. Fetters has only pitched in three of the Pirates past 11 games.

Chris Truby, Astros: The Damien product is back. Truby was called up to the big club from Triple-A New Orleans after yesterday's Astros game. Truby could face Fetters for the second time on the big league stage tomorrow. He is hitless in his only at-bat against him.

[WINNERS & LOSERS]

[WINNERS]

>> Kahuku football team: Coach Siuaki Livai said it was the most important game of the year, and his defending state champion Red Raiders upheld the pride of the state, beating Skyline of Utah 19-14 .

California volleyball: Just when we get used to living in the undisputed volleyball capital of the world, along comes a contingent of young women from the Golden State to tear apart our girls in the Iolani Invitational.

Youth baseball: While the lads in Williamsport have been all over SportsCenter, Hawaii has been dominating youth baseball and softball all over the country. Aiea repeated as Junior World Series champions after the Maui Broncos took the Pony League championship.

[LOSERS]

>> Mark McGwire: We always wonder what kind of records Big Red could have set were it not for his achin' back. Well he can thank that achin' back now, because without all of the games missed due to injury, he would have already obliterated Barry Bonds' record of 180 strikeouts in a season.

Dan Duquette: Sometimes 50 games over .500 in four years is not enough. Duquette canned his manager for merely keeping the scant roster he gave him within two games of the wild card.

Benny Agbayani: A career of indignities in New York just reached its peak, with Mets' manager Bobby Valentine saying that Agbayani will continue to play for him this year -- out of pity rather than performance.
---
See line scores and results in
the [Scoreboard] section.
E-mail to Sports Editor
---
---
© 2001 Honolulu Star-Bulletin
http://archives.starbulletin.com