CLICK TO SUPPORT OUR SPONSORS

---

---
Sunday, August 19, 2001
Survey to map NW
Hawaiian Islands

---

By Diana Leone
dleone@starbulletin.com

Where on Earth are the Northwest Hawaiian Islands?

A team of scientists is gathering information this month and next to more accurately locate the uninhabited portion of the Hawaiian Islands chain.

The scientists are using global positioning systems to pinpoint the coral reefs, atolls and islands that are slated to become the Northwest Hawaiian Islands Coral Reef Ecosystem Reserve.

"This is the first time this has ever been done" with this level of sophistication, said Steve Rohmann, lead National Ocean Service scientist on the project. "Current maps of the Northwest Hawaiian Islands are inaccurate; they show some islands 500 meters to 2 kilometers from their actual location."

Equally as important, expedition members on the six-week mission are jumping in to check out the underwater environment. What they find there -- from sandy bottom to corals to algae -- will be computer-matched with detailed satellite photos of the area, Rohmann said.

When it's all put together, the result will be an in-depth look at shallow water coral reef ecosystems down to 20 fathoms (120 feet), he said.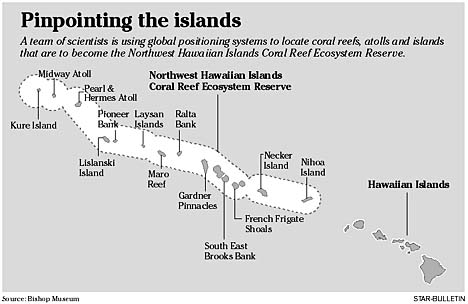 "This will provide a more accurate look at what's there," said David Zilkoski, also of the National Ocean Service, a division of the National Oceanic and Atmospheric Administration. When the islands were last surveyed in 1961, detailed environmental information wasn't taken and current technologies weren't even invented, he said.

Sometime next year the work will result in new nautical charts for the area, and the environmental information will be made available to researchers and state and federal agencies.Meanwhile, the future of the proposed Northwest Hawaiian Islands Coral Reef Ecosystem Reserve remains in limbo, as the Bush administration reviews executive orders from the Clinton administration that created it.

Stephanie Bailan, a Washington, D.C., spokeswoman for the Commerce Department, said there is no time limit on how long it may take Bush officials to review the Clinton directives. Nor was she sure whether an expected Northwest Hawaiian Islands Fishery Management Plan created by the quasi-governmental Western Pacific Regional Fishery Management Council would be taken into consideration.

Westpac approved sending its fisheries plan to the Department of Commerce at its June meeting, but was still ironing out document details as recently as Monday at a "government officials only" meeting, Westpac spokesman Marcus Mitsuyasu said.

Stephanie Fried, Hawaii spokeswoman for Environmental Defense, said her group and others are concerned that Westpac's proposal has elements that conflict with the executive order establishing the reserve.
E-mail to City Desk
---
---
© 2001 Honolulu Star-Bulletin
http://archives.starbulletin.com