CLICK TO SUPPORT OUR SPONSORS

---

---
Sunday, August 19, 2001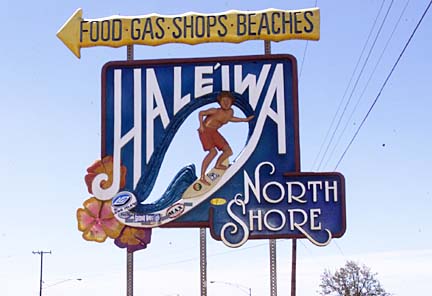 CRAIG T. KOJIMA / CKOJIMA@STARBULLETIN.COM
The remaining sign in Haleiwa.
---
Stolen Haleiwa road-sign
fund fails; group wants
to use money elsewhere

---

By Kelliann Shimote
kshimote@starbulletin.com

The effort to replace a stolen Haleiwa bypass sign has apparently failed.

The sign, one of three to mark the turnoff to Haleiwa town off of Kamehameha Highway, was stolen earlier this year.

In April, Mayor Jeremy Harris announced a joint effort with the Haleiwa Main Street Business Association to raise $5,500 to replace the stolen sign.

But four months later, the association said they received only $840 and they won't replace the sign.

Board President Antya Miller said there were three signs. Two signs were located at either end of the Kamehameha Highway bypass road and the sign in the middle of the bypass road was stolen.

"The feeling is that having one sign at either end of town is adequate," added Miller. "There are about four (additional) historic Haleiwa signs that were put up by the state."

Two other Haleiwa signs were stolen in July 1996, but were returned after media publicity led to an anonymous tip.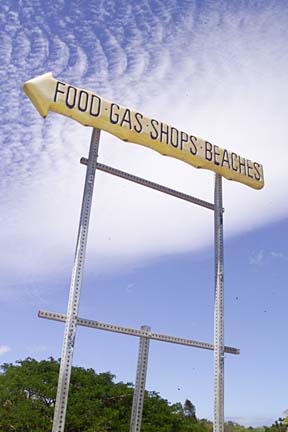 CRAIG T. KOJIMA / CKOJIMA@STARBULLETIN.COM
The middle sign, sans-sign.
---
"We were saddened to see the sign being stolen again," said city spokeswoman Carol Costa.

Joe Lazar, owner of Haleiwa Joe's Seafood Grill suggested that perhaps the sign stolen this year was easier to take because it wasn't bolted down like the others.

"We took some security measures (after the two signs were stolen in 1996) and we bolted them up in a different fashion so they weren't as easily stolen," he said.

"So I think it (the middle sign) was a little bit easier to steal than the other two were."

Miller said the association board voted unanimously to use the money collected to replace the sign for other purposes.

"We are going to contact all the donors and ask them if they want the money back or if they want to donate it to one of our other activities," Miller said.

She added the money could support landscaping for Weed Circle, which is the patch of land that rests between Kamehameha Highway and Kaukonahua Road.

Another option the organization considers is a banner, which would advertise different events.

Some of the events include the Haleiwa Arts Festival in July, a May fishing tournament at Haleiwa Harbor or a September taro festival.

"It is not necessary to replace it. I am very disappointed that whoever stole the sign to begin with, did not return it, and if they have a conscience, we really appreciate it if they would call the police and make an anonymous tip to where they can find the sign," Miller said.
E-mail to City Desk
---
---
© 2001 Honolulu Star-Bulletin
http://archives.starbulletin.com