CLICK TO SUPPORT OUR SPONSORS

---

---
Sunday, August 19, 2001
[ MAUKA MAKAI ]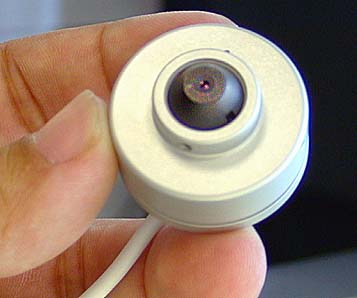 BURL BURLINGAME / BBURLINGAME@STARBULLETIN.COM
A tiny CCD camera that can be hidden in a wall or ceiling, or even
in a stuffed animal or book. The tiny lens in the
center is all that is visible.
---
Real snooping
tools get tiny


Pros and curious amateurs
scout out spy tech devices

COVER STORY

---

Burl Burlingame
bburlingame@starbulletin.com

JAMES BOND. The Man from the United Network Command for Law Enforcement. The Mission Impossible crew. Spies, the lot of them. The Cold War made spying glamorous, and if these fictional cold warriors were more saboteurs, clandestine operatives and secret agents than spies, who's to complain?

We live in an information age, where knowledge is power, data is money in the bank, and you must know thine enemy. Doesn't hurt to know what that cute blonde is thinking, or if the minimum-wage employees are pilfering pennies from the till, either.
COVER STORY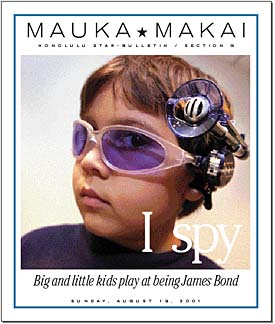 Spy technology, whether for security or information-gathering purposes, has had a boom in recent years thanks to micro-electronics and computerized processors. No more holding a champagne glass to the wall to hear what the folks next door are saying, or using your own urine as invisible ink.

Time for a caveat: Invading people's privacy is against the law. Placing hidden cameras or microphones where citizens have an expectation of privacy, whether it's in their home, or office, or even a public toilet, will net you jail time, and no one much cares about the fine shades of definition between being curious, a peeping tom, a voyeur or an industrial-espionage agent.

But those people across the street, pointing at you and laughing while you walk around with a parabolic shotgun microphone, backpack digital-recording device, infrared helmet binoculars and sensory-deprivation full-contact headphones - what are they saying? It has to be deeper than "Look at that dork over there!" Inquiring minds want to know.

We looked in on a couple of shops that deal with spying paraphernalia, Spy Tech of Honolulu and Spy World in the Pearl Kai shopping center.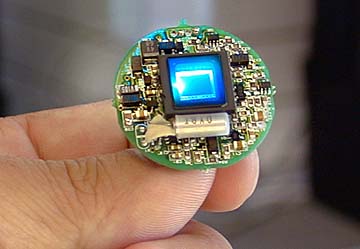 BURL BURLINGAME / BBURLINGAME@STARBULLETIN.COM
The same camera with the cover removed, showing the microcircuitry.
The images produced are crystal-clear and in color.
---
Both carry similar products at similar prices; Spy Tech is a bit more industrial, Spy World a bit more slick, down to the James Bond poster on the wall.

Books are available, with titles like "The Anarchist Cookbook," "Hit or Myth," "Workbench Silencers," "The Construction of Secret Hiding Places" and "How to Disappear Completely and Never Be Found." It's like the UNA- BOMBER's personal library.

The big surge, folks in both shops agree, has been in hidden cameras, a technology that has bloomed in the last few years. Thanks to Charged-Coupling Diode (CCD) technology that reduces a high-definition video camera to a package the size of a butter pat, and the lens hole to the size of a pencil point, cameras can be hidden virtually anywhere.

"It's crystal-clear and sharp and has an auto-iris to adjust for light levels, and you can put it anywhere," said Brad Ishii of Spy World. "The uses are unlimited. That's technology for you!" The $399 camera sells hand-over-fist, and are used either "to catch someone or deter someone."

Mathew Hernandez at Spy Tech showed us where the cameras can be hidden -- inside the spines of books, in the ceiling tiles, in stuffed toys, in clocks, in signs, in your wrist watch, in the cap of that pen in your pocket, in plants. Any of these will cost you a couple of hundred bucks. The stuffed animals are particularly popular with folks keeping an eye on the babysitter or nanny.

Other goodies include microphones hidden inside innocent-looking pens ($139), "sap gloves" with weighted knuckles ($65), the Bionic Ear Scout ($199) that magnifies whispers from a thousand feet away ("used mainly by hunters"), fake rocks to hide your keys ($8.95), a safe hidden inside a toilet paper roll ($27.95) or in a fake soda can ($12.95) that's weighted so it feels full.

How about sunglasses to see behind you ($29), or a telephone that can change your voice 14 ways ($99), or an infrared heat detector ($329) or night-vision scope ($349)?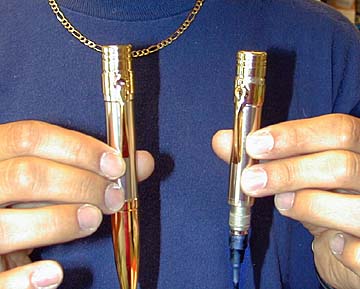 BURL BURLINGAME / BBURLINGAME@STARBULLETIN.COM
A fountain pen, at right is a fake pen with
a television camera hidden in the cap.
---
Those big outdoor security cameras -- if you just want to scare people away, get a fake one for $49.

The police favorite, according to both shops, is the Powerdialer for $244, which can dial the same telephone number 25 times a minute. This is useful for those first-call, first-serve situations such as golf-course tee times and off-duty, high-pay opportunities like road-construction watching.

Christiaan Cilliers, president of Sunrise Global Marketing, is fond of the pen-sized $249 digital-recording device that can hold 10 hours of speech. "I use it for dictation and making notes for myself, but you certainly could use it for recording someone," he said.

Hernandez said he has trouble keeping the devices in stock, they're so popular.

Cilliers, who works in the cruise industry, said that cruise ships, for liability and security purposes, have hidden cameras everywhere. "Particularly in the casinos. The cruise lines' cameras are all tied together by satellite uplink, and security is very tight. You know what's going on on every ship."

Hernandez and Ishii said their primary customers are private investigators, the military, police who are educating themselves about such devices, businessmen opening up new venues and homeowners concerned about security and what their neighbors are up to. Ishii hinted that big-shot government security agencies sometimes need to mail-order through his shop.

"Our average customer is a curious person who wants to know the unknown," said Ishii. "Some people need security. Others are a little paranoid, perhaps. For some people, it provides sanity."

Other primary customers are Asian businessmen who want to attend business meetings that they're sure are bug-free, and so they buy devices to sweep for cameras and microphones.

One fellow came into Spy Tech and stumblingly tried to figure out how best to plant a camera and recording device at a distance and record it all in a camera hidden in his fanny pack. Hernandez tried to show him the various options available but it wasn't sinking in. Finally, Hernandez asked, "What are you trying to do with this?"

The guy brightened up: here was a question he could handle. "The chicks!" he blurted. "I wanna find out what the chicks are saying about me!"

Hernandez laughed knowingly. "Always, there's a woman involved."





Click for online
calendars and events.
E-mail to Features Editor
---
---
© 2001 Honolulu Star-Bulletin
http://archives.starbulletin.com