CLICK TO SUPPORT OUR SPONSORS

---

---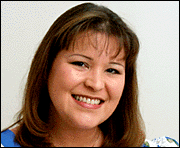 TheBuzz
BY ERIKA ENGLE
Sunday, August 19, 2001
---
No advertising slump for
Auntie Nalani's Cookies

Vivacious and charming are perhaps corny words, but they apply to 29-year-old Nalani McLaughlin, self-described "cookie mogul."

Successful is another word that describes her 6-year-old growing business, Auntie Nalani's Cookies, which are aimed squarely at the upscale visitor market.

The company produces 13 labels, including custom packaging for Dole Plantation, Neiman Marcus, the Royal Hawaiian hotel "and we do tons of business with Duty Free," she said.

"We're doing awesome," she said. "We did $73,000 the first year, in 1999 we did $160,000, and in 2000 about the same -- but this year we're probably going to double that."

McLaughlin's latest triumph resulted from someone else being in the right place at the right time. Her friend's wedding at Halekulani was covered by Elegant Brides magazine, and the reporter was impressed by McLaughlin's decorated lauhala basket table favors filled with her quarter-sized cookies.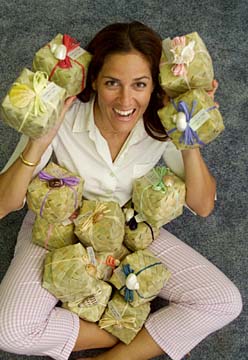 CRAIG T. KOJIMA / CKOJIMA@STARBULLETIN.COM
Nalani McLaughlin with some of her colorful lau hala baskets.
Her product is sold in upscale stores, in national magazine
ads and over the Internet.
---
The quarterly magazine's coverage of the wedding included a close-up photo of the baskets festooned with seashells and ribbon ties in "periwinkle" and "butter," the wedding colors.

The reporter encouraged McLaughlin to advertise her unique product in the magazine. "I thought it would be fun to see my product in a national magazine," she said, "but it was a huge risk financially."

The month the ad hit, the calls started pouring in, and are now up to 10 a day.

The customized wedding basket component of her business has blossomed, nationally and internationally, she said.

"We're getting incredible coverage through one advertisement," she said. "It's put us onto a new avenue of business." It may produce enough revenue to serve as her "vehicle to start another business," she said.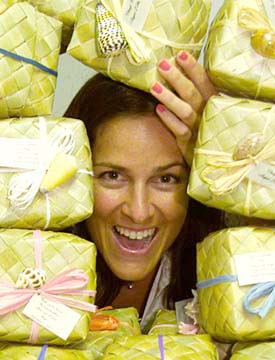 CRAIG T. KOJIMA / CKOJIMA@STARBULLETIN.COM
Nalani McLaughlin, owner, Auntie Nalani's Cookies
---
Customized baskets are not limited to weddings, she said, having done corporate baskets, and baskets for Christmas, baby luaus and other occasions. The company's Web site is at http://www.auntienalaniscookies.com.

McLaughlin's father is Robert McLaughlin, founder of Chamorro Chip Cookies on Guam; and she was named for her auntie -- veteran Hawaii entertainer Nalani Olds.

McLaughlin describes her business as unconventional and "skinny" and her office as "girly." ("I have crayons on my desk," she said.) She spends time on the phone with clients discussing the finer points of shades of pink -- "powder," "baby" or "fuschia."

In the next breath the small businesswoman is apt to say, "If you're not savvy, constantly counting pennies, you'll see a lot of them going out the door." She went to an auto parts store to learn how to install her own car battery to save the money it might have cost for someone else to do the job.

McLaughlin promised herself she'd do all her own accounting for the first five years -- it's now the fourth year -- so if and when she turns the work over to a CPA she'll know where every single penny should be.

She expects her six full-time employees to work hard, "because it costs me money for them to be here," she said, but added, "if I can be here from 5:30 in the morning 'til 10 at night, I can expect them to work hard, too." While in the office/bakery, she's answering the phone, decorating baskets, packaging cookies, "I do everything but bake," she said. Product delivery is also her job.

A stickler for customer service, she works personally with brides on design elements, specific colors and decorations and making note of the time zone her clients are in so calls she returns to them won't inconvenience them. When shipping wedding baskets to clients, she includes a handwritten note on handmade paper offering her best wishes.

In exchange for the personal service, she has received letters from every single bride.

"It's incredibly gratifying," she said.





---




Erika Engle is a reporter with the Star-Bulletin.
Call 529-4302, fax 529-4750 or write to Erika Engle,
Honolulu Star-Bulletin, 500 Ala Moana Blvd., No. 7-210,
Honolulu, HI 96813. She can also be reached
at: eengle@starbulletin.com




E-mail to Business Editor
---
---
© 2001 Honolulu Star-Bulletin
http://archives.starbulletin.com