CLICK TO SUPPORT OUR SPONSORS

---

---
Saturday, August 18, 2001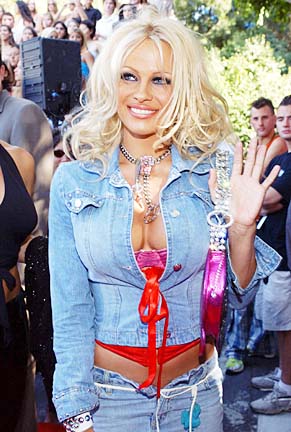 ASSOCIATED PRESS
Pamela Anderson, shown Sunday at the Teen Choice
Awards in Universal City, Calif., has not confirmed
whether she will appear in the "Baywatch TV movie.
---
'Baywatch' returning
to make TV movie


The $5.5 million production
will star many past cast members,
including David Hasselhoff

---

By Tim Ryan
tryan@starbulletin.com

"Baywatch" is rolling back onto Hawaii's shores.

The decade-old lifeguard television drama that was canceled in February after relocating here in 1998 under the moniker "Baywatch Hawaii" will return as a two-hour movie-of-the-week called "Baywatch Blast."

The TV movie will feature many of the most recent and original cast members, including the show's most visible actor, David Hasselhoff, production officials said.

The $5.5 million production by Lionsgate Television in association with Fox Television will film on Oahu in October before shifting to Los Angeles. The show will air during February sweeps on Fox Television.

The production crew will begin set preparation in Hawaii early next month.

"Baywatch Blast" will be based at the Hawaii Film Studio at Diamond Head. Exterior filming will take place throughout Oahu, including at the Haleiwa set built by the city for "Baywatch Hawaii," said Doug Schwartz, executive producer and writer of the TV movie.

Schwartz and partner Michael Berk, along with Greg Bonann, created "Baywatch" 11 years ago. However, only Schwartz and Berk are involved in this production.

Bonann is "not involved in any aspect," Schwartz emphasized.

Bonann, executive producer of the show in Hawaii, confirmed he is not involved but declined to elaborate.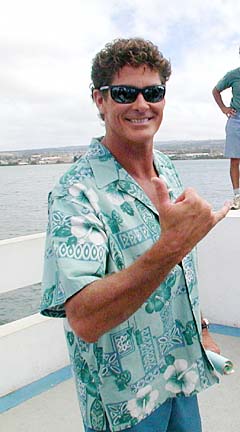 CRAIG T. KOJIMA / CKOJIMA@STARBULLETIN.COM
David Hasselhoff clowned around in 1999 while
awaiting the shooting of a scene at the Iowa
Memorial on Ford Island in Pearl Harbor.
---
Original cast members scheduled to appear so far include Alexandra Paul, Gena Lee Nolin, Nicole Eggert, Yasmine Bleeth, Donna D'Errico, Traci Bingham and Carmen Electra.

Pamela Lee Anderson, who joined the show in its third season, has not confirmed whether she will appear, Schwartz said.

Cast members from "Baywatch Hawaii" will include Michael Bergin, Jason Brooks and local actor Stacey Kamano.

Baywatch's first-season cast of regulars included Hasselhoff as Mitch Buchannon, Parker Stevenson as Craig Pomeroy, Shawn Weatherly as Jill Riley, Billy Warlock as Eddie Kramer, Erika Eleniak as Shauni McClain, Peter Phelps as Trevor Cole and Brandon Call as Hobie Buchannon.

Hasselhoff left the show in its first Hawaii season, in part because of creative differences with producers and the show's owner, Pearson Television. Hasselhoff also said he wanted to pursue new acting ventures.

Schwartz, who said the story line is still being developed, said the Hawaii filming would not be possible without sponsorship by the Hilton Hawaiian Village, Hawaiian Airlines and the state.

Schwartz would not elaborate on what kind of assistance the state is providing, and state officials could not be reached for comment yesterday.

The movie-of-the-week will be the largest "Baywatch" production in the show's history, Schwartz said.

Baywatch was conceived in 1980 when Los Angeles County lifeguard Greg Bonann had an idea for a TV show containing "sand, surf and sea rescues." When producer Schwartz married Bonann's sister, the men joined up with executive producer Berk.

The two-hour pilot for the series, "Baywatch: Panic at Malibu Pier," aired April 23, 1989, and was immediately picked up by NBC as a weekly series. The first episode aired Sept. 22.

The show was canceled in the first season but was given a second chance in syndication with a reshuffled cast.

Bonann, who lives in Malibu but has an apartment here, is working on a Hawaii-based action drama.
E-mail to City Desk
---
---
© 2001 Honolulu Star-Bulletin
http://archives.starbulletin.com