CLICK TO SUPPORT OUR SPONSORS

---

---
Thursday, August 16, 2001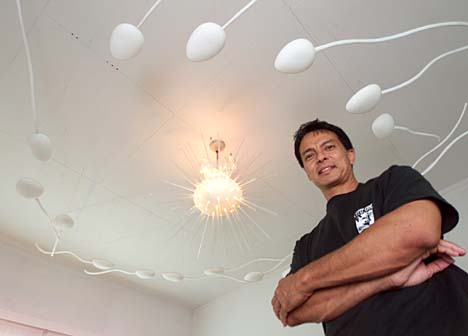 GEORGE F. LEE / GLEE@STARBULLETIN.COM
Artist Mark Chai's suspended creation, "Manoa Roughwater Swim,"
above, is meant to re-create the act of conception, with Styrofoam
"sperm" swimming toward a glowing "egg." The spines of
the egg are recycled catheter holders.
---
Second time around


Mark Chai crafts castoffs
into masterpieces

---

By Scott Vogel
svogel@starbulletin.com

MOST PEOPLE watch MTV's "Real World," if they watch it at all, for the brainless titillation, the never-ending coupling and uncoupling of troubled yet beautiful 20-somethings.

Mark Chai, on the other hand, watches it for the lamps.

That's to be expected, as many of the series' most creative examples of light -- at least during the show's 1999 trek through Honolulu -- were spun from the fertile imagination of Chai, whose busy workshop in lower Manoa is rarely idle, to the delight of friends and the consternation of a few of his neighbors.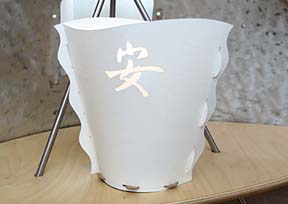 GEORGE F. LEE / GLEE@STARBULLETIN.COM
A luminary, "Tranquility," is made out of
discarded X-ray film boxes. Inside is a candle.
---



MADE IN HAWAII FESTIVAL

When: noon to 9 p.m. tomorrow; 10 a.m. to 9 p.m. Saturday; 10 a.m. to 5 p.m. Sunday
Where: Blaisdell Center
Cost: $2
Call: 533-1292




"I only watched that show like three times to look for my lamps, because the kids were so dysfunctional," says Chai about his brief brush with cable glory. "They're talking about sex. The first show, one of the girls gets totally drunk and ends up in the emergency room, and they have to pump her stomach. After a while I wasn't really paying attention to what was going on. But every time they went back into the house, I was like, 'There's one! There's one!'" The lamps, you see.

There are no second acts to American lives, or so we're told (and the adage certainly seems to hold true for "Real World" participants, whose fame traditionally fades around the time their 10th episode airs). But Chai, ever the survivor, is mounting quite a counterargument to Fitzgerald's famous line, mostly by recycling the careers of a few washed-up objects.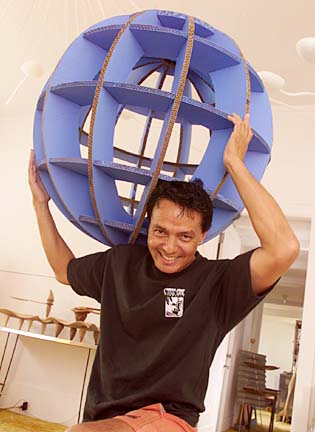 GEORGE F. LEE / GLEE@STARBULLETIN.COM
Chai bears the weight of the world in his "Global Recycling,"
also known as "The Globe," made from the packing
material from a CAT scanner.
---
Which is as good a way as any to introduce our next topic, the Made in Hawaii Festival, where this weekend Chai will be selling some of his prized possessions, many of which are composed of cast-offs once destined for the garbage dump. No old cafeteria tray, rusted street lamp housing, drainage culvert or cardboard packing material is safe from the clutches of the artist, whose alchemy prevents each from dying an ignominious death, granting all instead a shot at a second act.

"People always tell me, 'You have this knack for taking things out of what they're normally used for and turning them into something else,'" says Chai as he displays his "pet lamp," a turtle-shaped tabletop model made from the aforementioned street lamp housing. It makes a nice companion piece to the entertainment center constructed out of a piece of scrap metal resembling an Apollo space capsule. ("My old neighbors thought it was a giant wok.") The shelving is supported by poles once used to hang IV bags, and here -- perhaps unwittingly -- we are presented a clue to the source of Chai's discards.

"I work as a patient transporter at Queen's hospital, so I see things that they're going to throw out or that they're going to sell at the surplus store," he says. The hospital has sales every four months or so to earn extra cash and clear the way for new, more technologically advanced apparatuses. And even the new arrivals have provided fodder for Chai's cannon, as he noted while hoisting an enormous blue globe he'll be selling at the festival.

"Queen's had brought in this new equipment, some huge machine -- a CAT scan or something -- and they had this really thick cardboard packed around the machine. The neat thing is, when this stuff arrives, the cardboard is real clean; there's no damage. So now they know that whenever a huge crate comes in, 'Ask Mark Chai first.'"

Chai's work represents only a small part of the Made in Hawaii Festival offerings, which include everything from new products to produce, musical performances to cooking demonstrations, an event showcasing the creativity of our islands' residents. The city and county's Office of Recycling is sponsoring a booth showcasing the work of Chai and others, an attempt at encouraging the general public to rethink its attitudes toward the objects it disposes. In addition to his lamps and sculptures, Chai hopes to have success selling luminaries he's created out of old X-ray film boxes.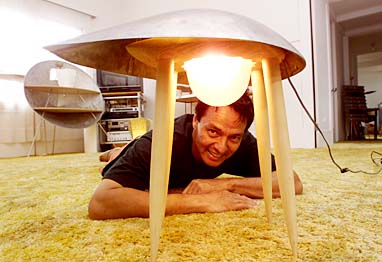 GEORGE F. LEE / GLEE@STARBULLETIN.COM
Artist Mark Chai's "Pet Lamp" is made of
an old stainless-steel street lamp cover.
---
"The film boxes are made from a white material which is actually a PVC plastic, and it's quite durable and quite translucent. I cut these guys up and create a two-piece lampshade." The shades, carved with images of animals and other designs, are inspired by a trip Chai made to Santa Fe -- "where people put candles in paper bags at Christmastime" -- and will be sold for $20 and up at the festival.

On the ceiling in Chai's living room is a, uh, sculpture of sorts, the meaning of which becomes clear only gradually. Somehow I've avoided asking him about it (or even looking at it too closely), but the piece comes up when we talk about future directions in his art and future second acts in his life.

"Another thing I've gotten into is working with Styrofoam. We were having a Valentine's party, so I created this installation." An orb hangs from the center, punctured with a number of plastic tubes that in a former life housed catheters. Orbiting this egg cell of sorts is a number of eager male sex cells; they bob and weave gently in the afternoon breeze. "What was really neat was that people were talking about it, and the talk got back to me: 'I understand you have a sperm on your ceiling.'" No word on whether Cupid's arrow pierced any hearts at the party as a result.

"At the beginning of the year I was thinking in terms of what's really going to make me happy," he says. "I was just going through this big change emotionally -- a relationship was ending -- and also in terms of looking at myself. What I really want to get into is making sculptural furniture." This passion was made clear during his April exhibition, "Leap of Faith," at the Queen Emma Gallery.

Like the swirling, twisting curves Chai has fashioned out of blocks of ash, his own career continues to list -- sometimes randomly, never aimlessly -- and always in interesting directions. And with each successive second act looms the possibility of even greater invention.





Click for online
calendars and events.
E-mail to Features Editor
---
---
© 2001 Honolulu Star-Bulletin
http://archives.starbulletin.com