CLICK TO SUPPORT OUR SPONSORS

---

---
Tuesday, August 7, 2001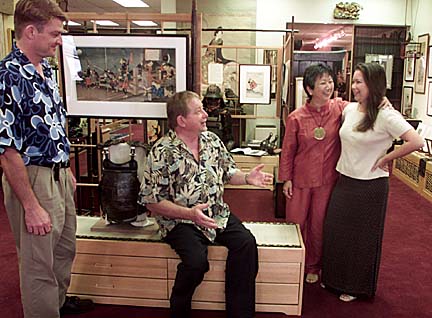 KEN SAKAMOTO / KSAKAMOTO@STARBULLETIN.COM
A family chat at the Robyn Buntin Gallery involves, from left,
gallery manager Tusha Buntin, Robyn and Judy Buntin and
gallery director Aisha Buntin.
---
From the 'art


Robyn Buntin believes
art should enlighten

---

By Suzanne Tswei
stswei@starbulletin.com

AMID FLAWLESS JADE vessels, magnificent Buddhist bronze temple statues and intricate ivory carvings, a painting of a droopy-eyed puppy on black velvet occupies a coveted spot in the galleries of Robyn Buntin.

It hangs above the door on the inside wall of his office, and therefore always within sight of the consummate dealer of Asian and Pacific objets d'art.

"It isn't Asian or Hawaiian, but it is a dear, dear gift -- the dearest gift I ever received," Buntin says. "It's from some friends who have a wonderful sense of humor. It is a joke, a wonderful joke.




BEAUTY & VENGEANCE

"The Legends and History of Japan Seen Through the Eyes of Japanese Woodblock Print Artists"
On display: Robyn Buntin Galleries, 848 S. Beretania St.
Hours: 10 a.m. to 5 p.m. Monday through Saturday, through Aug. 22
Call: 523-5913




"Here I am in the fine-art business, and they go out and find me the homeliest painting -- on black velvet, yet."

His friends bought the painting for his 50th birthday, and now, 10 years later, the joke has come to symbolize his philosophy on art and the selling of art.

"The dog painting is a piece of typical commercial art. It's fun, it's cute, it's easy to understand, but it isn't what art is all about," Buntin says.

Fine art, real art, whatever the label, Buntin says, has to do with enlightenment. Art should offer "deeper understanding of humanity," a sense of "great surprise," as well as fine craftsmanship and distinctive aesthetics.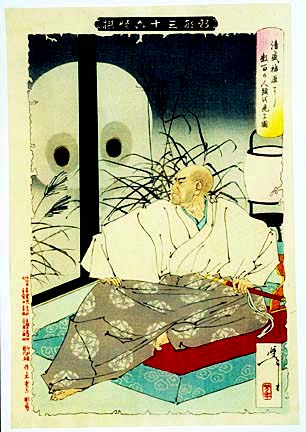 KEN SAKAMOTO / KSAKAMOTO@STARBULLETIN.COM
This 12th-century woodblock print illustrates the fate of Taira no
Kiyomori, a ruthless man who killed off three rival families
and even murdered some of his own cousins. Toward the
end of his life, Kiyomori began to lose his mind and was
haunted by the vision of hundreds of skulls
representing his many victims.
---
Art should give the viewer everlasting enjoyment. The beauty and meaning of good art only improve with time. Commercial art, which is mass-produced without much care, is fun, but the fun is short-lived.

"The dog painting is my favorite, for sentimental reasons and whatever else meaning it has for me," Buntin says. "But it does not enlighten; it simply entertains. It is not the kind of art we offer to our clients. The items we have in our galleries require a little more understanding, a little more appreciation, a little more education."

Like the huge golden-brown batik painting of a stately Hawaiian woman by island artist Yvonne Cheng that he recently acquired. The batik is an exquisite example of art: well executed and beautiful, unique in its interpretation of the subject. It is also a rare find since the artist no longer works in that style.

"If you ask me what's my absolute favorite in the galleries right now, I'd have to say it's the batik. It's ab-so-lutely beautiful, and it is the kind of things I want for our clients," Buntin says.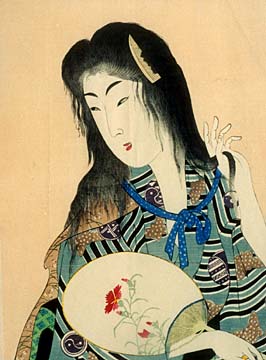 KEN SAKAMOTO / KSAKAMOTO@STARBULLETIN.COM
Chikanobu Toyohara's print "True Beauty" dates to 1897.
---
He hung it in the center window at his gallery for Pacific art (two doors down from his gallery for Asian art), knowing that it would attract the attention of an art lover right away and he would have to part with it soon. Indeed, the painting was sold within the week.

"I love that painting so much. I want to take it home with me so much that I can't see straight," Buntin says. But Buntin, who has been in business for more than 30 years, knows the danger of falling in love with art.

"My wife and I made a promise to ourselves that we'd never steal from our own business. No matter how much we love something, we have to save it for our clients."

EVERY ONCE IN A WHILE, a damaged piece of art not suitable for sale may go home with him. Buntin says his practice of saving the best pieces for his clients has paid off well, helping him build a solid reputation and a successful business.

Buntin has a particular fondness for Asian art, especially art influenced by Buddhism. He is best known as an expert on netsuke, a type of decorative carving traditionally serving as jewelry for men in Japan. Netsuke can be carved of bone, ivory, wood or semiprecious stones and is worn on a sash tied around the kimono. Even though the traditional Japanese kimono has given way to Western wear, artists continue to create netsuke to satisfy collectors worldwide.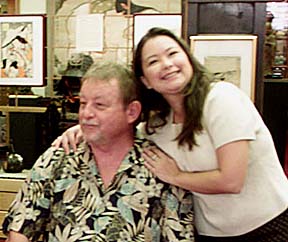 KEN SAKAMOTO / KSAKAMOTO@STARBULLETIN.COM "The biggest service I offer to my clients
is education. People are always looking
for that great bargain. But the danger
is great if you don't know
what you are doing."
Robyn Buntin
Above, with gallery director and daughter Aisha
---
Buntin is a member of an exclusive international organization of netsuke dealers. Membership in the 12-member Professional Netsuke Dealers Association is by invitation only. The association is allied with the International Netsuke Society, an organization of netsuke aficionados.

In his Asian-art gallery, which is a block ewa of the Honolulu Academy of Arts on Beretania Street, Buntin has a room devoted to netsuke, jade carvings and small pieces of Asian art. He also carries a large collection of Japanese woodblock prints, which he says are the most popular items among island collectors. The prints are by old masters as well as contemporary artists.

A current showing of woodblock prints, "Beauty & Vengeance," depicting tales of alluring courtesans and heroic warriors of ancient Japan, is on exhibit through Aug. 22.

"The art collecting community in Hawaii has grown a lot. A number of our clients are third- or fourth-generation Chinese or Japanese. They have done well for themselves, and they are interested in getting in contact with the culture of their ancestors," Buntin says.

Art is a natural conduit for these American-born Asians to become acquainted with the old cultures, he says. But novice collectors often buy the wrong art, for the wrong reason and for the wrong price.

"The biggest service I offer to my clients is education," Buntin says. "People are always looking for that great bargain. But the danger is great if you don't know what you are doing. You can say, after 25 years in the business, I've paid my tuition."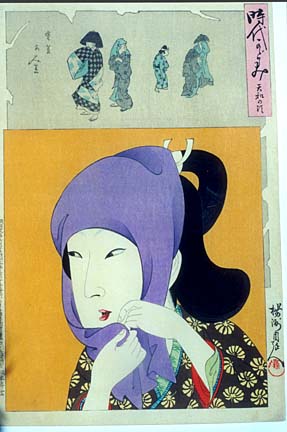 KEN SAKAMOTO / KSAKAMOTO@STARBULLETIN.COM
Chikanobu Toyohara's print of a young woman from the Tenna
era was made in 1896 as part of a series of
studies of beautiful women.
---
The desire for a bargain often gets collectors -- novice or seasoned -- in trouble, and he has fallen into that trap himself. Years ago, he paid $300 for what he thought was a magnificent netsuke, a dragon carved out of ivory. But it turned out to be a plastic copy -- a very magnificent copy -- of an antique. The forgers were able to duplicate not only the minute carving details, but also the weight and appearance of ivory.

"You bet there are a lot of copies out there. It just breaks my heart when I see people walking in with copies of fakes," says Buntin, who also offers appraisal services. Netsuke copies have been mass-produced in Hong Kong and Taiwan, and the quality can be excellent.

"Unless you've seen the real things and held them in your hand and have the experience, you are going to have a hard time telling which is real and which is fake. But for an experienced dealer, it's like comparing apples and oranges; it's easy."

RECENTLY HE HAD TO tell a group of women that the netsuke pieces they bought for $24,000 in Manhattan are worthless.

"I had the unfortunate job of telling them that every last one of the netsuke is a factory-produced copy. They'd be lucky if the collection is worth $2,400," Buntin says. "I told them to throw it under the bed or in the garbage. Just walk away from it." Hiring a lawyer to sue the mainland dealer would only cost more money and grief.

If you are interested in art, first learn about art, he advises. Discover your own taste, and focus on the things that interest you. And, most of all, work with only reputable dealers.

"If you are talking to any real art dealers, they are going to tell you the context that makes the art wonderful," Buntin says. "The dealer is trying to share a very deep and wonderful art world with you. It's not just about selling you art."





Click for online
calendars and events.
E-mail to Features Editor
---
---
© 2001 Honolulu Star-Bulletin
http://archives.starbulletin.com