CLICK TO SUPPORT OUR SPONSORS

---

---
Monday, August 6, 2001
[AT WORK]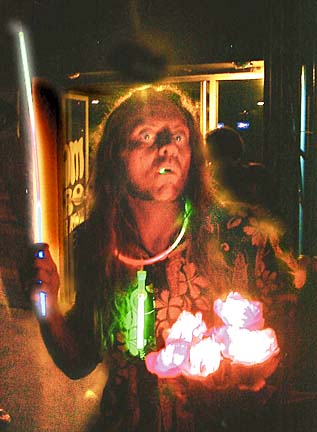 BURL BURLINGAME / BBURLINGAME@STARBULLETIN.COM
---
Glow-stick vendor


He prefers bright lights
to sitting in an office

---

Burl Burlingame
bburlingame@starbulletin.com

ROY DACKERMAN >> "There are all sorts of products now that use chemical luminescence, sticks and rods and headbands and flowers, you name it. They work by breaking a glass container within a plastic container, and the chemicals mix and put off a pretty glow. The short rods are called cyalume and they're really made as fishing lures.

I'm not really the sort of guy who's happy in an office. I was in radio before, in Washington, D.C., but there's no money in radio here.

I like to get out, and being a glow-stick vender is as good a way as any to make money. I'm in and out of the clubs and raves and concerts all week long. It all started, pretty much, with the Honolulu City Lights events. The glow-sticks go very well there. There's no age barrier. Kids and grownups like them.

I get the raw materials wholesale from a variety of hunting and fishing venders. The clubs split a percentage with me. Business was better last year, but we're all hanging in there, aren't we?"

---

At Work is a weekly feature that shows and tells what people do for a living in their own words. Send comments to business@starbulletin.com.
E-mail to Business Editor
---
---
© 2001 Honolulu Star-Bulletin
http://archives.starbulletin.com