CLICK TO SUPPORT OUR SPONSORS

---

---
Hawaii Beat
By Star-Bulletin Staff
Sunday, July 29, 2001
---
Goo wins Jiu-Jitsu
championship in Brazil

Kendall Goo, a former University of Hawaii football player, won his second world title at the Brazilian Jiu-Jitsu Championships in Rio de Janeiro yesterday.

Goo's title came in the purple belt super heavyweight class.

Goo's other title came in 1997 when he won the blue belt division, the first international level. Goo is a schoolteacher on Kauai and runs the Relson Gracie Kauai Academy.

LeGrande, Doble upset; Hannemann, Scott win

Honolulu's Lee LeGrande and partner Brent Doble lost for the first time in 15 matches while former University of Hawaii players Albert Hannemann and Sean Scott advanced to today's semifinal of the AVP Pro Beach Volleyball Tour stop in Virginia Beach, Va.

The third-seeded Hannemann and Scott went 3-0 yesterday, including a win over former UH player Chris Kosty and partner Ed Ratledge. LeGrande and Doble went 2-1, falling to Paul Baxter and Matt Fuerbringer, to drop into today's loser's bracket.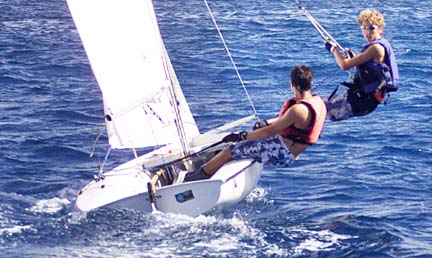 KEN SAKAMOTO / KSAKAMOTO@STARBULLETIN.COM
Quinn Franzen and skipper Michael Scott of the Kaneohe
Yacht Club finished second in the 420 A division in the
420 Invitational Regatta off Waikiki yesterday, the final
day of the Hawaii Junior Olympic Sailing Festival.
---
Soares named co-MVP at elite volleyball camp

Bronson Soares, an incoming junior at Punahou School, was named co-MVP of the 16-under division at the High Performance Boys Volleyball Camp held last week at Long Beach State in California.

Soares, a libero, was one of four players from Hawaii attending the developmental camp sponsored by USA Volleyball. As reported Friday, recent St. Louis School graduate Brian Zodrow was named co-MVP of the 18-under camp.

Also participating in the elite camp were St. Louis' Max deWolff and Iolani's Sean Carney.

Pro Valentin's No Ka Oi in Maui surf contest

Joey Valentin won the Local Motion No Ka Oi pro division yesterday at Launiupoko Beach on Maui, the third stop of the Steinlager Pro Series.

Valentin earned $550, while runner-up Kanoa Dahlin won $300. Kamu Auwai finished third with Ely Klukowski fourth. Patrick Fukuda and Tommy Chun-Ming were equal fifths.

Competition in the Hawaii Longboard Federation meet continues today in 11 divisions. Surfing starts at 8 a.m.

Metzger, Wong seventh in FIVB beach doubles

Hawaii's Stein Metzger and Kevin Wong finished seventh yesterday at the FIVB Beach Volleyball World Tour stop in Espinho, Portugal.

Metzger and Wong, seeded fourth, eliminated the Austrian team of Nik Berger, a former University of Hawaii player, and Oliver Stamm in the fourth round of the loser's bracket. The Hawaii pair lost in the fifth round to Norway's Vegard Hoidalen and Jorre Kjemperud.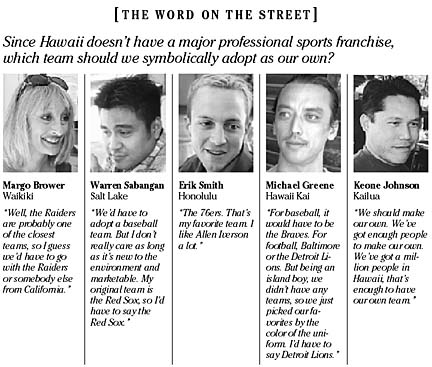 Hawaii's Own

Benny Agbayani, Mets: Although the St. Louis and Hawaii Pacific alumnus has hit 33 home runs over his career, he had only victimized the same pitcher -- Toronto's Roy Halladay -- more than once.

Until yesterday, when Agbayani fueled a 4-3 win over the Phillies with a fourth inning solo homer over Shea Stadium's left field wall. The blast was his second career round tripper against Philadelphia starter Omar Daal, and came after he drove in a run with a single to center off Daal in the first inning.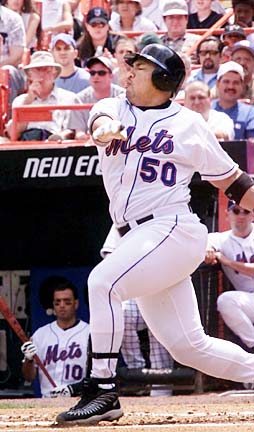 ASSOCIATED PRESS
Of Mets outfielder Benny Agbayani's 33 career
homeruns, 22 of them -- like this one yesterday --
have come at Shea Stadium.
---
Mike Fetters, Dodgers: The Iolani product pitched the eighth inning of the Dodgers' 10-5 win over Colorado, allowing runners to reach second and third before striking out Terry Shumpert and causing catcher Adam Mellhuse to ground out to second.

Fetters limits opposing batters to a batting average of .167 with runners on 2nd and 3rd over his 12 year career.

Brandon Villafuerte, Rangers: The Hilo native pitched on his second straight day, being ordered into Texas' 7-3 loss to Tampa Bay in the 10th inning. He was tasked with getting out of a jam of runners on first and second and two outs, and did it by striking Randy Winn out swinging after loading the bases by plunking Steve Cox.

[WINNERS & LOSERS]

[WINNERS]

<< Travis Lee: We don't know what's more impressive -- going through four years of wrestling in Hawaii and only losing 19 times or travelling to North Dakota and beating all others at their own game. And Lee did it all with an Ivy League scholarship to Cornell stashed away in his singlet.

Don Murphy: "Real" fans say that they would do anything to help their team, but none of them have anything on Murphy. The super booster raises enough funds each year to buy the Warriors almost anything -- short of their own bowl game.

Mark Rivers: Okay, so pro baseball may or may not be coming back to Hawaii. But here's to the man who gives us at least a little bit of hope once again -- unless he is just using us as a bargaining chip against Reno.

[LOSERS]

>> Ken Griffey Jr.: The kid threatened to retire if the Reds didn't get him some help by Tuesday's trading deadline, saying that he is "set for life" and could still live comfortably if he walked away from his $116.5 million contract. Hey junior, who gave you that money in the first place?

NFL: With preseason just weeks away and Richie Phillips nowhere near the bargaining table -- we hope -- the league still doesn't have a contract with its referees. Maybe they will try to start without the zebras and we can see the real XFL.

'Jay' Odom: We cheered you as a champion Kailua football player. Now we know you as "Lonnie Webster, identity thief" and wonder why you weren't just a little bit better. You were age 21 at the time, playing high school ball.
---
See line scores and results in
the [Scoreboard] section.
E-mail to Sports Editor
---
---
© 2001 Honolulu Star-Bulletin
http://archives.starbulletin.com