CLICK TO SUPPORT OUR SPONSORS

---

---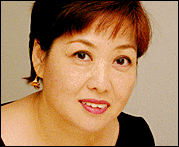 Local Color



Sunday, July 29, 2001
BY SUZANNE TSWEI
---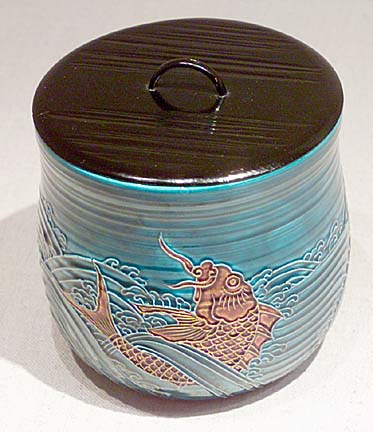 DENNIS ODA / DODA@STARBULLETIN.COM
A water jar with a rough sea design is crafted in
the ceramic style called Kochi ware.
---
The Urasenke Way
of Tea spills its art
over into life

LOCAL COLOR

By suzanne tswei
stswei@starbulletin.com

THE ORIGINAL TITLE for the Honolulu Academy of Arts exhibit of Japanese tea ceremony utensils and art objects was "Peacefulness Through a Bowl of Tea," which is the motto of the reigning grand master of the Urasenke Way of Tea.

Soshitsu Sen, who is the 15th grand master, believes all differences and misunderstandings can be put aside if the opposing parties can simply sit down together for a cup of tea. His definition of a cup of tea isn't quite so simple, however.

A cup of tea is not just a beverage. (And it can be thick and bitter; not at all tasty or thirst-quenching.) It isn't only the prescribed rituals associated with the preparing and drinking of the powdered green tea. It's an all-encompassing approach to life -- a philosophy governing one's attitude toward aesthetics as well as personal relationships. And it can take a lifetime to perfect.




TEA ARTISTRY OF THE
URASENKE GRAND MASTER

Place: Honolulu Academy of Arts, 900 S. Beretania St.
Time: 10 a.m. to 4:30 p.m. Tuesdays to Saturdays, 1 to 5 p.m. Sundays, through Sept. 2
Cost: $7, $4 for seniors, students and military, free to members and children 12 and under, free on the first Wednesdays of the month
Call: 532-8700

LECTURE AND TEA DEMONSTRATION

by Soshitsu Sen, the 15th Grand Master of the Urasenke Way of Tea

Place: Academy Theatre
Time: 6:30 p.m. Aug. 29
Admission: Free
Call: 532-8700

URASENKE FOUNDATION
TEA CEREMONY

Place: Urasenke Foundation, 245 Saratoga Road
Time: 10 a.m. to noon, Wednesdays and Fridays
Cost: $ 3 per person donation
Call: 923-3059, reservations are encouraged for groups of 10 or larger




Also known by his Buddhist name, Hounsai ("phoenix cloud"), Sen began training when he was 6, learning the tradition that had been established by Rikyu Sen, the founding father of the Urasenke Way of Tea.

Urasenke is the largest tea ceremony school in Japan and has about 300 members in its Hawaii chapter. It is also the most progressive school, allowing women to become members.

Rikyu Sen is renowned in Japanese cultural history as the man who consummated "chanoyu," the ritual of making and drinking of powdered tea. His approach to the tea ceremony has been passed on through the firstborn sons in the family, who receive the designated grand-master title.

Before Rikyu Sen, the making and drinking of tea was social entertainment for the upper classes. Tea ceremony articles, reflecting the refined artwork of China, were so prized that they were bargaining chips in war negotiations.

Rikyu Sen, living in a time of intense power struggles among warlords, shunned the ostentatious display of power and wealth. He defined a new aesthetic sensibility -- "wabi" -- celebrating simplicity and rusticity. Tea, as well as life, should be based on the ideals of harmony, respect, purity and tranquility, he said.


DENNIS ODA / DODA@STARBULLETIN.COM
Calligraphy by grand tea master Hounsai reads,
"Pine long-living, a thousand years green."
---
Rikyu Sen's descendants have further refined the way of tea to include Zen concepts and a collection of tea ceremony objects and utensils reflecting aesthetic values.

The collection is made up of articles that the Urasenke grand masters created themselves or to which they gave their stamp of approval. The exhibit at the academy is culled from the collection, which is housed at the Urasenke Foundation in Kyoto.

The pieces on exhibit here were created or favored by the current master, his son, his father and his grandfather, and therefore reflect modern tea ceremony aesthetics. The exhibit is curated by Taka Akanuma, chief curator of the Chado Research Center in Kyoto.

Akanuma selected 96 items by contemporary Japanese artists: paintings, calligraphy, ceramics, bronzes, lacquers and bamboo implements. The exhibit includes a typical tea room scene with a scroll in the alcove, a vase of flowers, tea bowls and the various utensils.

David McFall, curatorial assistant of Asian art at the academy, had studied at the Urasenke headquarters in Kyoto, and suggests visitors begin with the tea room scene to the right of the elevator.

The scene is a prime example of the tea ceremony concept of "toriawase," which stresses the proper aesthetic mix of utensils so that the items do not distract from each other.

Although it isn't a real tea room -- it has a small door that one must crawl through to enter -- it allows for insight into the spirit of the Urasenke Way of Tea, McFall said, especially for visitors beginning with the proper mind-set.

"The best way to enter the world of tea is with a beginner's mind, a mind that's open to all possibilities, with all preconceived notions and prejudices put aside," he said.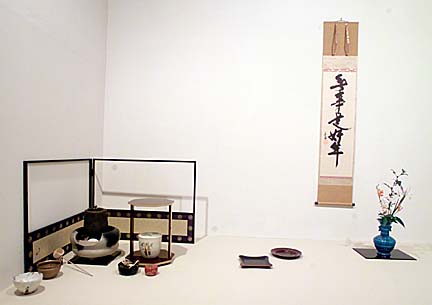 DENNIS ODA / DODA@STARBULLETIN.COM
A typical tea room scene with a scroll in the alcove, a vase of
flowers, tea bowls and the proper aesthetic mix of utensils
prevents one item from dominating the viewer's interest.
---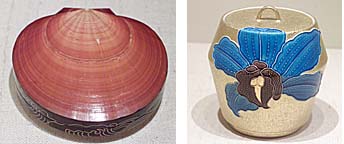 DENNIS ODA / DODA@STARBULLETIN.COM
Left, a tropical scallop incense case. Right, an orchid
motif water jar with gold texturing, by Miyagawa Kosai,
is an example of distincitve Makuzu-ware ceramic, created
by taping gold slip into the piece prior to firing.
---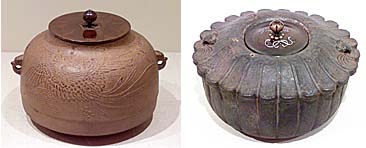 DENNIS ODA / DODA@STARBULLETIN.COM
Left, a classically shaped kettle with the Phoenix
design, crafted by the Seiuemon family. Right,
a chrysanthemum and crab kettle that was made in
1953 in celebration of Tantansai's 60th birthday.
The snake and phoenix silver inlay on the lid
represent Tantansai's and his wife's astrological
animal signs.
---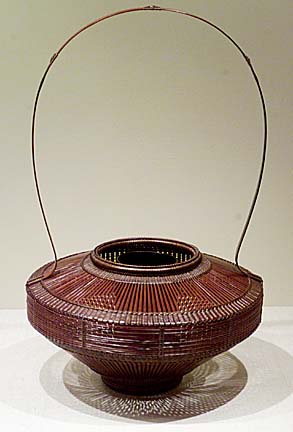 DENNIS ODA / DODA@STARBULLETIN.COM
This basket for flowers, "Felicitations," was made by Tanaka
Kosai, who was among the top modern artisans in the field.
---


DENNIS ODA / DODA@STARBULLETIN.COM
A tea set consists of a water jar, ladle holder, lid rest and waste water
receptacle. Such matching sets are used for formal tea events.




---




---

Suzanne Tswei's art column runs Sundays in Today.
You can write her at the Star-Bulletin,
500 Ala Moana, Suite 7-210, Honolulu, HI, 96813
or email stswei@starbulletin.com
E-mail to Features Editor
---
---
© 2001 Honolulu Star-Bulletin
http://archives.starbulletin.com