CLICK TO SUPPORT OUR SPONSORS

---

---
Sunday, July 29, 2001
[ MAUKA MAKAI ]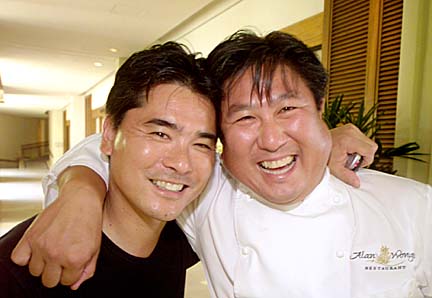 DENNIS ODA / DODA@STAR-BULLETIN.COM
"To me, there's no lies," Roy Yamaguchi, left, says of his friendship
with Alan Wong. "To me it's always progress."
---
Common
heritage seals an
enduring friendship


CHEW ON THIS

Cuisines Of The Sun

---

By Betty Shimabukuro
bshimabukuro@starbulletin.com

THEY WERE BORN in the same year, in Japan, to military families. A nice coincidence, but then, lots of baby boys were born in Japan in 1956.

But follow through on these stories and its clear that some kind of cosmic-star-thing was going on.

Both studied cooking on the East Coast and discovered a capacity for greatness. A decade or so ago they both ended up in Hawaii and finally met.

And now? Now Roy Yamaguchi and Alan Wong are hands-down the two most respected chefs in the state, the only two from Hawaii to win the James Beard Foundation Award for Best Chef of the Northwest-Hawaii.

And as if to verify the wisdom of the stars, the two are close friends -- they golf together, drink together, commiserate when necessary. It's rare, after all, to match up two people at the same level of accomplishment who have so much in common going so far back.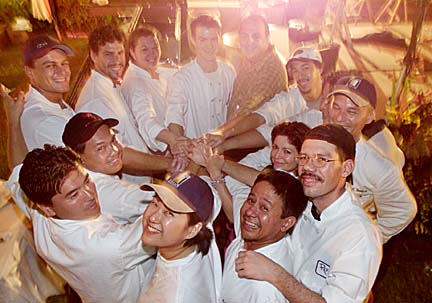 DENNIS ODA / DODA@STAR-BULLETIN.COM
Roy Yamaguchi's crew gathers for a group celebration at
the close of a dinner event at Cuisines of the Sun.
---
"There are very few people you meet in life that you can be competitive with and enjoy the competition, enjoy what they have to offer," Yamaguchi said.

He recalled meeting Wong when he first came here to open his Hawaii Kai restaurant. "No bad vibes," was his first impression.

Once in awhile these two will cook together, usually for fund-raising events. "Not as often as I'd like, not as often as we should," Yamaguchi said.

But last weekend's Cuisines of the Sun showcased them on opening night, along with their pastry chefs, Noah French from Roy's and Mark Okumura from Alan Wong's.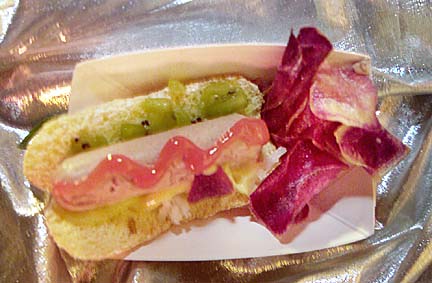 DENNIS ODA / DODA@STAR-BULLETIN.COM
It wasn't all serious, fancy food -- Mark Okumura's hot dog
dessert had a lady-fingers bun, a weiner made of guava-cocoa
mousse, kiwi relish, guava syrup ketchup and
Okinawan sweet potato chips.
---
Cuisines is an annual fine-food extravaganza held at the Mauna Lani Bay Hotel and Bungalows on the Big Island. It brings together an all-star collection of chefs for four days and nights of culinary hedonism.

The guest chefs have national -- even international -- reputations, and some have more than one of that ultimate prize, the James Beard Award. A typical dinner might have six chefs at live cooking stations, serving 300 to 400 guests who "graze" their way around the grounds.

To have two Hawaii restaurants take the spotlight alone makes a statement, said Janice Wald Henderson, organizer of the event. The dinner showed the guest chefs just how far fine dining has come in Hawaii, "how high standards are here."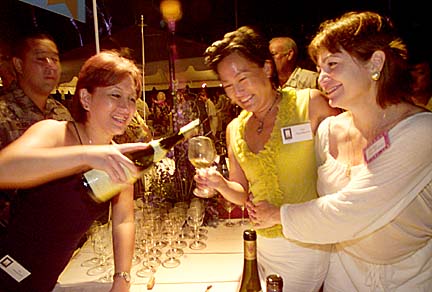 DENNIS ODA / DODA@STAR-BULLETIN.COM
Exceptional and rare wines are poured at Cuisines, and you can
have as much as you want. Ivy Nagayama pours for Lisa
Higashiguchi, center, and Mimi Del Grande.
---
Each chef prepared 10 dishes, served by an army of white-clad assistants, many of them volunteer chefs who in real life run their own restaurant kitchens. Fred D'Angelo, executive chef of Palomino Euro Bistro, for example, and Sean Kinoshita of Sansei Seafood Restaurant and Sushi Bar worked on Wong's line.

Wong said some of his dishes required the hands-on attention of six chefs. For his Foie Gras Shabu Shabu, lime zest was freshly grated into each bowl. This is just before a hearty slice of foie gras was floated into the broth. "This event pushes me," Wong said.

He actually closed his King Street restaurant -- for the first Saturday ever -- so he could bring in his crew to help.

Wald Henderson said the two chefs have different but complementary styles, Yamaguchi's dishes reflecting more of a European sensibility, and Wong's more "overall Pacific Rim."

"There's a commonality of their styles that makes it so harmonious to present their cooking together."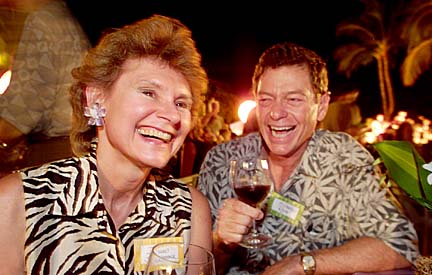 DENNIS ODA / DODA@STAR-BULLETIN.COM
Diane and Michael Reiss enjoy their own glasses of wine on
opening night. Cuisines of the Sun is held annually at the
Mauna Lani Bay Hotel and Bungalows on the Big Island.
---
And so from Wong there was a Roasted Portabello Flan; from Yamaguchi an equally creamy Lobster Chawan Mushi. From Wong, Japanese flavors in Braised Short Ribs with Unagi; from Yamaguchi, Okinawan flavors in a Rack of Lamb with Miso and Sake ("the combination of flavors -- who would think of that?" Wald Henderson asked the next day).

The two were not outwardly chummy during the event. Wong strolled the grounds, checking his stations, talking to guests. Yamaguchi holed up in a quiet spot in the back.

But before the event began, the two gathered their crews, nearly 100 people in all, and they all joined hands, forming a circle on the beach as the sun set, for a Hawaiian blessing.

It was a striking statement about the strength of a friendship.





Click for online
calendars and events.
E-mail to Features Editor
---
---
© 2001 Honolulu Star-Bulletin
http://archives.starbulletin.com