CLICK TO SUPPORT OUR SPONSORS

---

---
Sunday, July 29, 2001
[ MAUKA MAKAI ]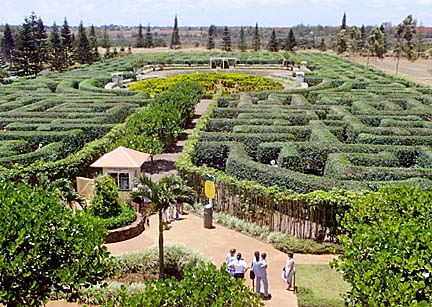 KEN SAKAMOTO / KSAKAMOTO@STARBULLETIN.COM
Visitors prepare for the intelligence test that is the
Pineapple Garden Maze at Dole Plantation.
---
A-mazing place


COVER STORY

Pineapple Pursuits

---

No visitor experience would be complete without a stop at Pineapple Central. Dole Plantation draws more than 1 million visitors each year, for who could pass up the chance to visit the pineapple gardens, with its 21 varieties of plants, or sample the cool confection known as the Dole Whip, a pineapple-flavored soft-serve dessert served up in regular or waffle cone?
COVER STORY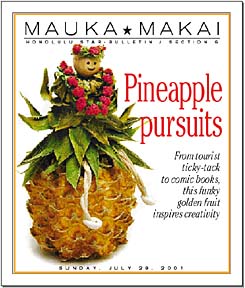 For locals, there is one more attraction to conquer, the Pineapple Garden Maze. It's the "World's Largest Maze" according to the 2001 Guinness Book of World Records, and successfully making one's way through its two acres is a sure sign of intelligence. So far, the fastest times have been clocked at about 6 minutes, while the average is about 45.

For some, wandering past the 11,400 plants will be more like a leisurely stroll through a tropical garden full of hibiscus, heliconia, croton, panax and pineapple. The center of the maze is in the shape of a huge pineapple.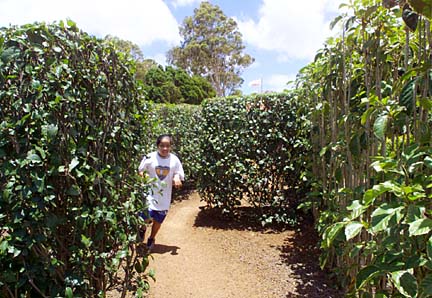 KEN SAKAMOTO / KSAKAMOTO@STARBULLETIN.COM
Jessica Kapuwar, age 11, makes her way out of the maze.
---
The maze is open from 9 a.m. to 5:30 p.m. daily (except Christmas Day). The cost is $5 adults; $4 kamaaina; $3 for keiki 4 to 12.

For those who plan ahead, Sept. 16 is the maze's third birthday bash. The free event will take place from 10 a.m. to 4 p.m. with free entertainment, keiki crafts and two-for-one admission to the maze. Watch for it.





Click for online
calendars and events.
E-mail to Features Editor
---
---
© 2001 Honolulu Star-Bulletin
http://archives.starbulletin.com