CLICK TO SUPPORT OUR SPONSORS

---

---
Sunday, July 29, 2001
[ MAUKA MAKAI ]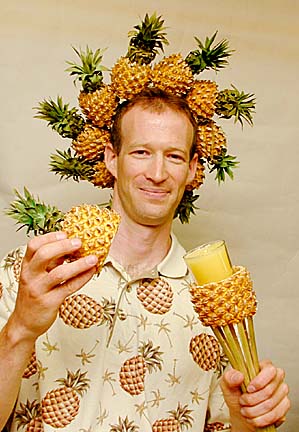 CRAIG T. KOJIMA / CKOJIMA@STAR-BULLETIN.COM
Naveh Milo wears a wreath of dried pine, holding
a new item, a pineapple tiki torch.
---
Pineapple dreams


A volleyball star turns his
talents to dried curios

COVER STORY

---

Betty Shimabukuro
bshimabukuro@starbulletin.com

THE VOLLEYBALL and the pineapple. One is round, one is roundish. One has spikes, one can be spiked. And that's about as far as it goes, except for one more commonality: Naveh Milo.

The tall young man with the easy laugh and perpetual grin has built a life on these two disparate objects.

Milo, star volleyball player for the University of Hawaii Rainbows in the mid-'90s, continues to play volleyball professionally, in his homeland of Israel, where his team won the national championship a few months ago. But in the nonvolleyball parts of the year, he is nurturing a business in dried pineapples, back here in his adopted second home.

These are not edible fruits in any way. They are whole, miniature pineapples dried in a machine that Milo invented in the year after his UH career ended in 1998.
COVER STORY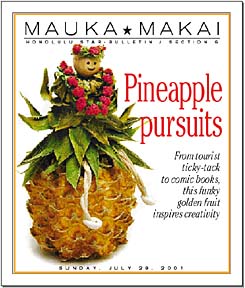 Two years ago, Milo sold his patented drying machine to Israel's largest producer of decorative fruits. The machine was revolutionary in the industry because it could dry fruit whole. Normally, fruit must be sliced or deeply slashed, then dried over several days in ovens. Milo named the machine Nurit, for his mother, in honor of her patience during his development as an inventor -- he started at age 13, and over years of hands-on experimentation broke many of her appliances.

He and another former UH star, Sivan Leoni, tried to build a business for themselves in Hawaii, drying pineapples and selling them to craft and souvenir shops and the like. But Milo says the business petered out when a batch of pineapples rotted because of moisture in the crowns. Plus, baby-size pineapples were hard to get in Hawaii, and they were expensive.

The pineapple dream never ended, though. Milo just took it to Indonesia. There he found a good supply of the 6-inch pineapples that are key to his business, plus he discovered fruit half that size -- whole pineapples he can close his fist around.

He contracted with a factory, brought one of his drying machines to Indonesia and taught the workers to hollow out the fruit and dry them. He's made several monthlong trips to Indonesia, he says, the latest immediately after his team won the championship in April. "My season ended and I went the next day. I missed the celebration."

It's not just whole pineapples now. He's also cutting off the crowns and turning them into candleholders and cocktail glasses, injecting them with scent for air fresheners, stringing them into wall hangings and wreaths, even affixing them to little hinged boxes that he hopes to fill with Hawaii-made teas. The tiniest pines are sold as paperweights.

Response to Milo's line, called Pineapple Dreams Hawaii, has been good, say Mel and Patti Akiyama of Marue & Gertz Ltd., the wholesalers Milo found in the Yellow Pages and asked to handle his line.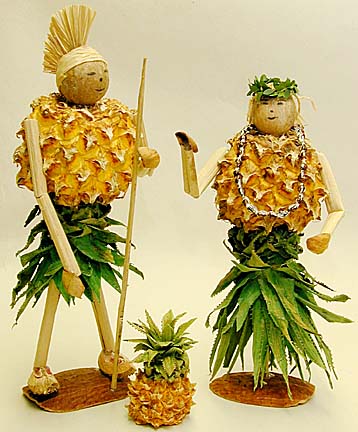 CRAIG T. KOJIMA / CKOJIMA@STAR-BULLETIN.COM
Inverted pineapples are the basis for prototype figurines,
while a baby pine serves as a paperweight.
---
Since 1945 the company, started by Patti's father, has carried all manner of touristy gift items, the centerpiece of their line being wiggly hula dolls. They were impressed right away by Milo's product, Patti recalls, and have placed the pineapples at gift shops at Dole Plantation, Dole Cannery, Products of Hawaii stores, as well as with florists, gift shops and kitchen stores all over the island. They even took a 1,000-piece order for air fresheners for a company in Japan.

"Generally, when you bring a new line in, it takes a while to get it off the ground," Mel says. Stores are cautious, reluctant to buy in. "'Let me know how it does' is usually a good canned response. But with this they're saying, 'Let me try.' It's amazing how people have jumped on it."

The pineapple is just the right item, Patti says. "It's a universal symbol of welcome, so there's the potential to sell it not only in Hawaii, but all over the world."

THE SHADOW on this bright pineapple tale is the other side of Milo's life, the part lived in Israel during this time of renewed violence. He plays volleyball for a town called Kfar Saba, which has drawn several terrorist attacks over the last few months. "This town suffered," he says. "It was a major target for bombs."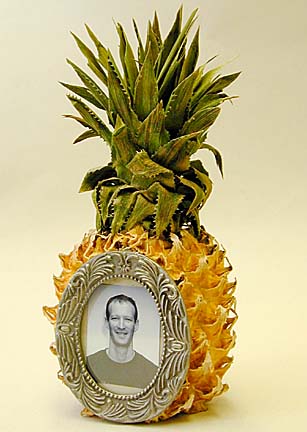 CRAIG T. KOJIMA / CKOJIMA@STAR-BULLETIN.COM
Baby pine turned into picture frame.
---
One morning, a suicide bomber struck a bus stop in town. Two team members from Russia lived on the third floor of an apartment house nearby, Milo says. "They could see everything -- bodies mutilated by the bomb. We were very concerned that they would leave the country."

But a week later, the whole team played for the championship and won.

"In Israel, it's sad to say, people know how to live with that," Milo says. "Life goes on. We are pretty good survivors in Israel. The situation gets worse; people get more together."

Violence is so much a fabric of life that news shows fill five hours of television each day, and everyone watches. Sports, by the way, doesn't make these newscasts, Milo says. "Sports is for peacetime."

"In Israel people still try to live their lives regularly. They don't stay at home and hide, because that is what the terrorists want. We just hope for better days, and they'll come. But also there could be worse days."

For all that, and although his new business keeps him out of the country for months between volleyball seasons, Milo does not plan a permanent departure from his homeland. In Israel, he says, it is shameful to move away during troubled times. "If I leave Israel it will be in peacetime."

And that time will come. "You hope for peace. Peace will come, but it will take a few more years."

Still, he says, "It's nice to come here where it's quiet. Here I only have to worry about the pineapples."





Click for online
calendars and events.
E-mail to Features Editor
---
---
© 2001 Honolulu Star-Bulletin
http://archives.starbulletin.com