CLICK TO SUPPORT OUR SPONSORS

---

---
Wednesday, July 25, 2001



[BASEBALL]
---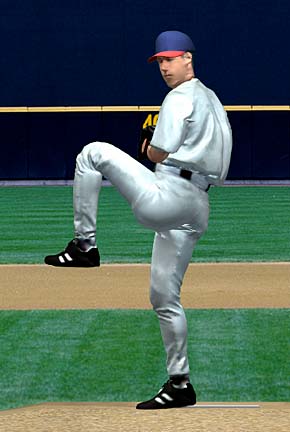 COURTESY FASTBALL INC.
Mike Campbell's windup is still sound enough to
represent the average major league pitcher for a
mechanical pitching simulator.
---
Making his
best pitch


Mike Campbell was the
model for this game about
throwing a baseball

---

By Al Chase
achase@starbulletin.com

The telephone call from Bill Kruger, a former major league left-handed pitcher, was intriguing.

Fastball, Inc. needed a right-hander with major league experience who could throw a variety of pitches for a new -- and very expensive -- pitching machine.

Mike Campbell was the man. The former University of Hawaii Rainbow, recently retired after 15 pro seasons (including at least part of six seasons in the majors), is everything the engineers needed for the mechanical pitching simulator named Abner.

"I'm typical. I don't have a funky motion. I'm pretty much over the top," said Campbell, whose height -- 6-foot-4 -- also was an important consideration.

What the developers of Abner needed from Campbell was for him to "pitch" off a mound so all his body movements could be computerized.

"I went to Hollywood to have my body laser-scanned. They put me in a suit that made me look like the Riddler from Batman," Campbell said.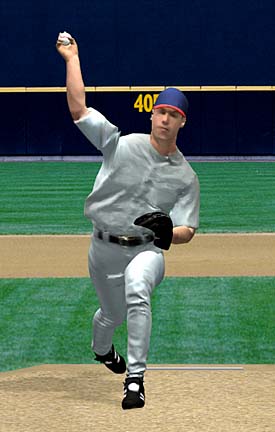 COURTESY FASTBALL INC.
---
He threw five fastballs from a full windup, then five curve balls, five sliders, five knuckleballs, five change-ups. The process was repeated from the stretch position. It took about three hours for the technicians to get everything they wanted.

They had to have animation that made Campbell look like he was throwing 90 miles an hour. All the batter sees is Campbell on the screen and an opening from where the pitch is delivered.

"You go through your pitching motion. Then the computer animates it," said Campbell. "It's very realistic looking. It took a lot of work to have the release action match up with the opening in the screen. It's all digital motion control.

"When you go behind the screen and see Abner's guts, it looks like NASA built this thing."

Campbell spent three days with Abner at Major League Baseball's winter meetings last December. Representatives from every team stopped by for a demonstration.

"Abner is amazing. Everyone who has seen this machine is blown away by it," Campbell said. "What's really funny is the computer animation can flip me around and have me throwing left-handed.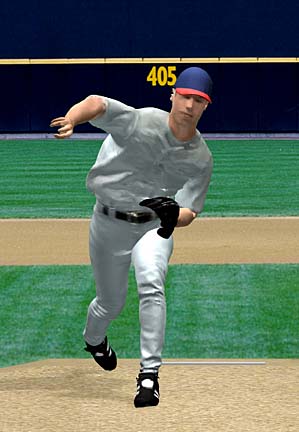 COURTESY FASTBALL INC.
---
"We had to develop our own baseballs because the balls used in the majors are not accurate enough. We have baseballs now where the seams are the same height, weight and thickness."

Major-league hitters have eliminated most of the holes in their swings, but that's not the case with most minor-league hitters.

For example, if a hitter is having problems with the slider, low and away, Abner can throw that pitch with uncanny accuracy all day and the next day and the next.

"As an athlete, you are taught to practice as if you were playing. Abner simulates major-league pitching," said Campbell. "Imagine being able to take batting practice against the pitcher who is starting against you tomorrow."

The current version of Abner has a fixed release point and costs $175,000. Campbell said the company is developing a more advanced version with various release points that will sell for $275,000.

"We did a survey that told us a win is worth $1 million for a team with a good fan base. So it pays for itself if you can get one player to get one hit to win one game," Campbell said.

"You can program Abner to do anything your mind can imagine. It can be as nasty as you want to make it.

"You can have it throw 100 mph, a circle change from another planet, anything."

Eventually the plan is to get college teams and hitting facilities involved, perhaps through a leasing program.
E-mail to Sports Editor
---
---
© 2001 Honolulu Star-Bulletin
http://archives.starbulletin.com